ESCAPISM
Solo exhibition at the Foundation Royal Estate of Carditello
My artwork is currently  on exhibition at the Cappella dell'Ascensione of the Foundation of the Real Sito di Carditello from 24 July through 15 August 2021.  I have called my exhibition "Escapism" because the theme that links these artworks is the escape from an unsatisfactory reality — a reality that each one of us perceives and elaborates through the everyday living of one's life. I invite you to Carditello with the hope that we may also meet.  The opening hours vary according to the days — therefore I ask you to refer to the info below to find out more.  If you wish to meet me, I can be reached via the Facebook, Instagram direct message or email.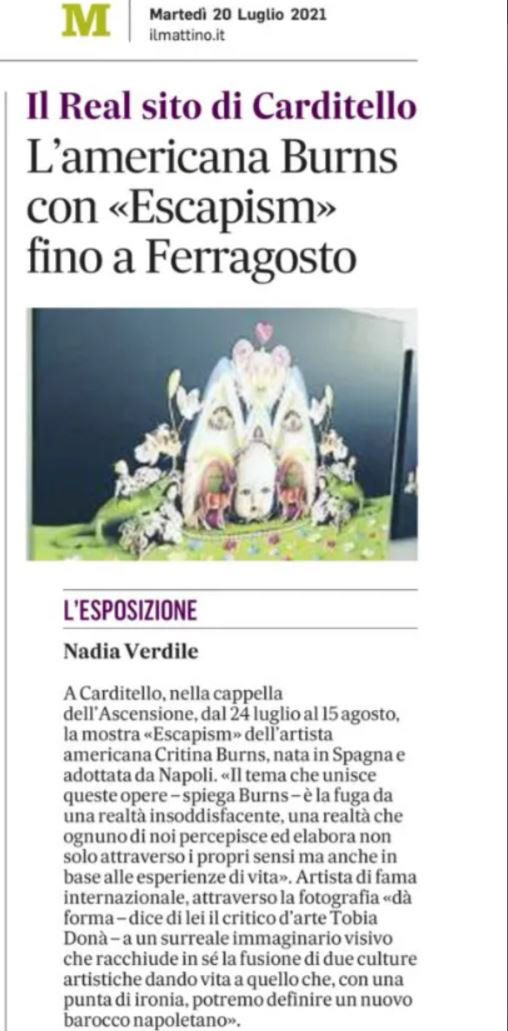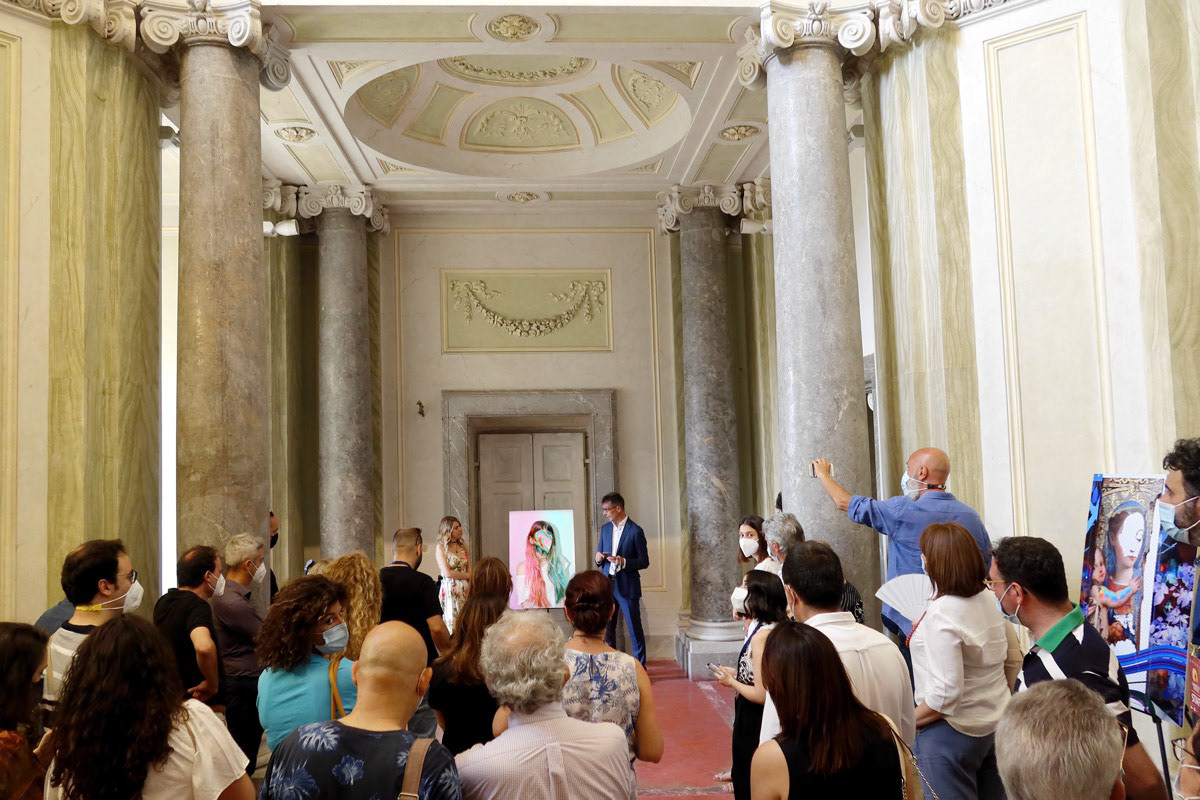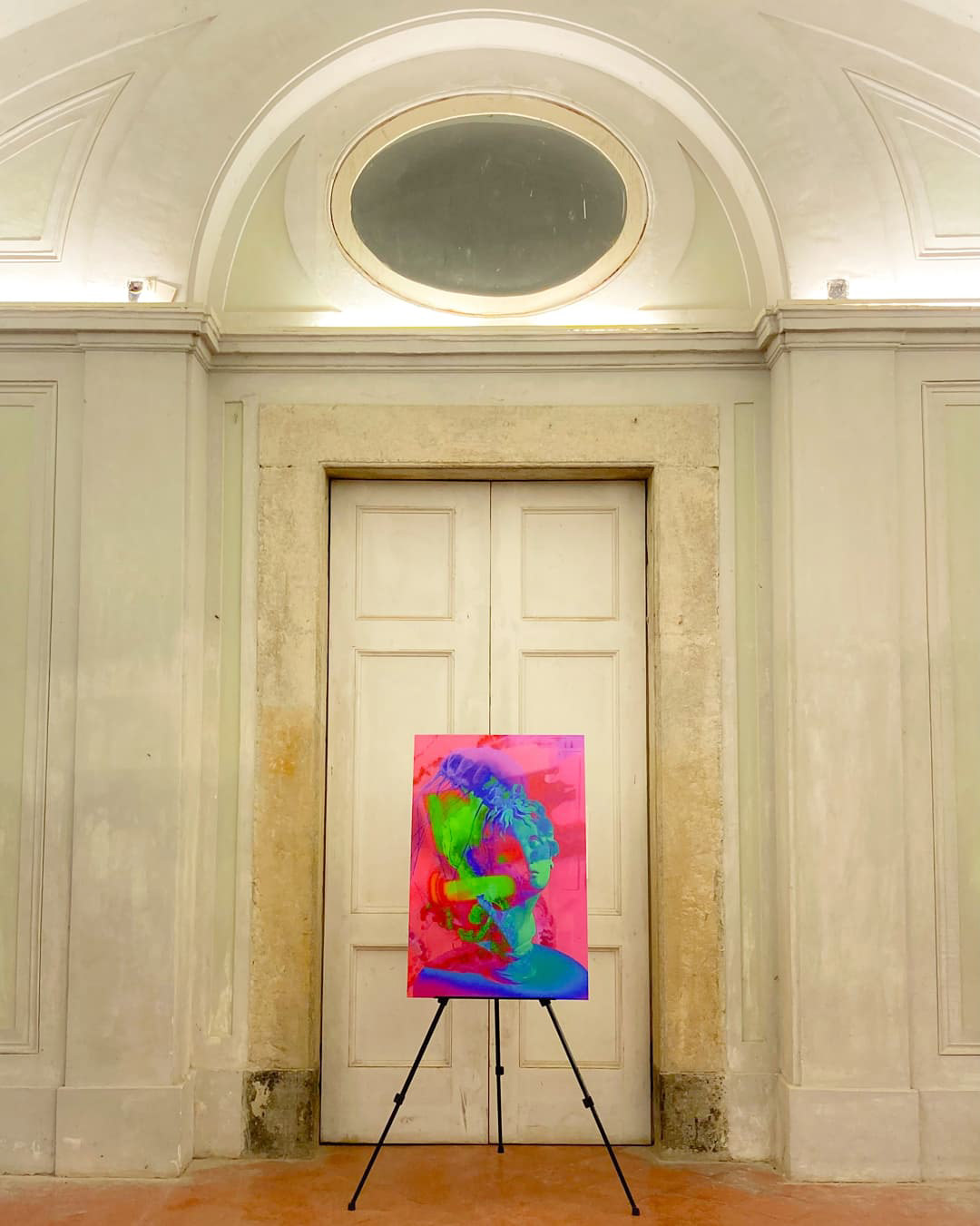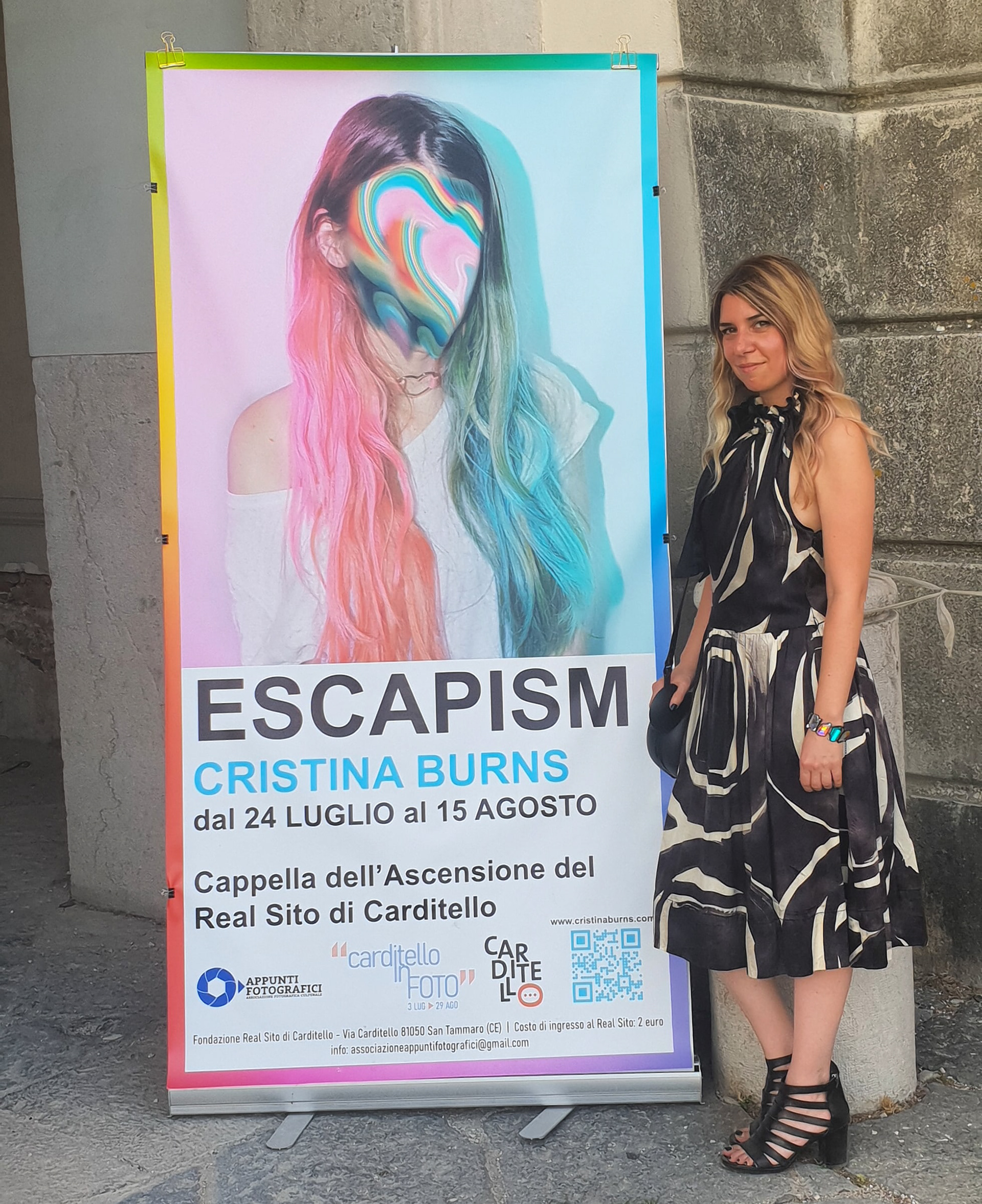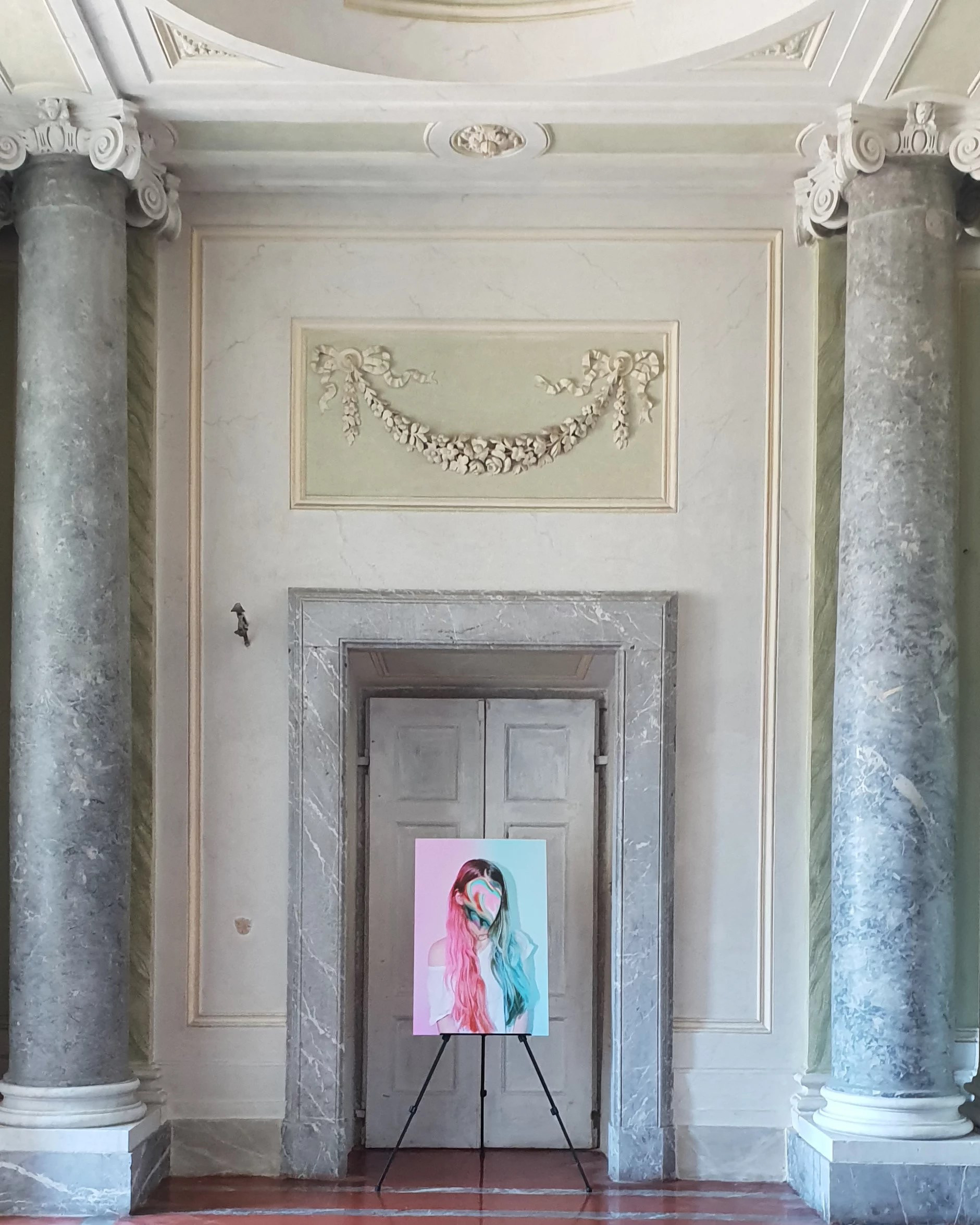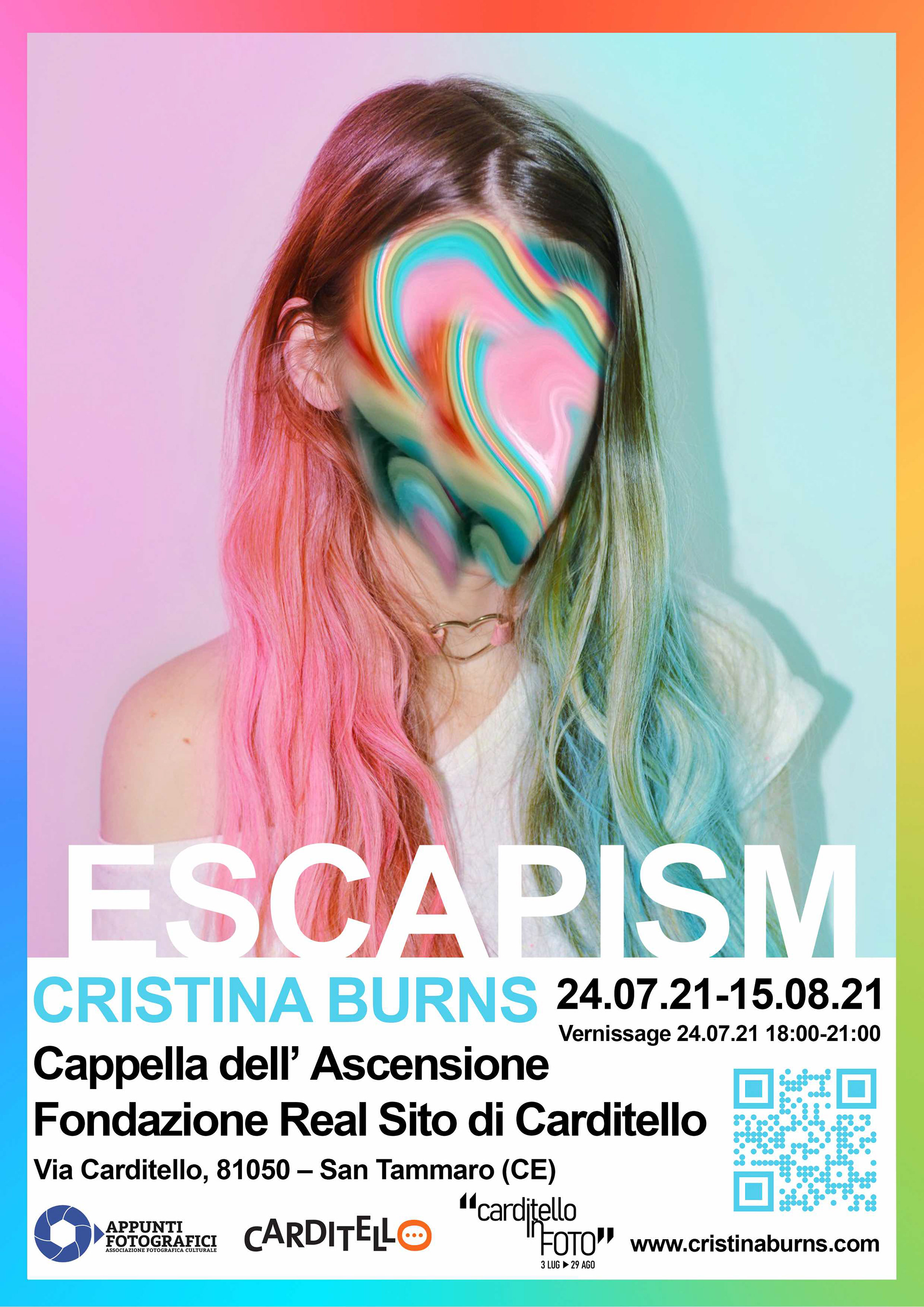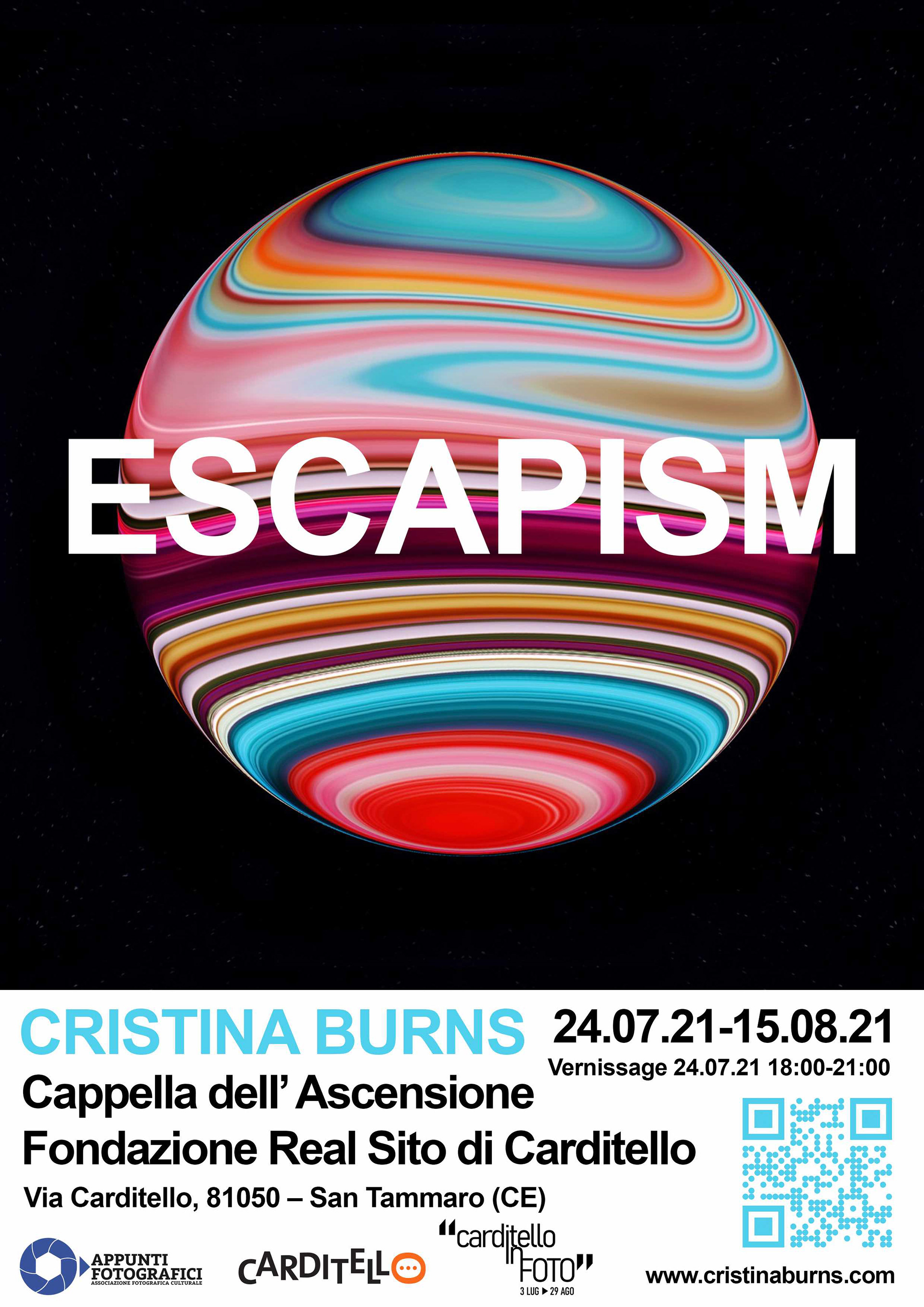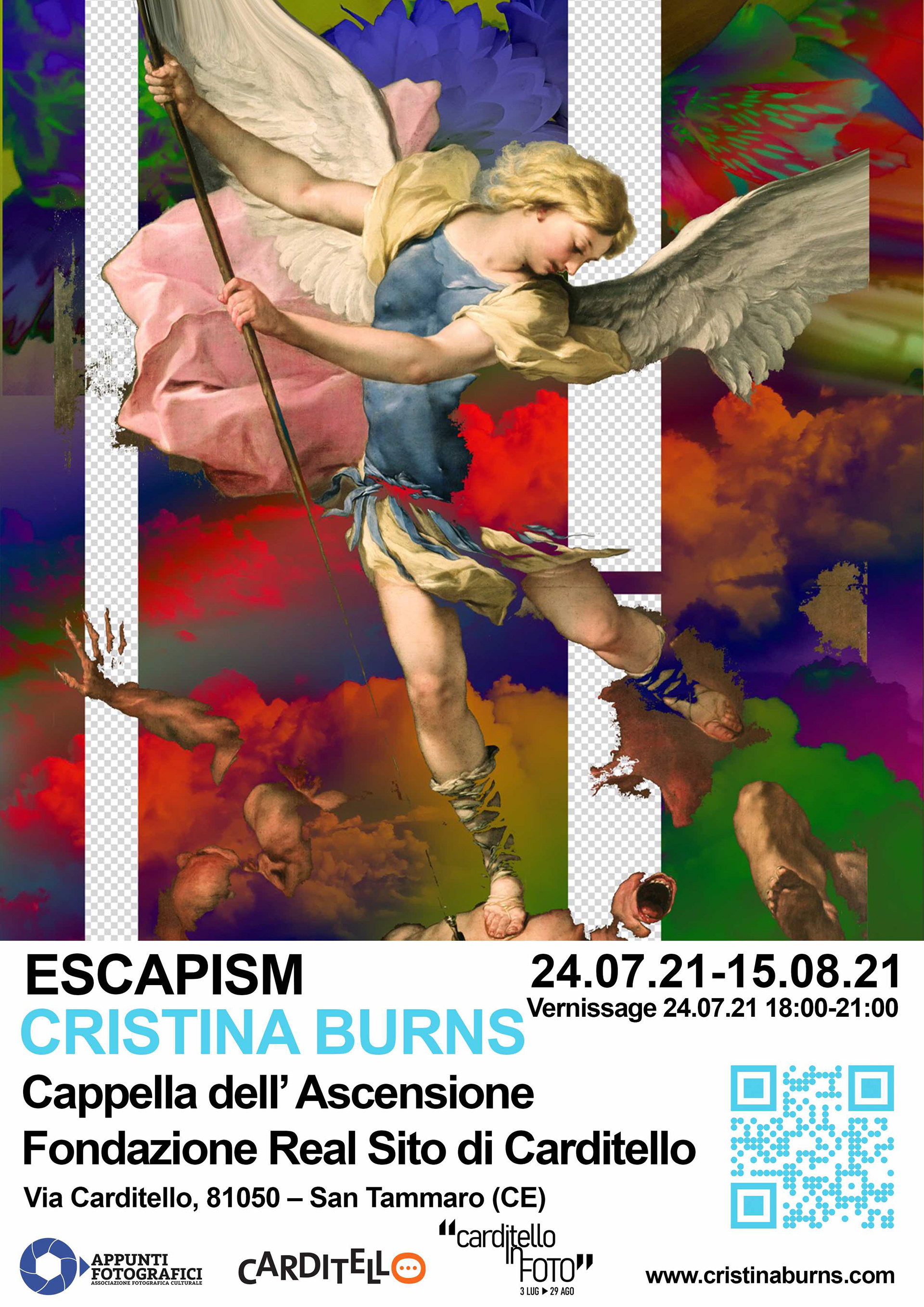 INTERVIEW ON ILAS MAGAZINE
It is with great satisfaction and much gratitude that I share with all my friends this beautiful article by photographer and journalist Marco Maraviglia about my exhibition "Escapism" at the Fondazione Real Sito di Carditello. He managed to capture the emotions I felt in creating the works on display. He has so skillfully identified the leitmotiv of the work done not only for this exhibition but also for everything I have done throughout my artistic life. 
Since the article it is in Italian below the translation:​​​​​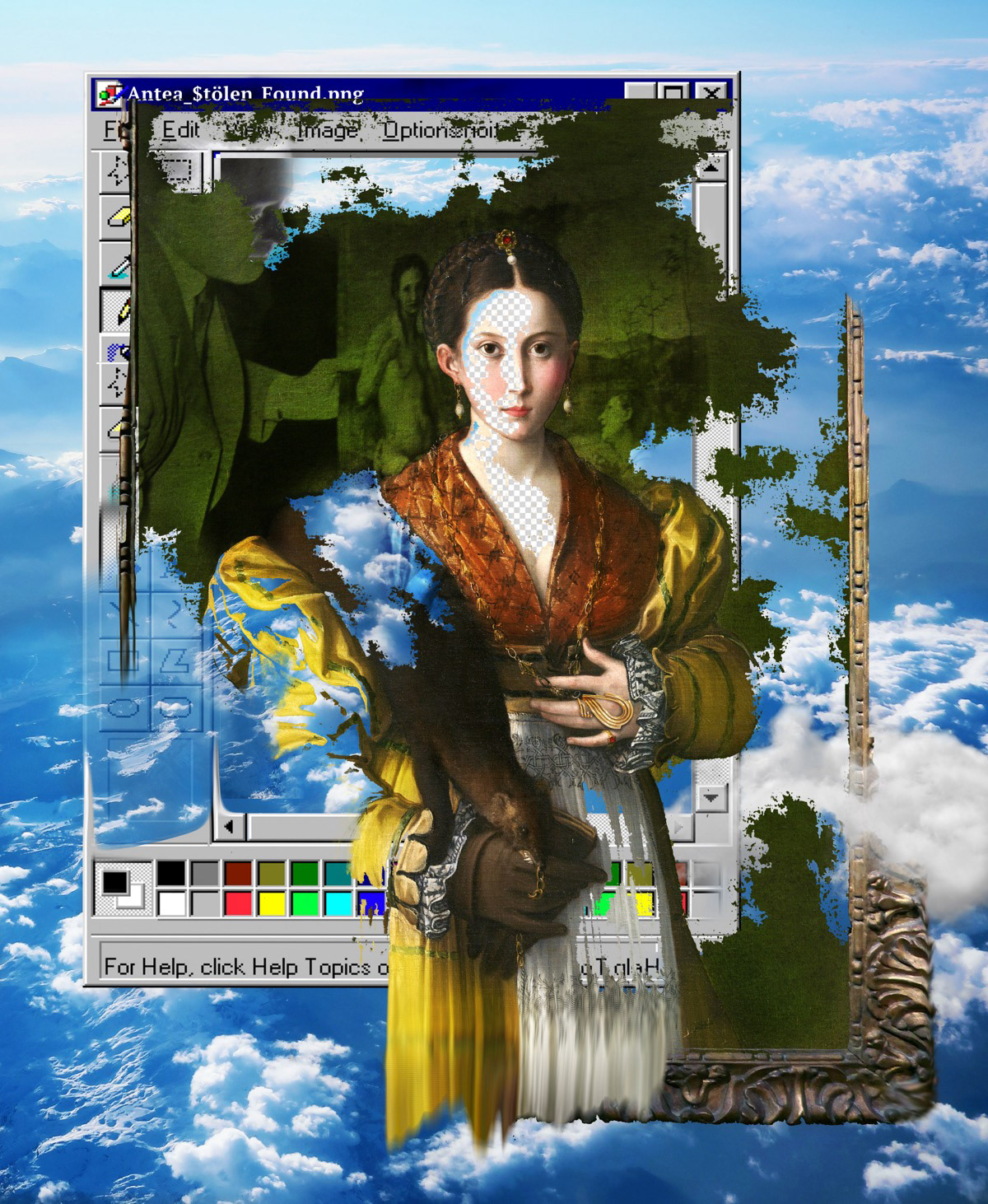 Cristina Burns: ESCAPISM
When a pandemic generates an escape from reality through imagination. A "digital-photographic" exhibition at Carditello Palace
Class of '82. American born in Spain but raised in Naples where she lives. She does not consider herself a photographer but an arranger of photographs by means of digitally manipulated assemblages and is therefore somewhere between staged photography and what I would call contemporary surrealism.
She lived for seven years with her photography-loving grandfather who, says Cristina, during the Second World War, instead of obtaining basic necessities, sought out chemists to develop his photographs.
Her father was an official photographer for the navy. Given the family background, it was inevitable and natural for her to approach photography and one of the gifts she became particularly fond of was a miniature camera through which she could see images of a city. Those of you who are boomers know that we are talking about those delightful souvenirs that used to be sold clustered outside emporiums in tourist towns.
Cristina Burns loves to go to markets and, with an almost compulsive obsession, she hunts for vintage toys, asking questions about the stories behind them, who they belonged to, what kind of children played with them, if they played at all. And she imagines a magical and unknown life.
Combining her passion for photography and collecting, she began to make still life photographs with the objects she bought. She also includes sweets in her photographs.
She is fascinated by candies and the whole world of sweets; for their inviting colours, although she does not eat them as she considers them harmful.
"There are candies that I keep for years for my still life and they stay intact, they don't deteriorate and, even if not kept in containers, they are snubbed even by ants. "
The imaginary world of Cristina Burns: Escapism
With Candyland, her first solo exhibition held in 2018, Cristina Burns ironically, with cynical and sharp strokes, joked about the natural transience of life in contrast to the desperate instinct for human survival. She exaggerated with imagination, a society in which the abuse of drugs, kaleidoscopic beauty, and botox are but a great deception, a drift of a lifestyle.
But the lockdown from Covid-19 then generated in Cristina Burns, a breaking point, a total desire to escape from reality.
In a dystopian world, brutalized by force of things, a social system that takes on a-social folds, the reactions of humans become varied, sometimes resulting in what is defined as escapism: the refusal of an unnatural life, risking going from the frying pan to the fire, such as alcoholism, drug use, increased consumption of video games, pornography... There where the life of humanity seems to end in March 2019.
Fortunately, escapism can also generate escapes from reality in more "healthy" ways such as imagination, dreaming of a different world in which to take refuge, and Cristina, almost as if she wanted to quote Eugenio Finardi's Extraterrestre, invents A new Planet, a planet that is all her own, inviting, colourful, protective, in which she herself is Candygirl, a self-portrait with her face strewn with loose, sweet, garish sweets and the image of Alien makes her feel at home.
An enlightening day at the Capodimonte Museum
Cristina Burns, on an emotionally taxing post-lockdown day, goes to the Capodimonte Museum and is enraptured by the intense gaze of Parmigianino's Antea. She becomes fascinated, studies the author and learns that the work was among those stolen by the Nazis during the last war and then found by Rodolfo Siviero, a great art historian and detective.
On the strength of her "finds" of vintage toys in modern antique markets, Cristina understands, through the figure of Siviero, that a certain value in life is given by the reconnection with the lost past. Fascinating sensations that run parallel to her desire to want to regain what she was in the pre-pandemic world.
In her digital re-elaboration of Antea (Antea, finalmente ti ho trovata), Cristina pays homage to Rodolfo Siviero by inserting an image of him.
These are only brief considerations regarding some of Cristina Burns' images exhibited at the Reggia di Carditello and divided into a number of series linked together by a basic concept: wanting to instil in the viewer a sense of well-being through sumptuous colours and even religious symbolism, with a psychedelic mood, to share that escapism felt by the artist.
The Archangel Michael fights the evil that could also be the ill-used WEB; loose and sugary colours that instil sweetness; he re-proposes wild animals in the urban contexts he had already imagined in unsuspected times.
"In "Urban Fairy Tales", I propose an imaginary revenge of nature on human actions, through the presence of animals that dominate a degraded and perhaps abandoned urban context. Through the work "The Last Unicorn", I hope for an almost magical intervention that can save humanity from irreversible damage to the entire ecosystem."
Intersections between past and contemporary, ancient art and new digital technologies; Escapism by Cristina Burns is a time machine that runs towards a single direction on two parallel tracks, running at the same time through past, present and future; to (re)take the best of what we risk losing, imagining a better world. Not to run away forever with one's imagination, but to share a hope with the observer. To try to make the viewer feel better about him/herself.
"LA CUCINA ITALIANA" MAGAZINE
"La Cucina Italiana" featured my artwork in its June 2021 issue, dedicating three pages to me. I've always been fascinated by food and I know that inside of me there is a "chef in-the-rough".
I'm also particularly happy because this magazine brings back fond memories of my childhood when my parents would bring a copy home every month and I would peruse through the whole issue with fascination for food, especially for those dishes that looked like artistic creations, full of colors.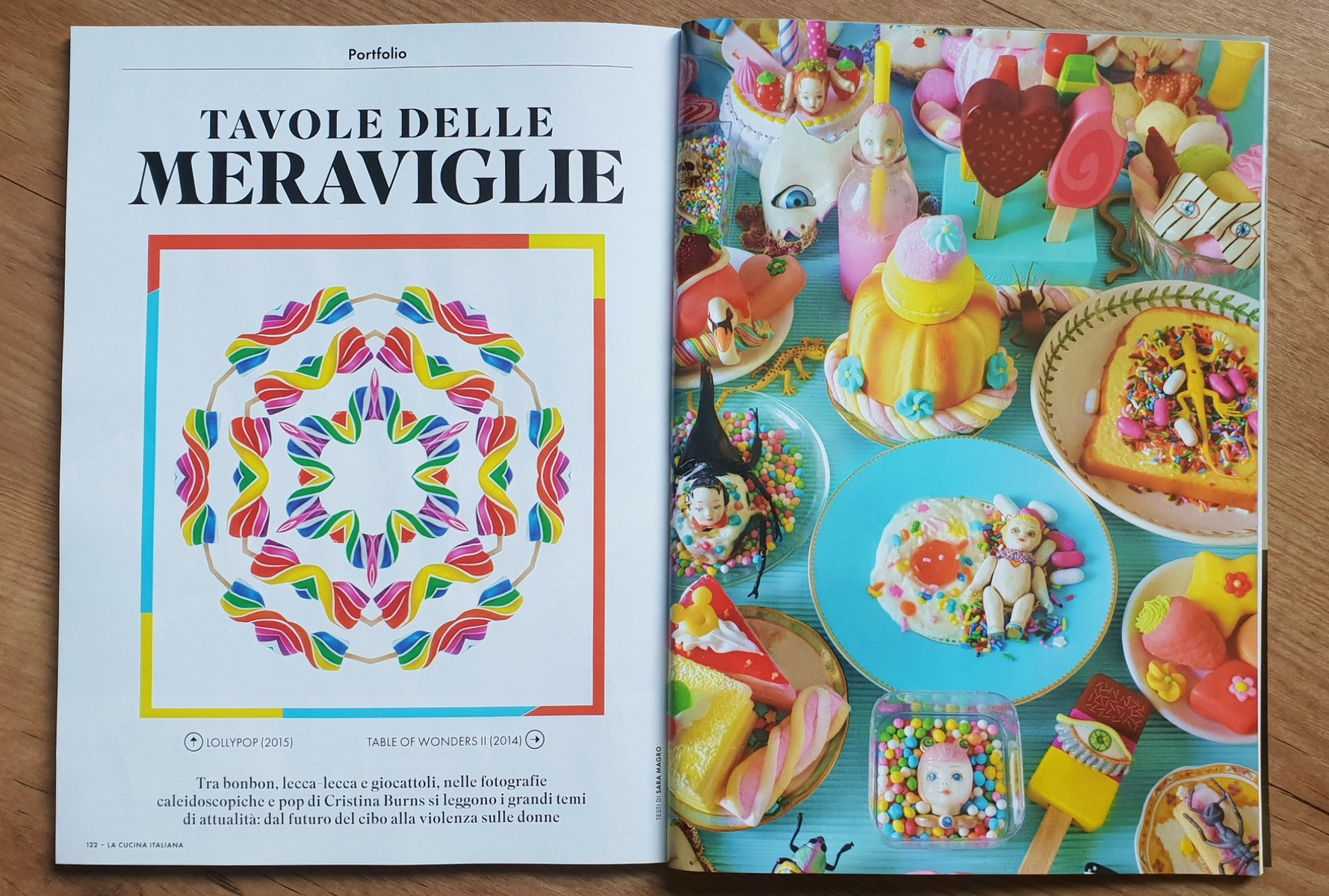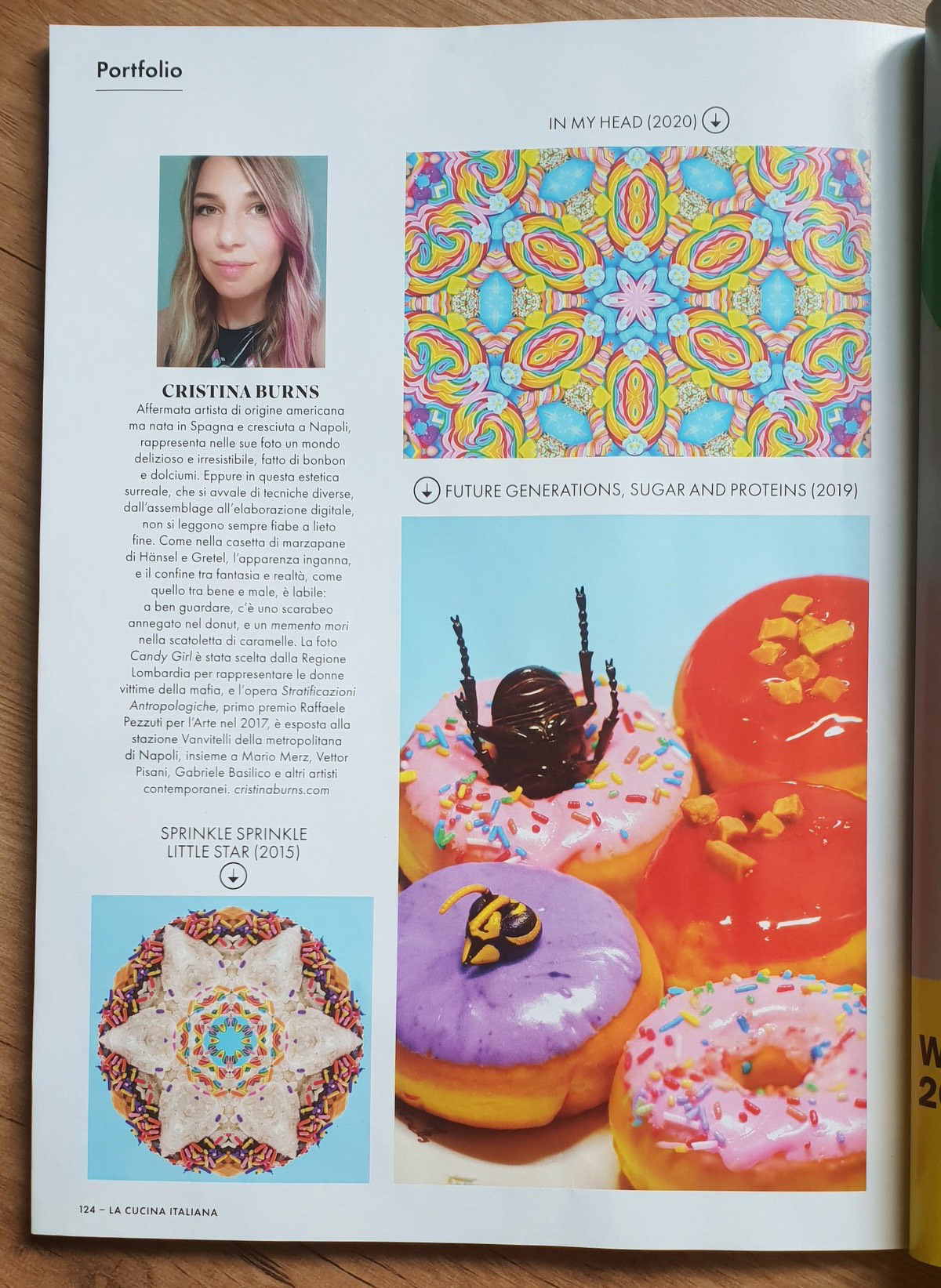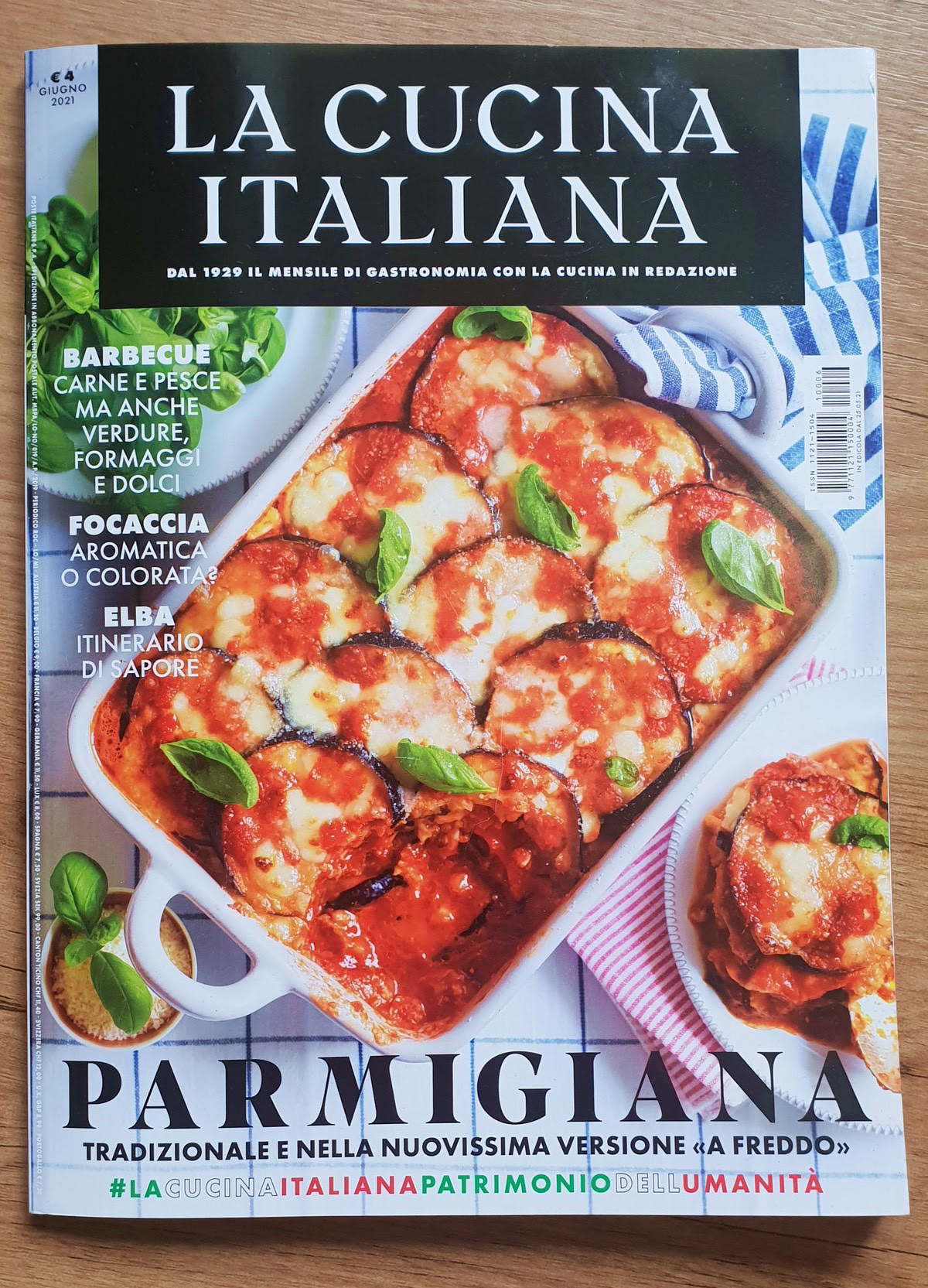 CASA DE LA CULTURA TEODORO CUESTA, MIERES, SPAIN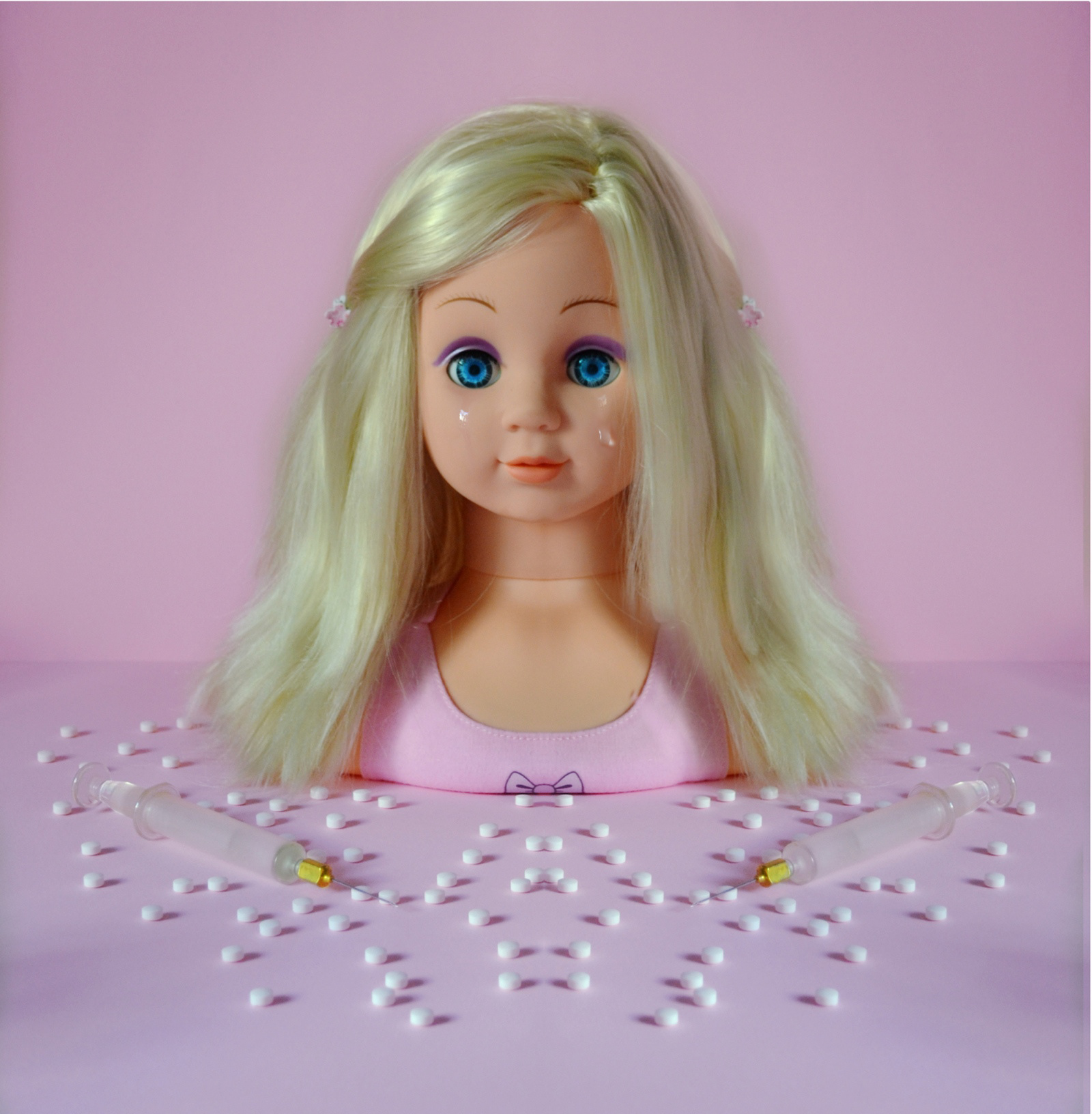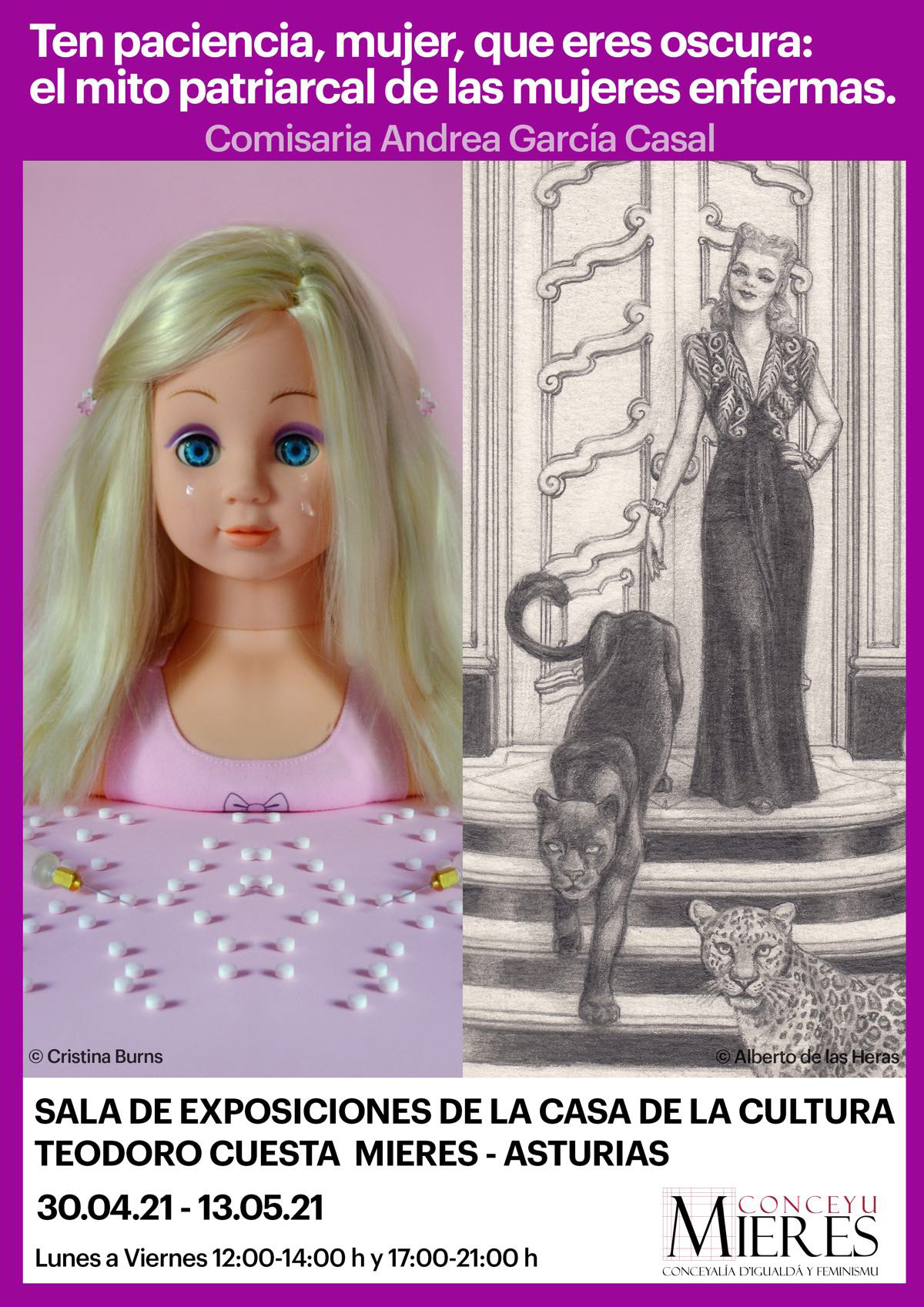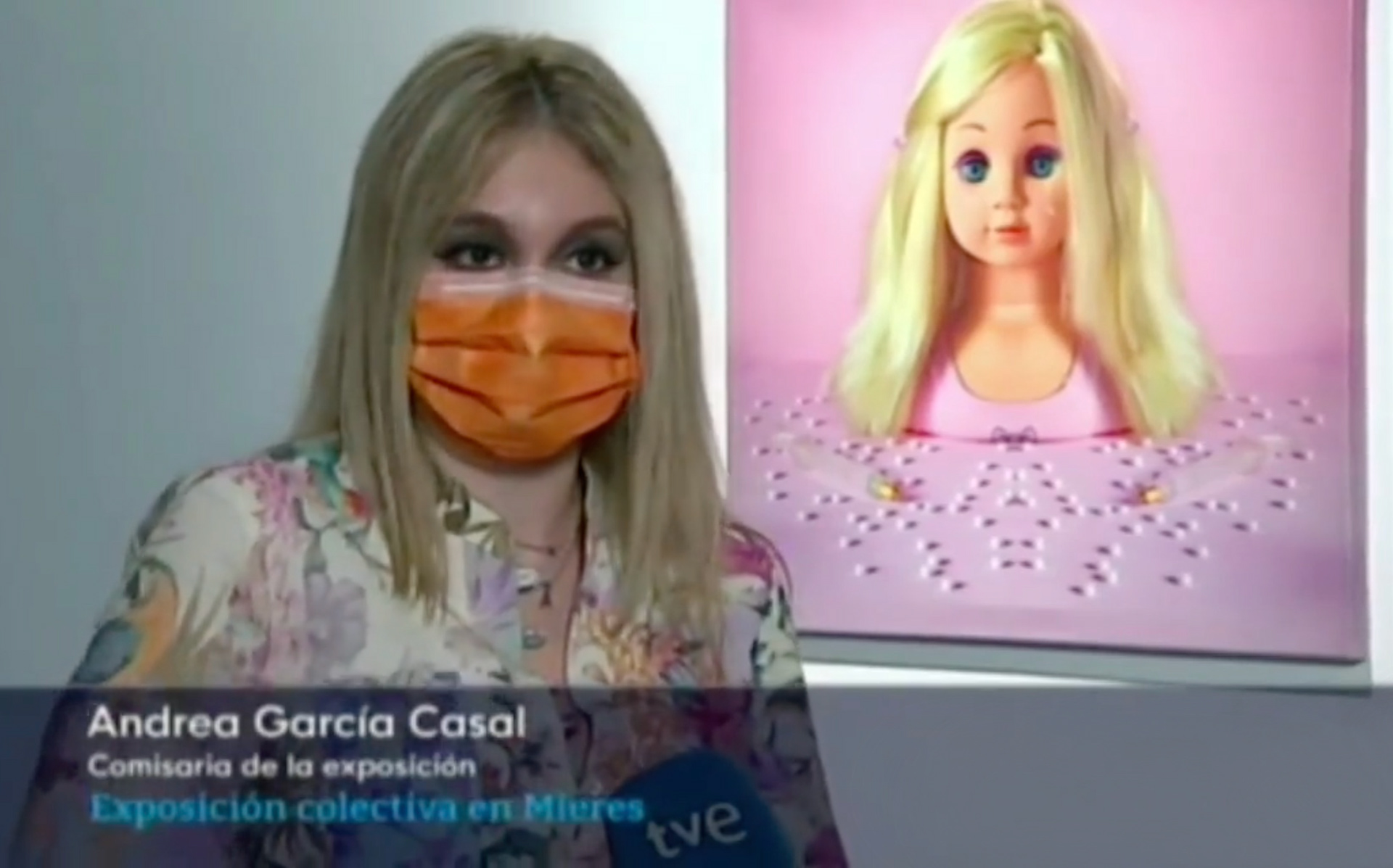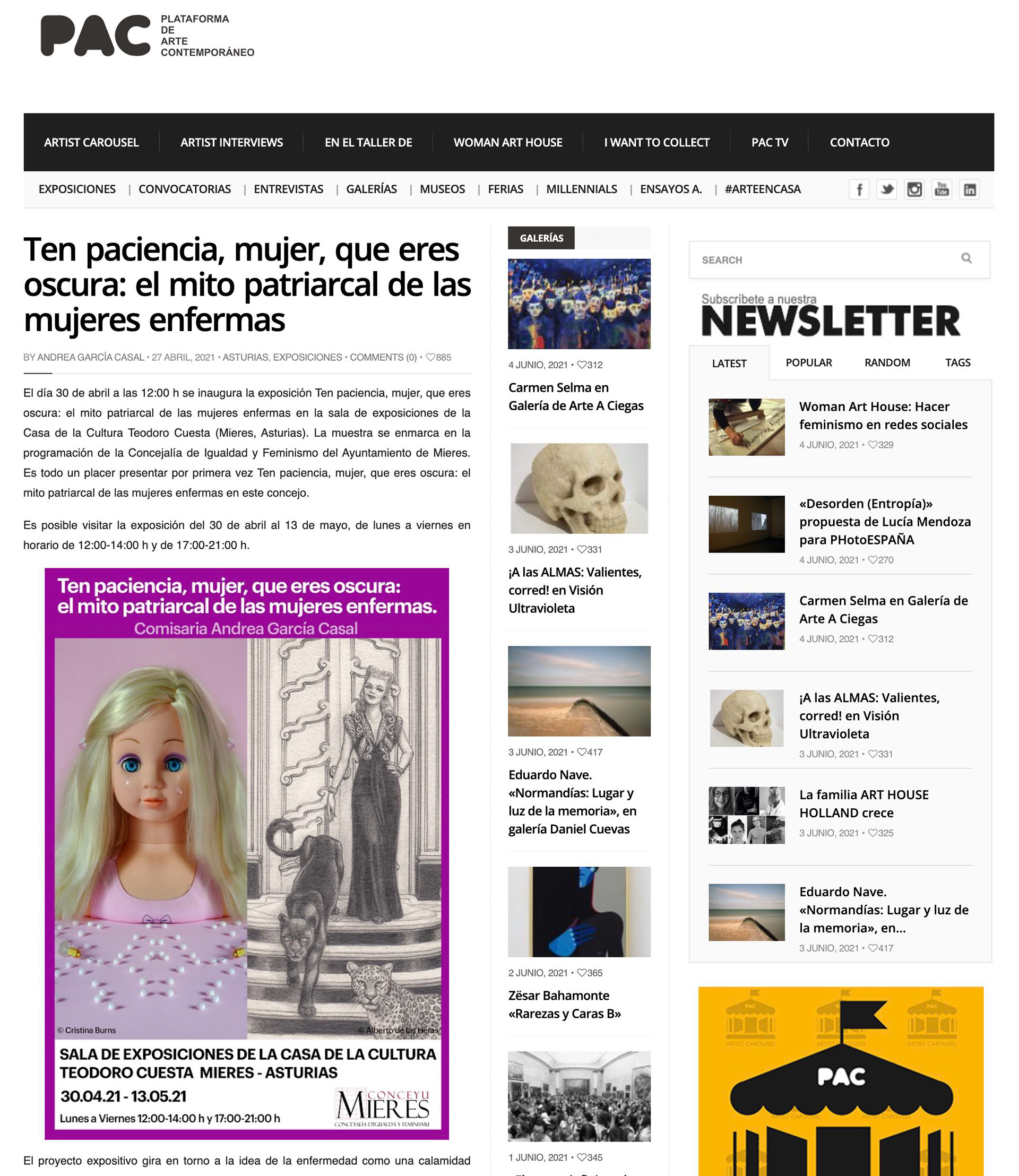 THE LOST VENUS
On 25 November 2019, I was particularly honored to participate, through my artwork "Lost Venus", in the battle to put an end to female genital mutilation, an atrocious crime committed against women and their identity. I produced the image that was used for the poster and as limited edition print to publicize the first Interdisciplinary Summit on Female Genital Mutilation, an event organized by the University of Naples "Federico II" and SICPRE, hosted by Dr. Stefania de Fazio, MD.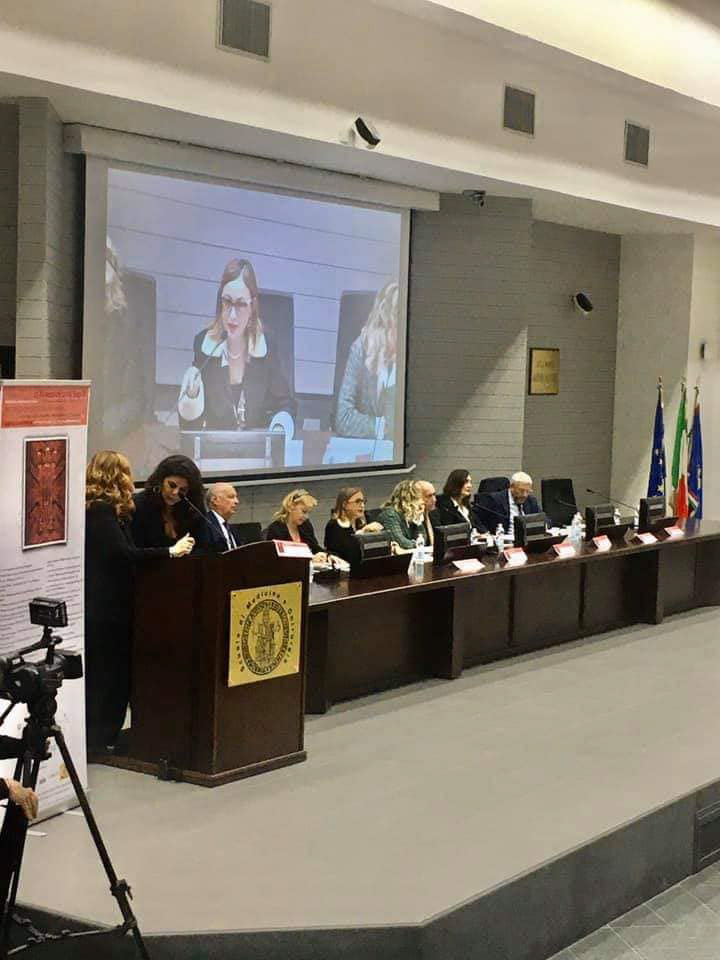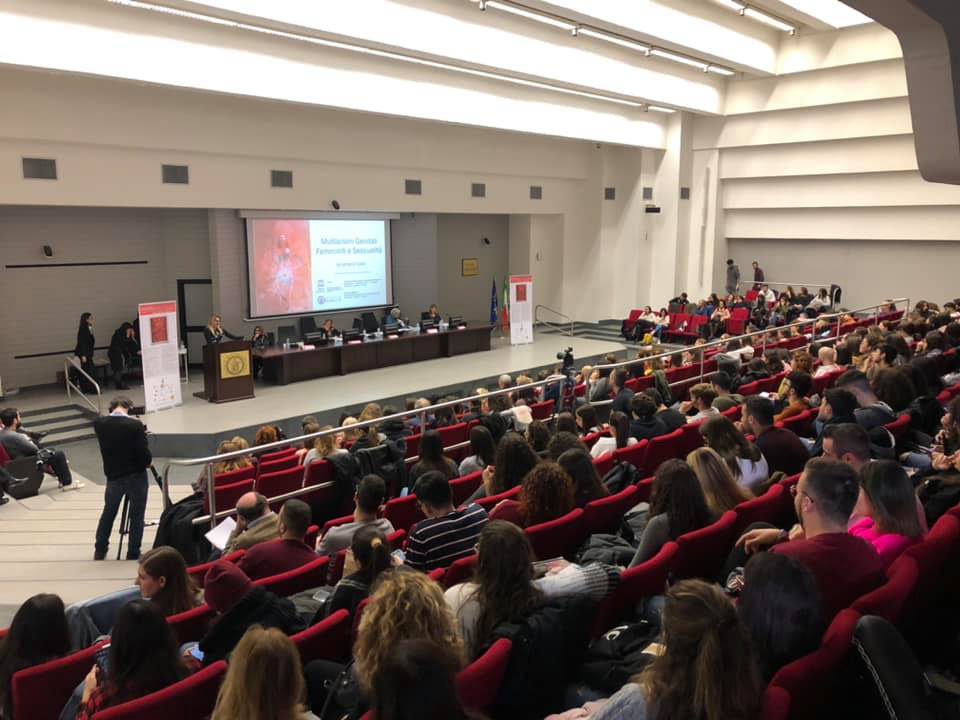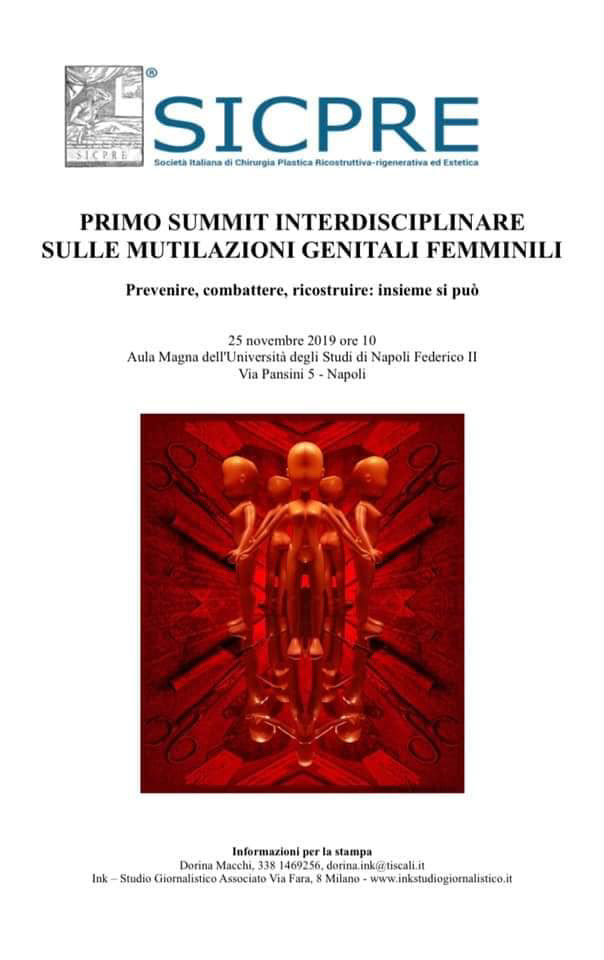 "Inside me" a body of works that have been exhibited in the Borbonic Tunnel, Naples, Italy,  in collaboration with Visivo Comunicazione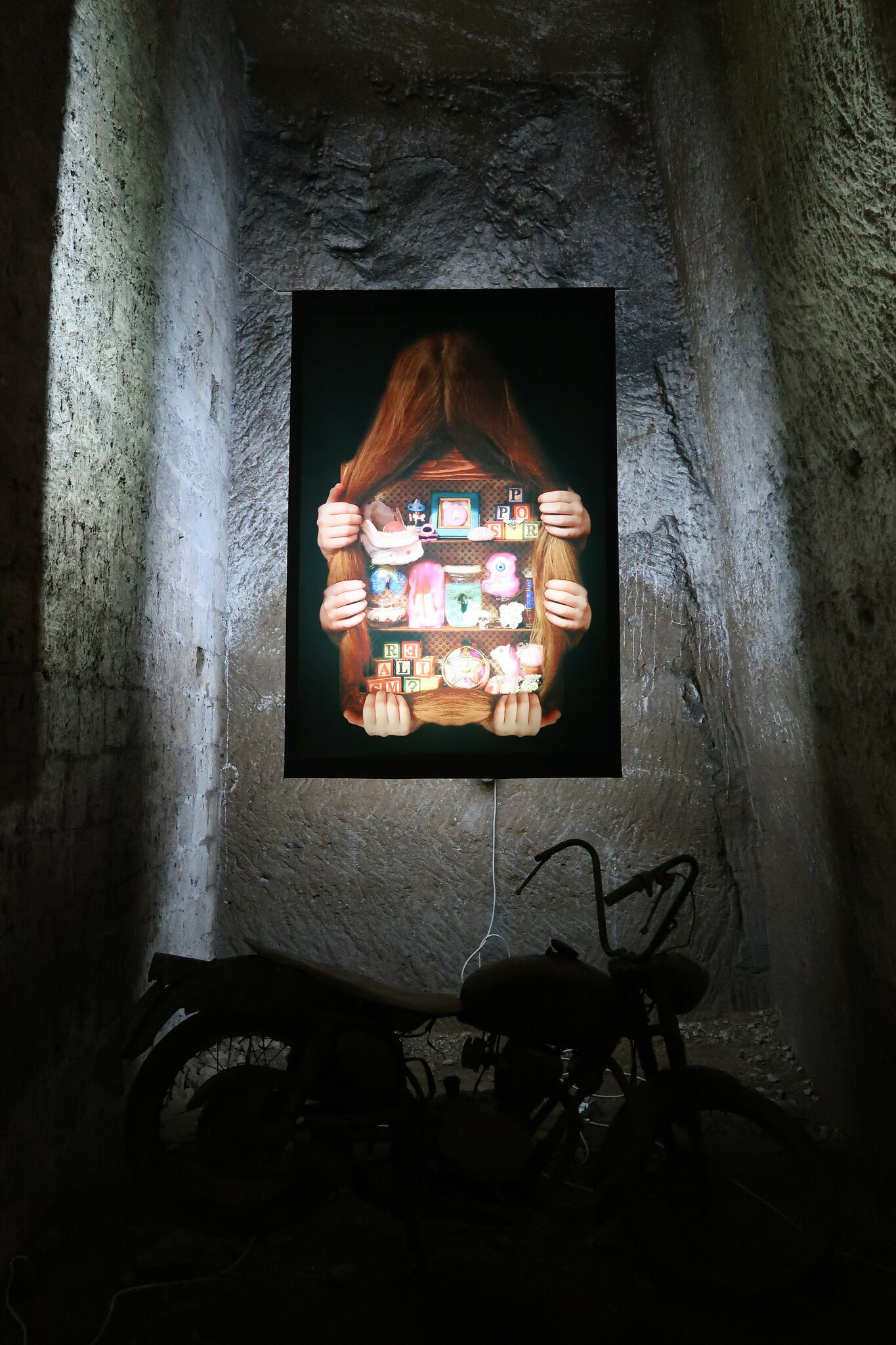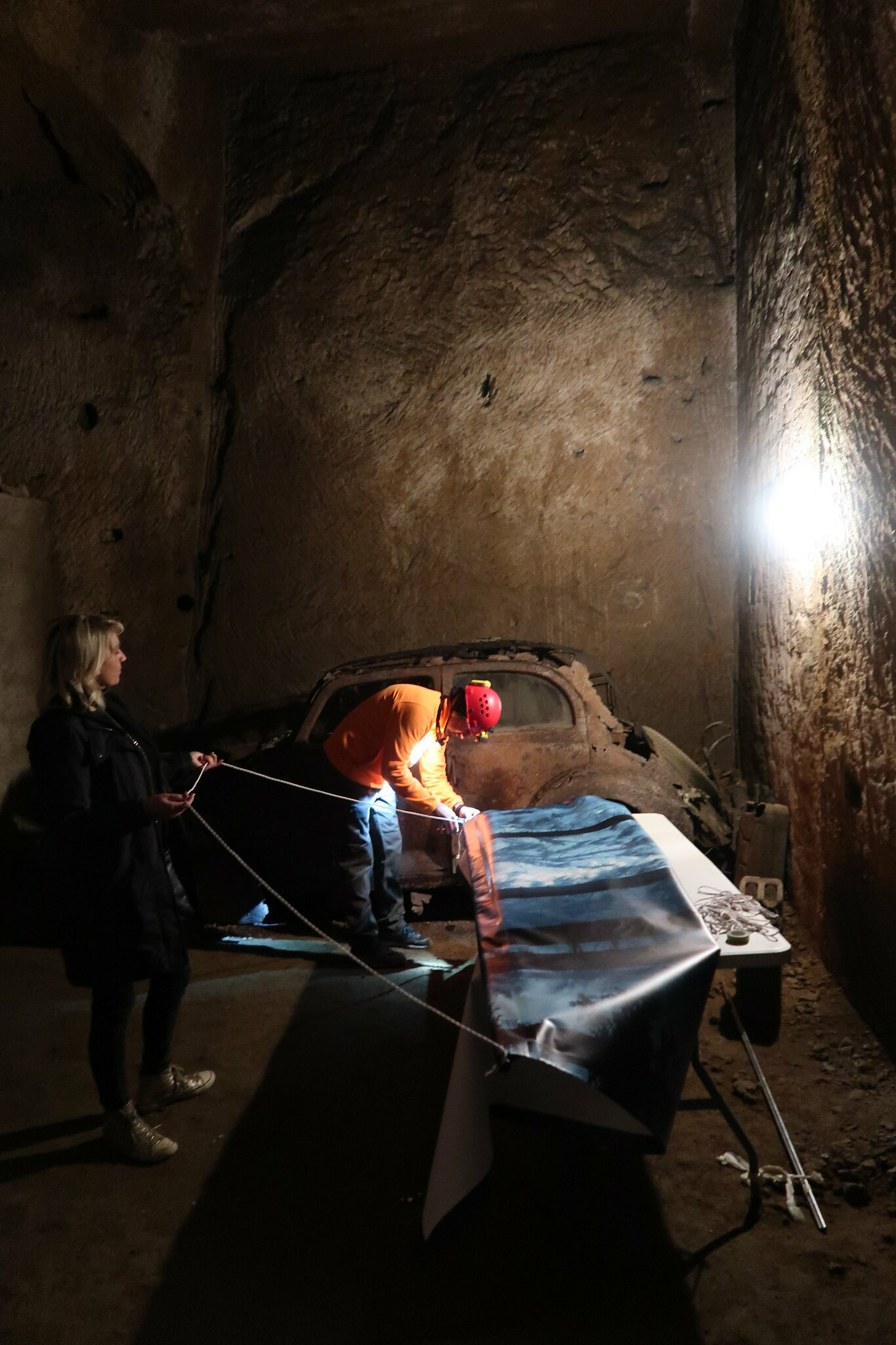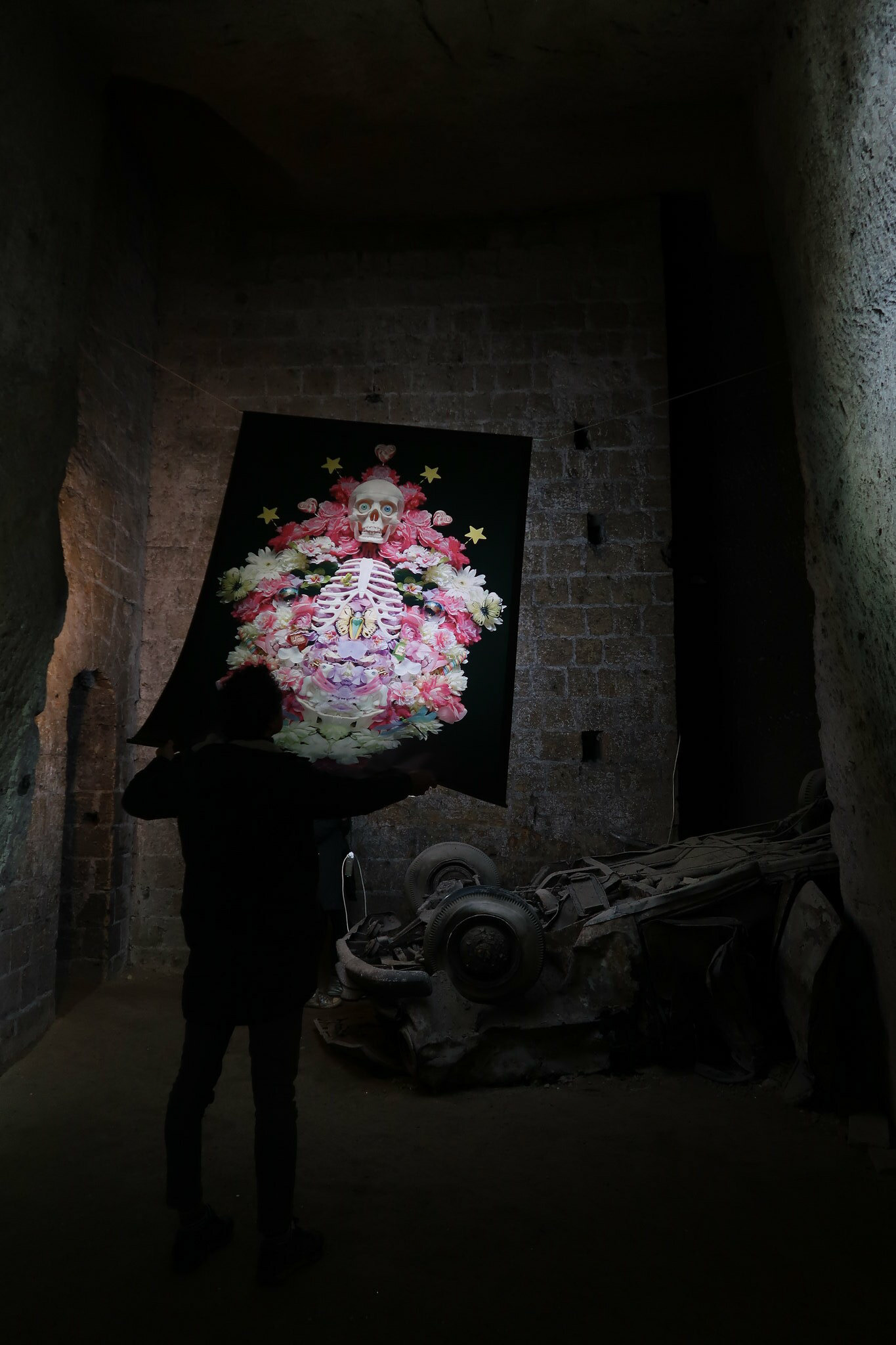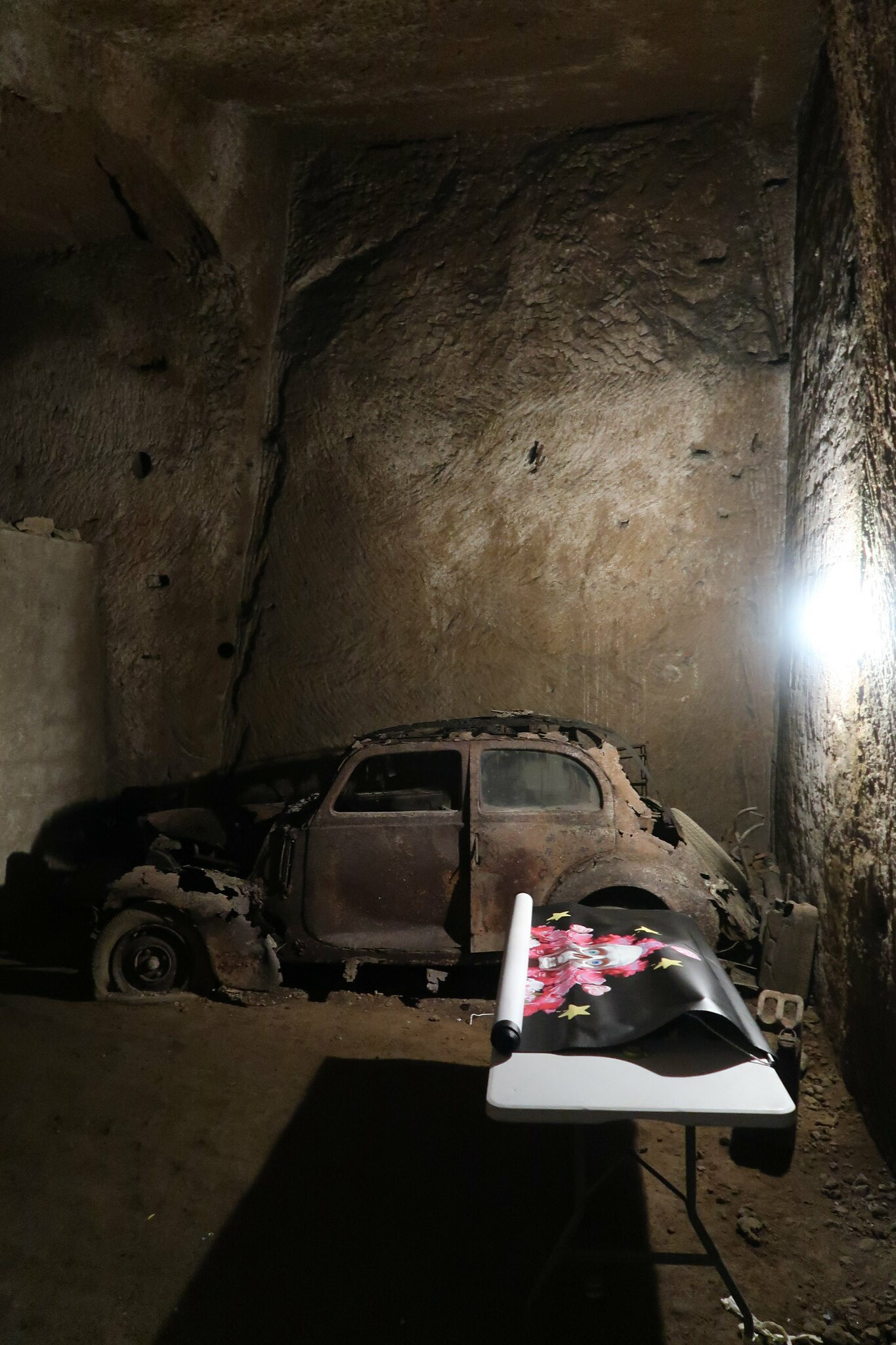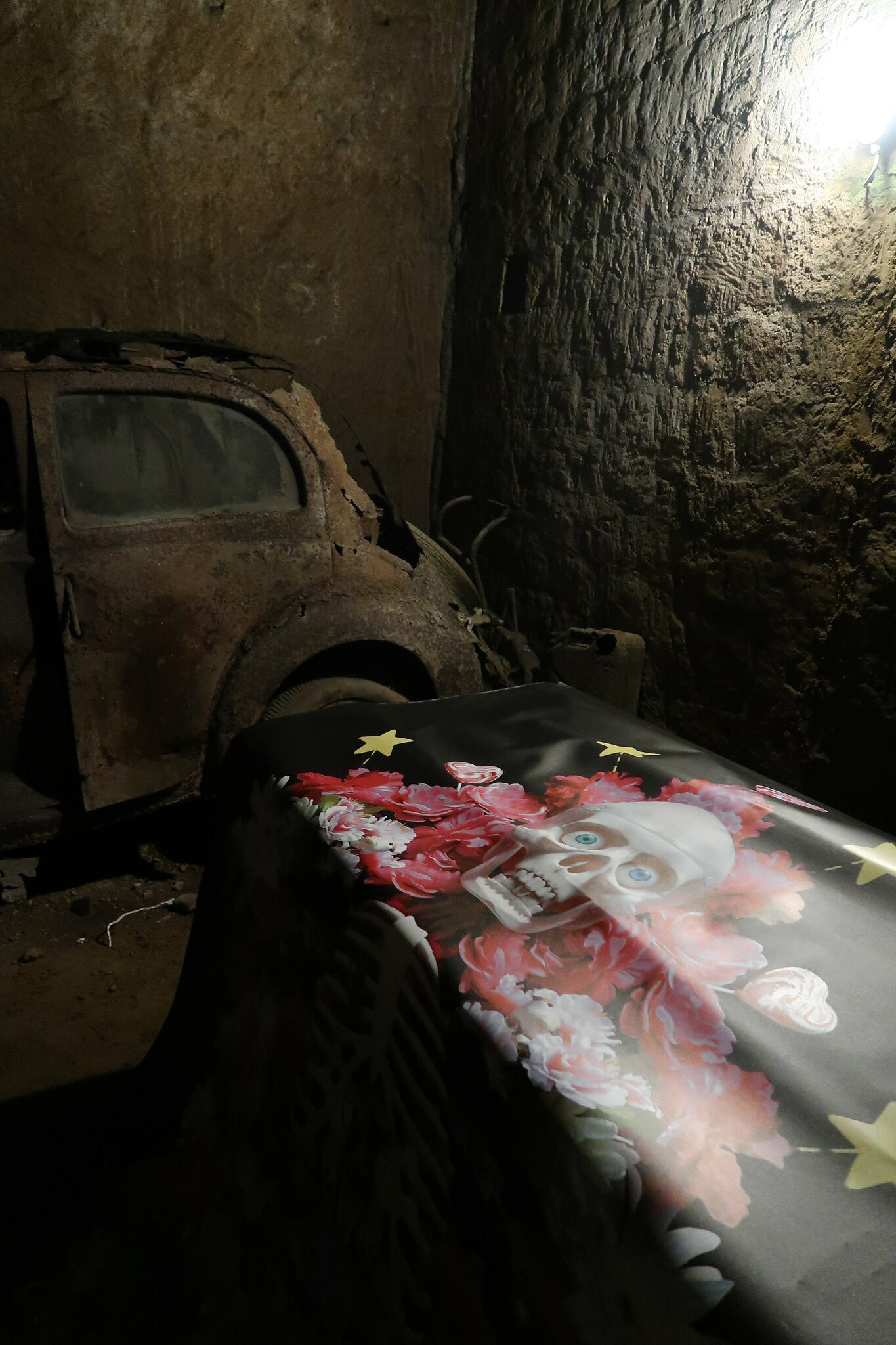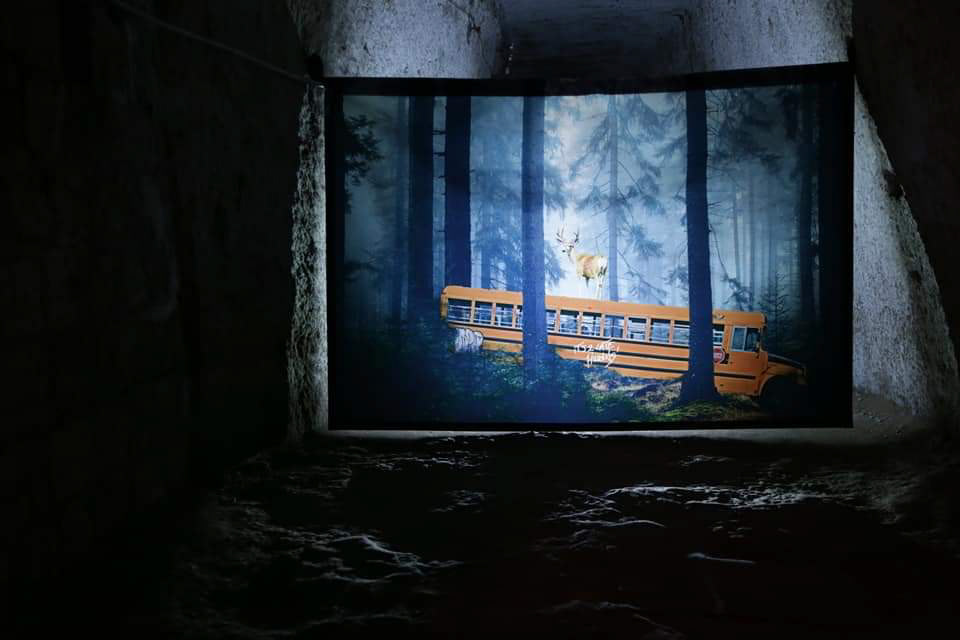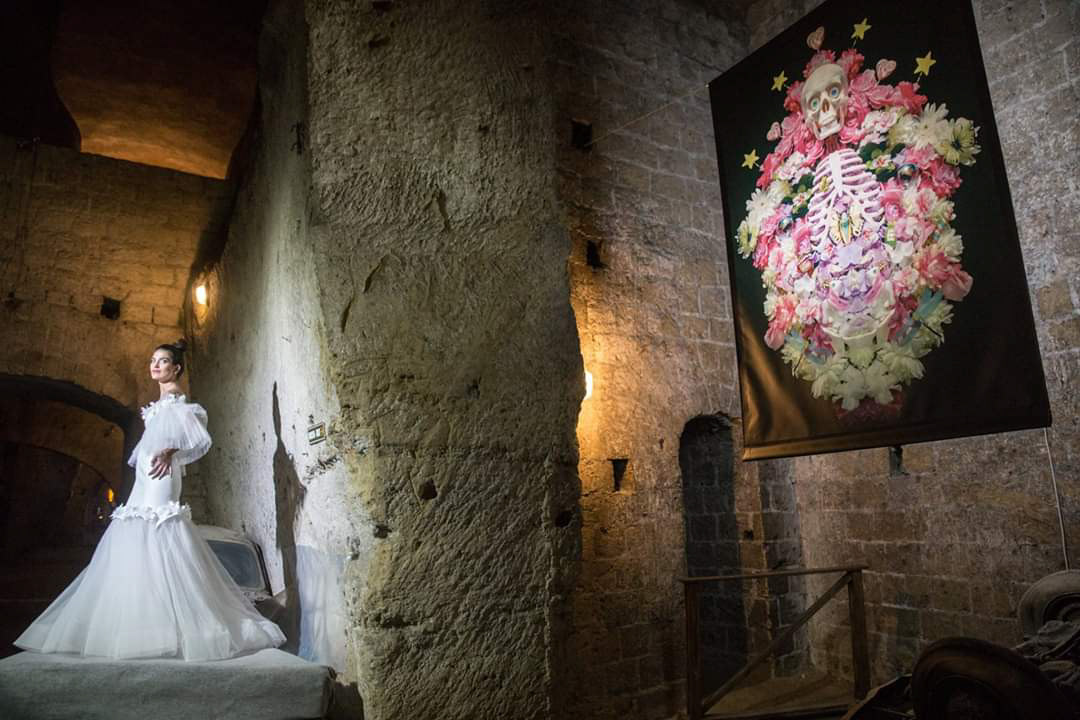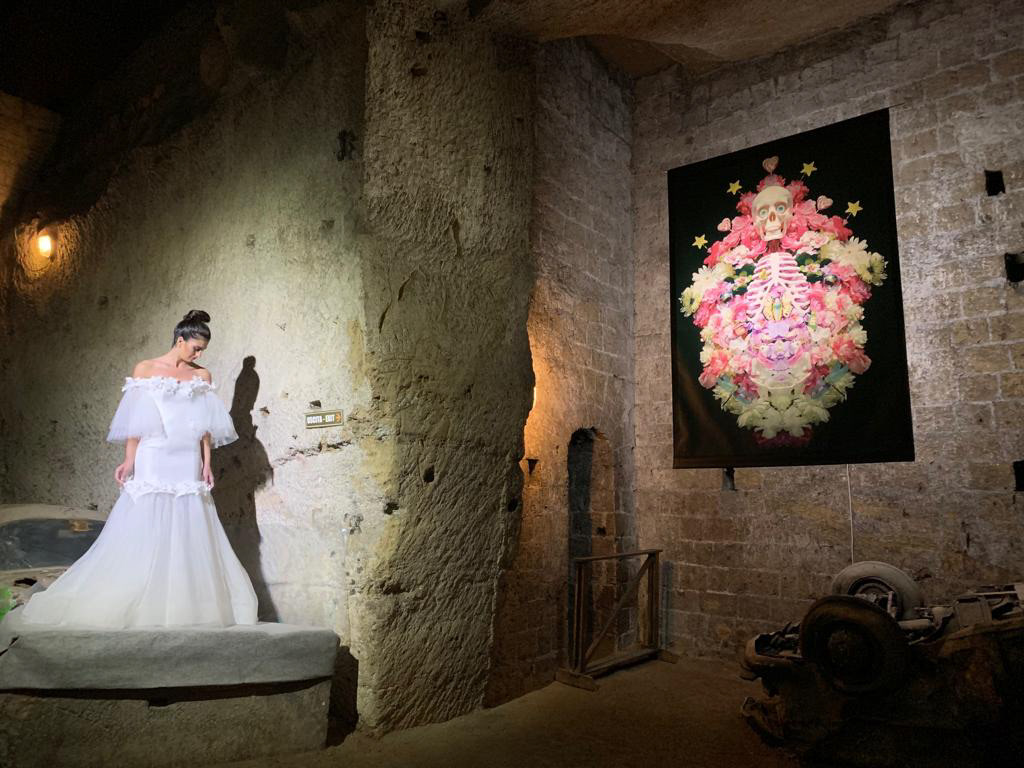 Cristina Bu

rns artwor

k for the Memorial day of Mafia Victims
"Candy Girl" has been chosen by Regione Lombardia to represent Women victims of Mafia, the conference was held in Palazzo Pirelli, Milan.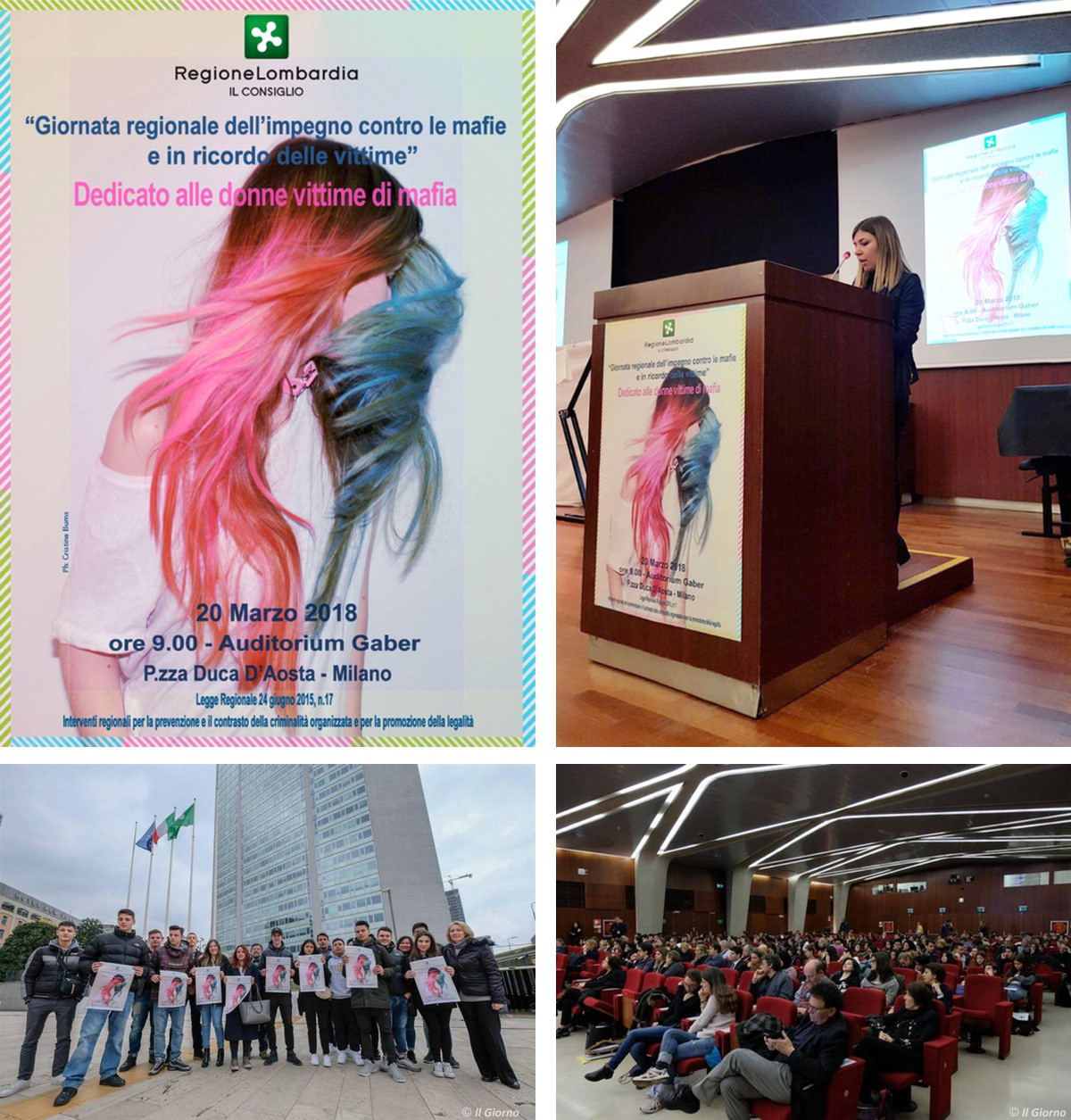 "STRATIFICAZIONI ANTROPOLOGICHE" IN THE PERMANENT ART COLLECTION OF METRO NAPOLI
Winner of "Raffaele Pezzuti per l'Arte"  "Stratificazioni Antropologiche" is in the art collection of Naples Metro, in permanent exhibition at Vanvitelli Station, the collection includes contemporary artists, designers and architects such as Alessandro Mendini, Anish Kapoor, Gae Aulenti, Jannis Kounellis, Karim Rashid, Michelangelo Pistoletto and Sol LeWitt.
ANATOMY ROCKS ANTHOLOGY
Some works from "Through the Mirror" series are featured on  "Anatomy Rocks" Anthology
"A celebration of anatomy, flesh and bone by more than 60 international artists, including contemporary stars (Damien Hirst, KAWS, Mark Ryden), social network celebrities (Jason Freeny), street art icons (Nychos) and a whole new generation of illustrators."
CANDYLAND SOLO EXHIBITION AT THE MUSEUM OF CONTEMPORARY ART PALAZZO DELLE ARTI NAPOLI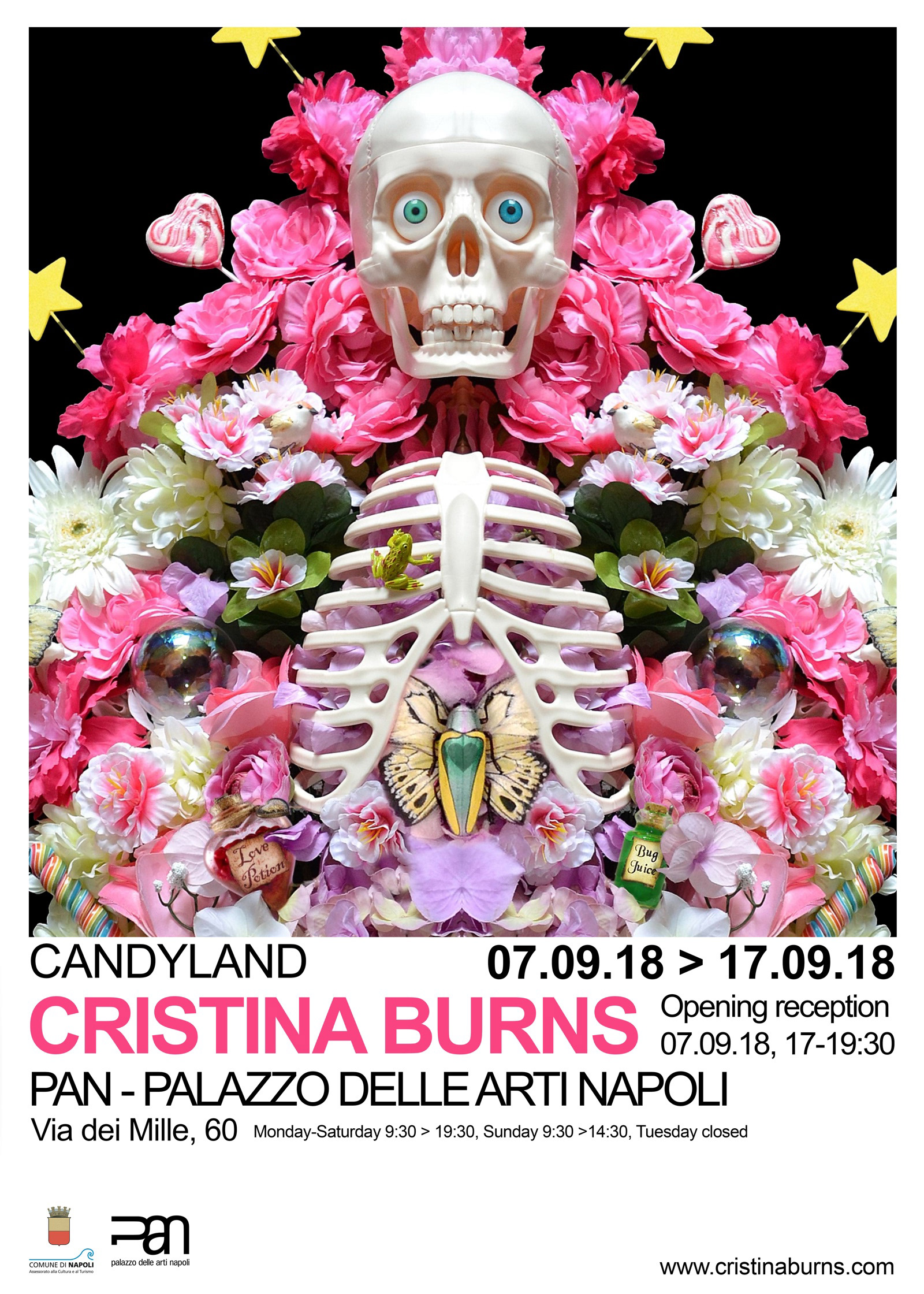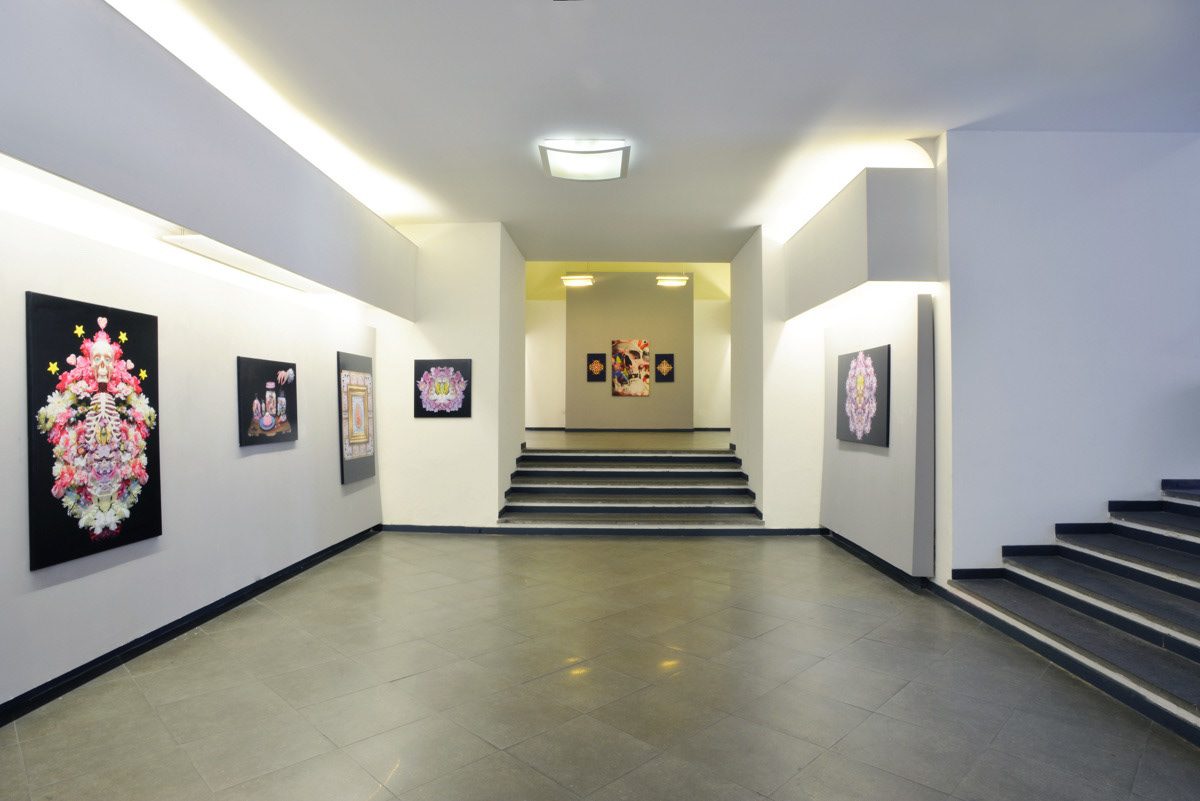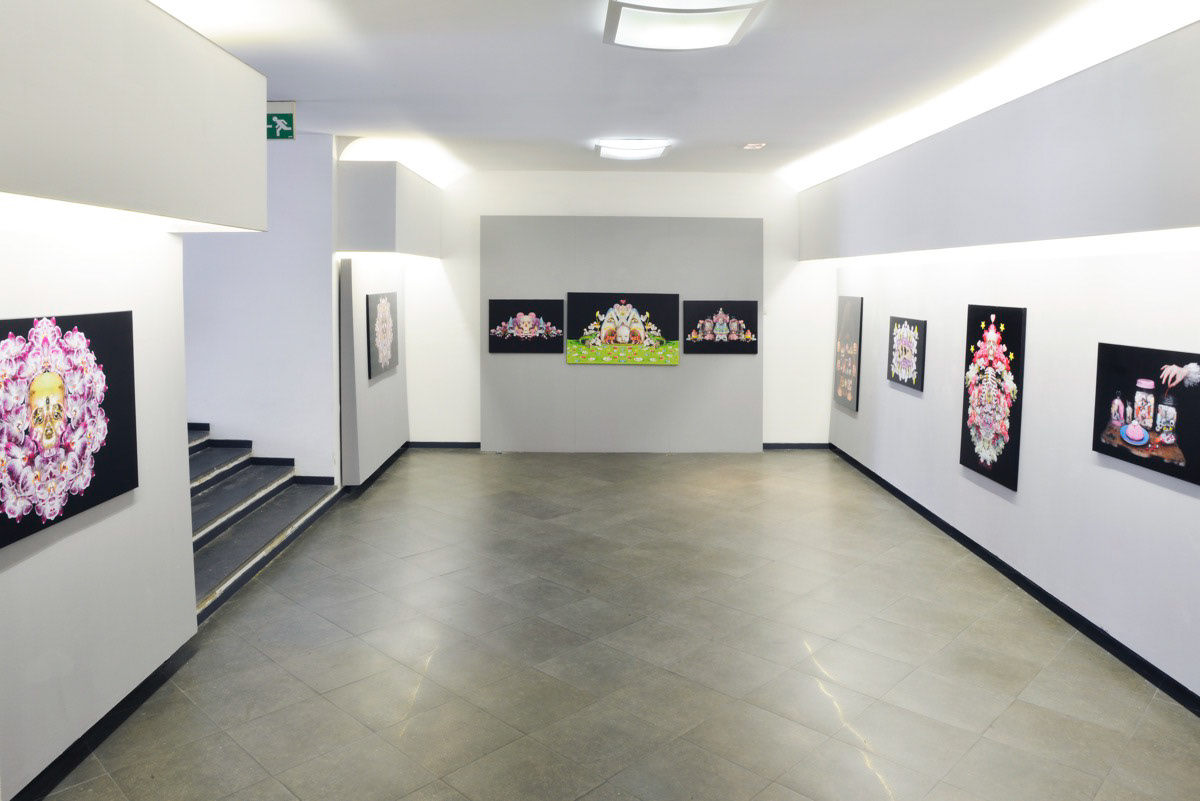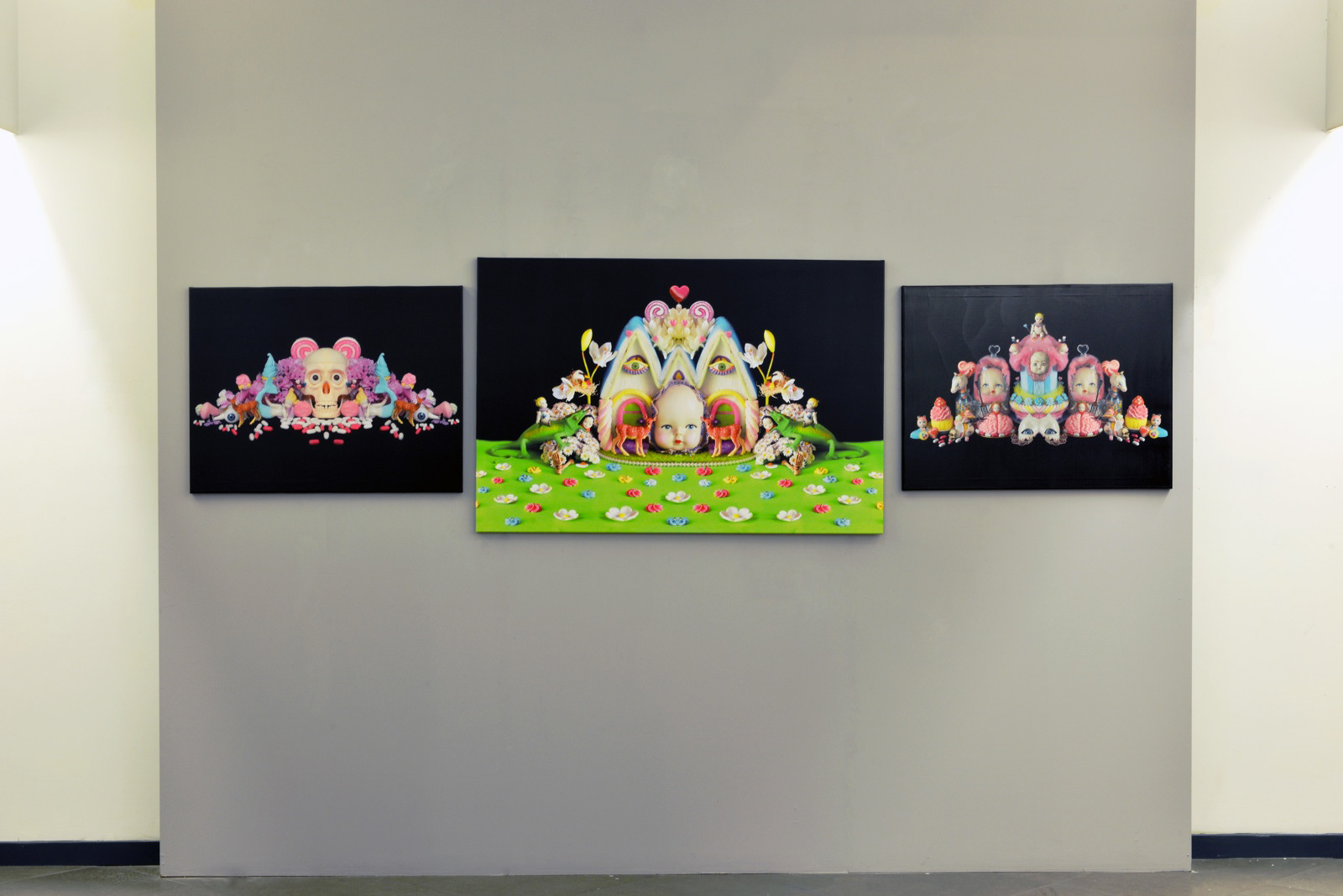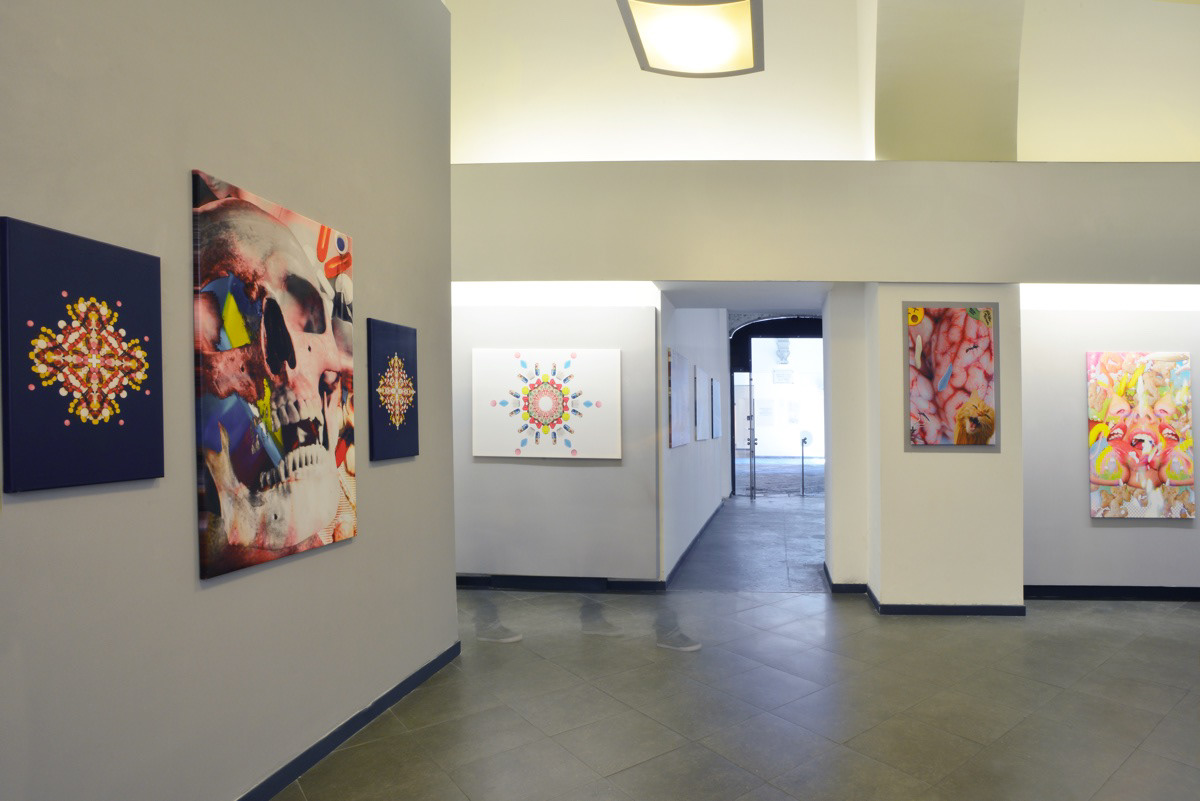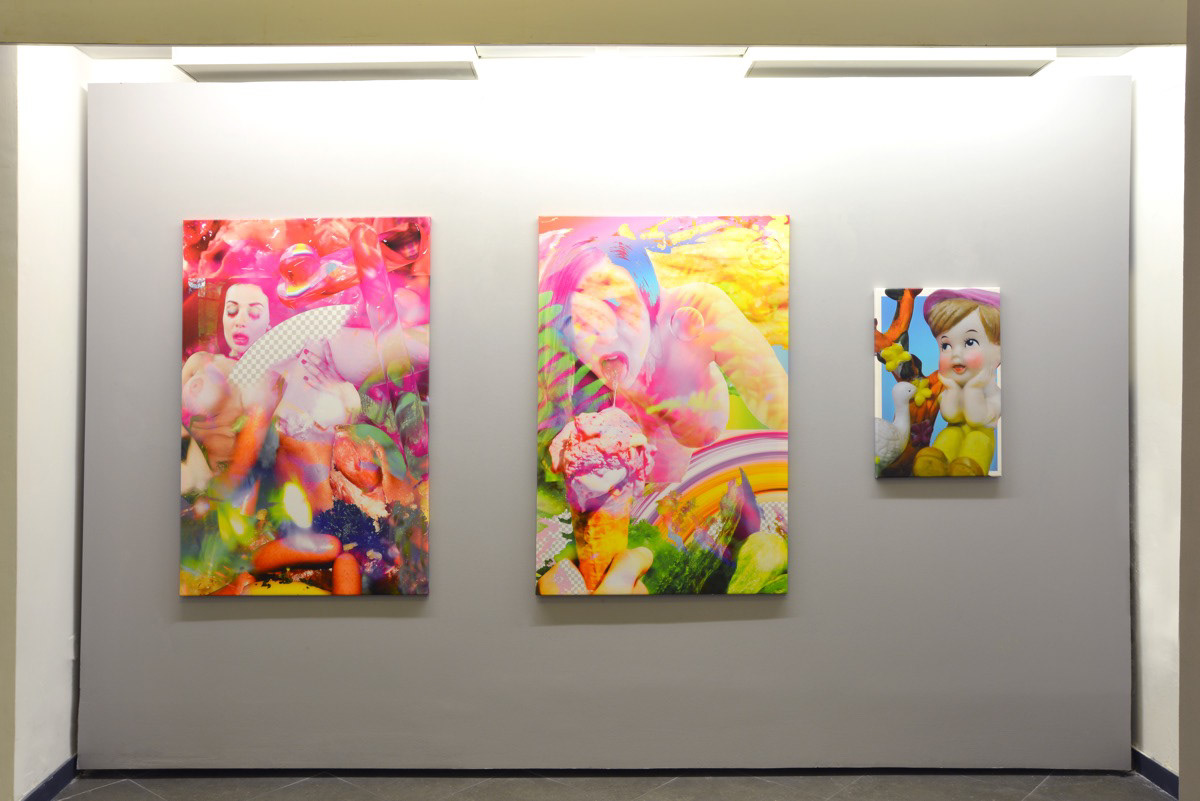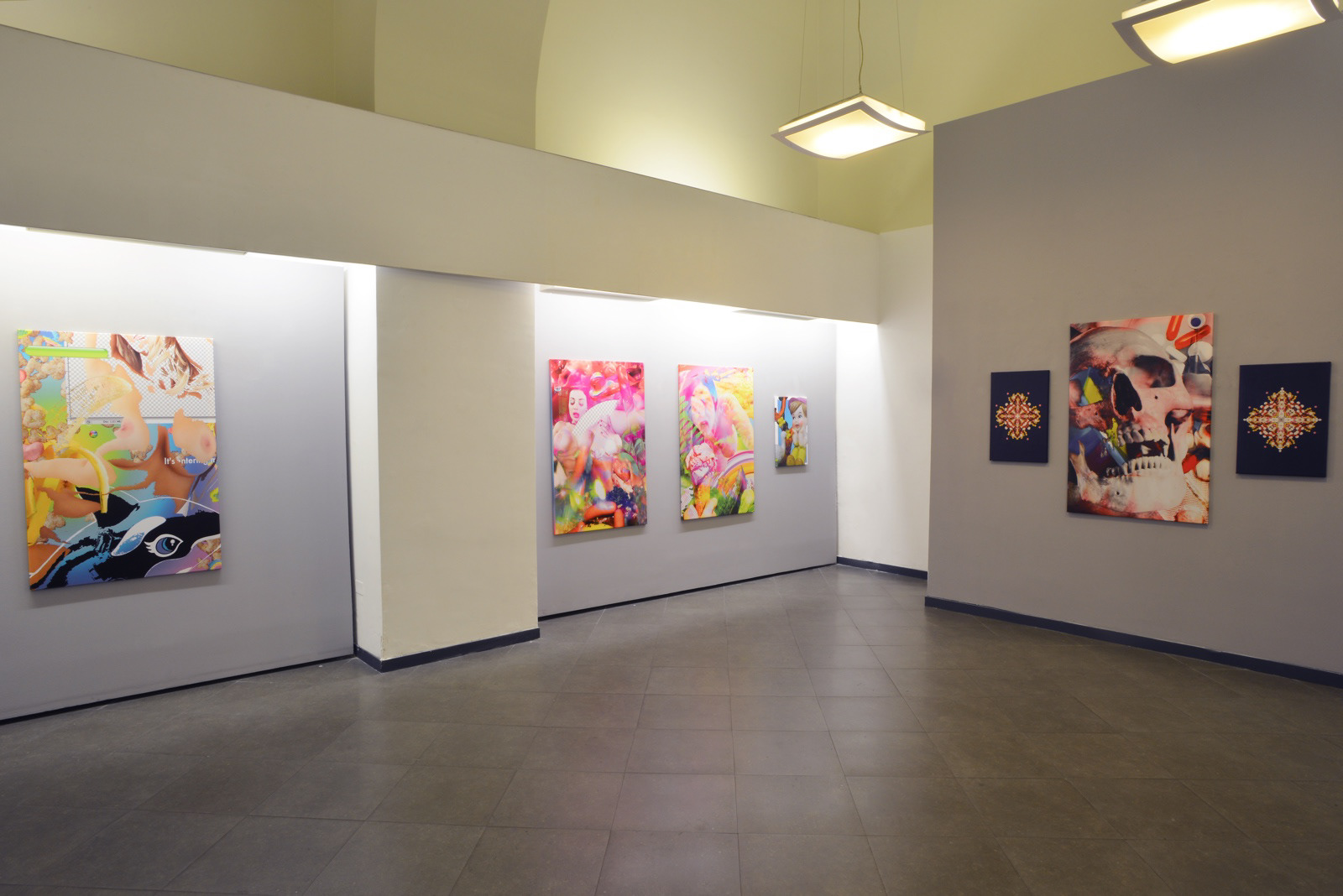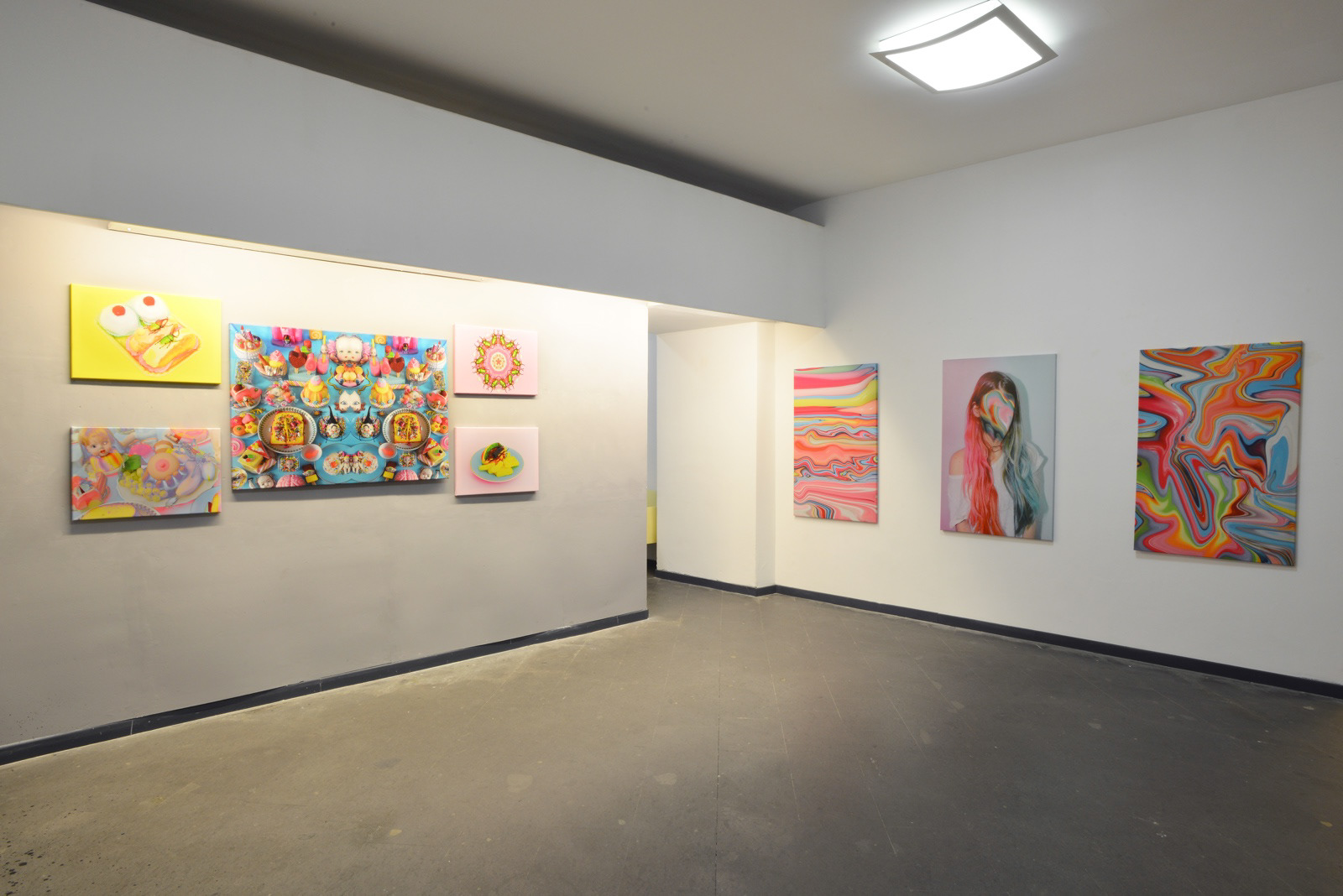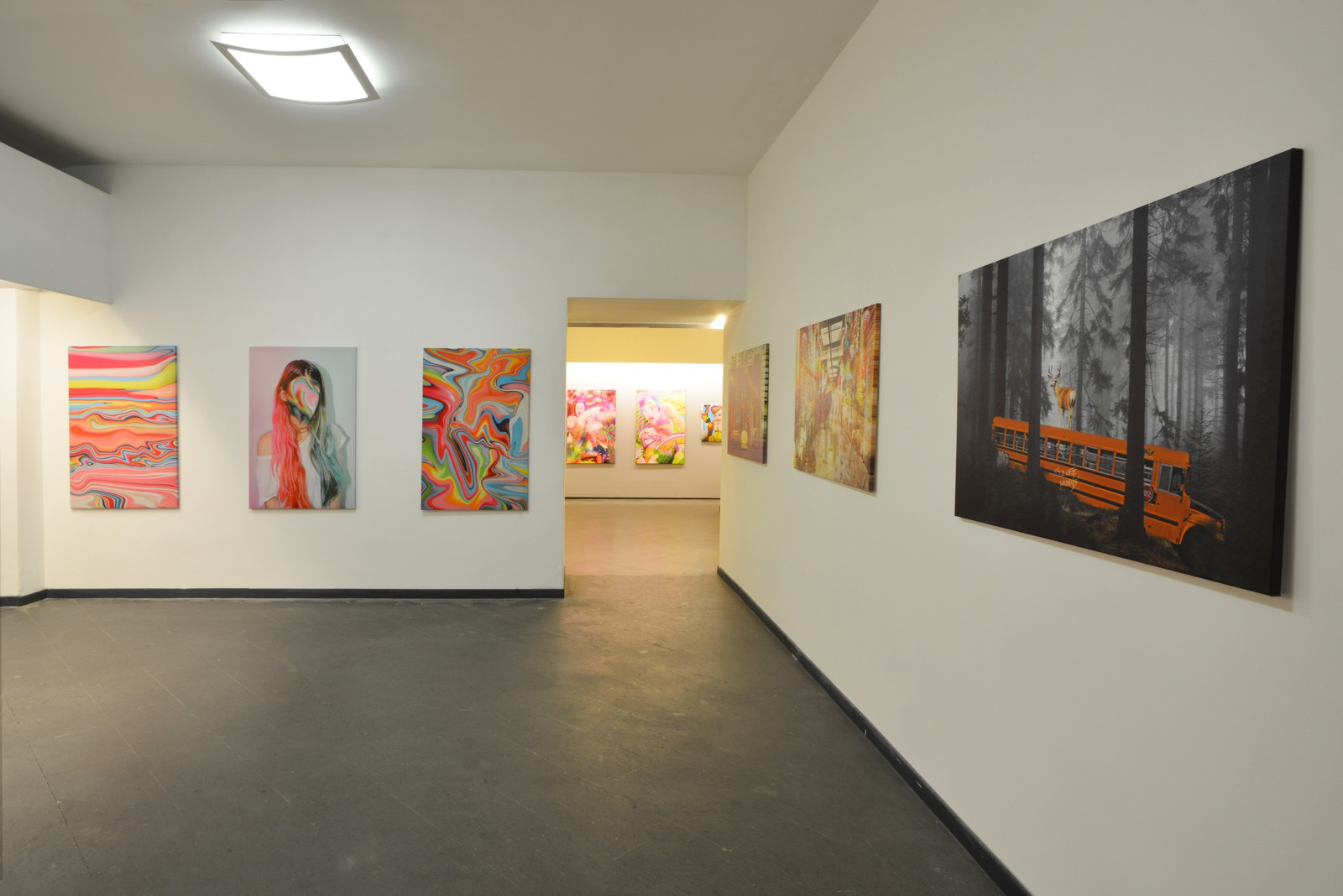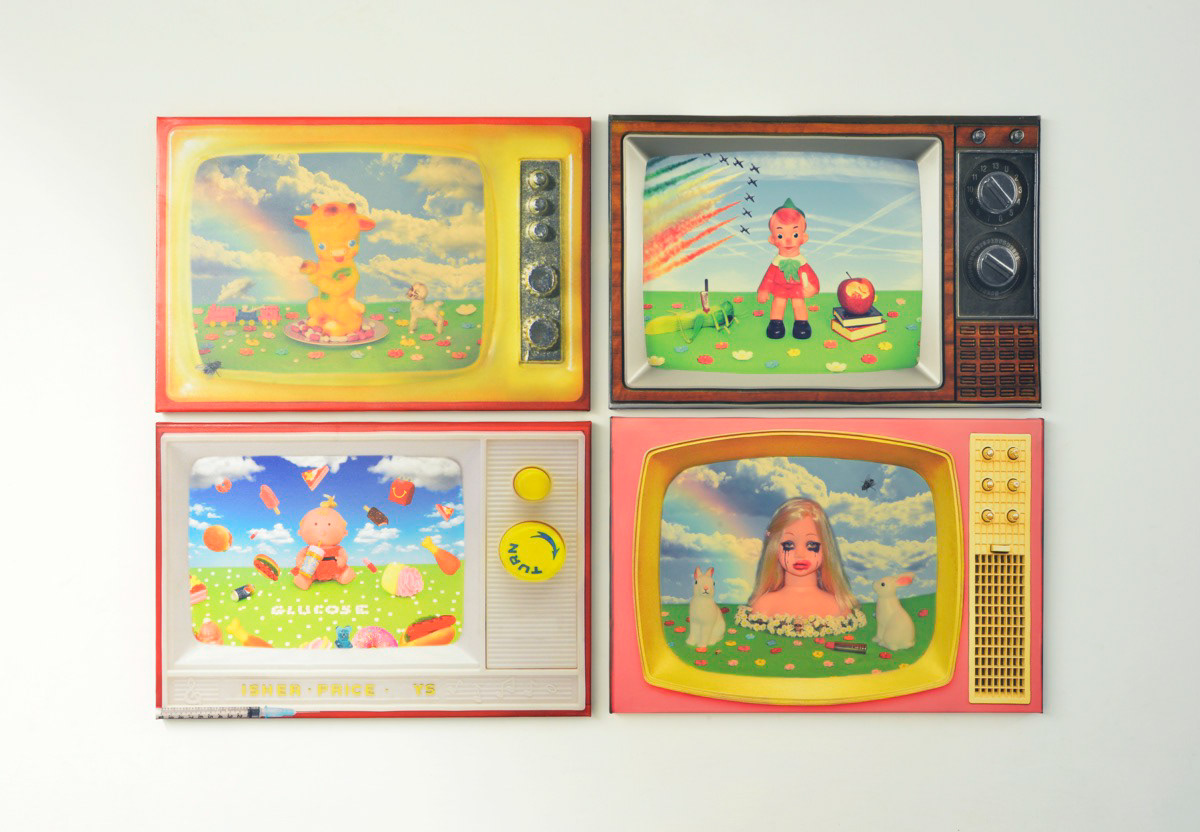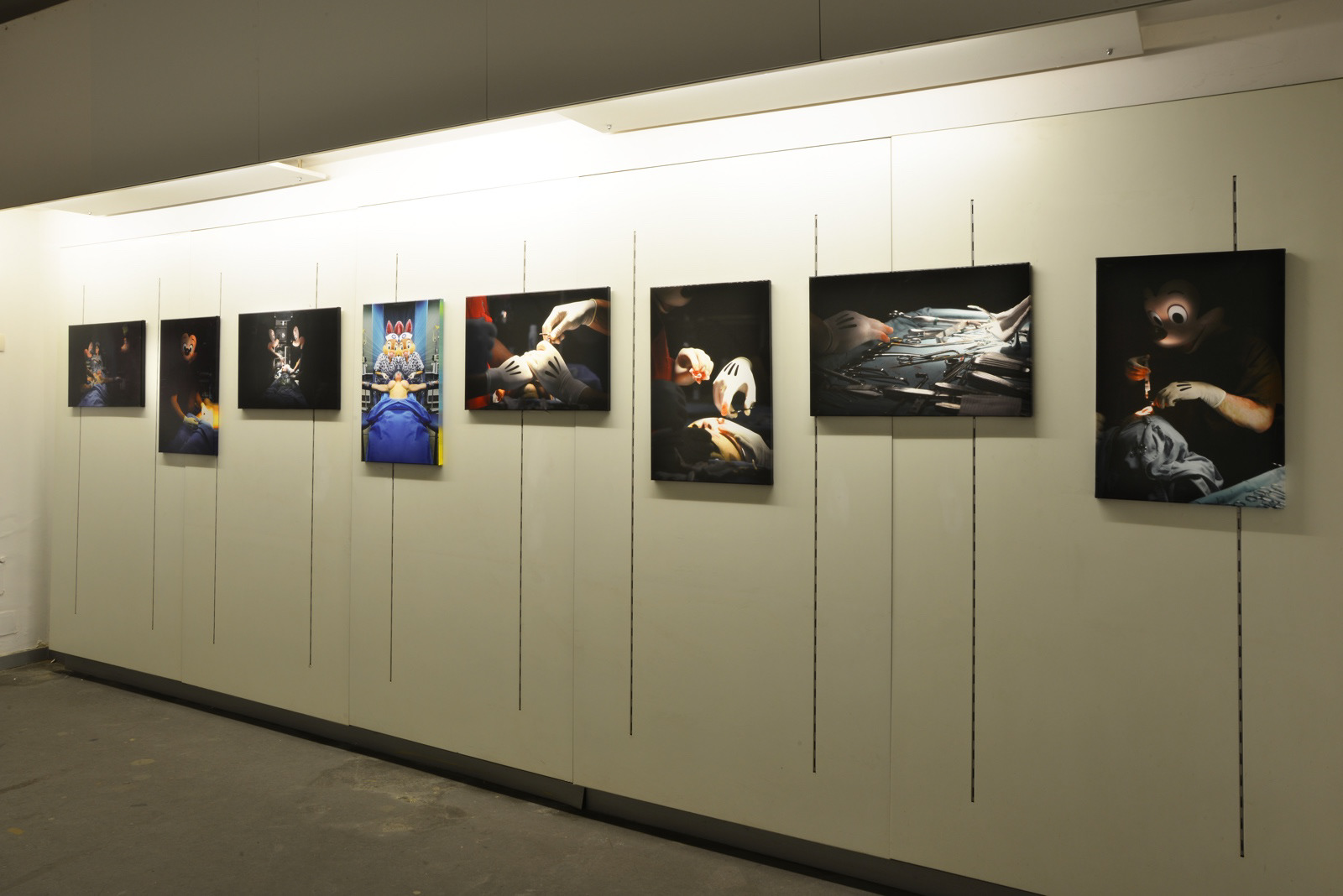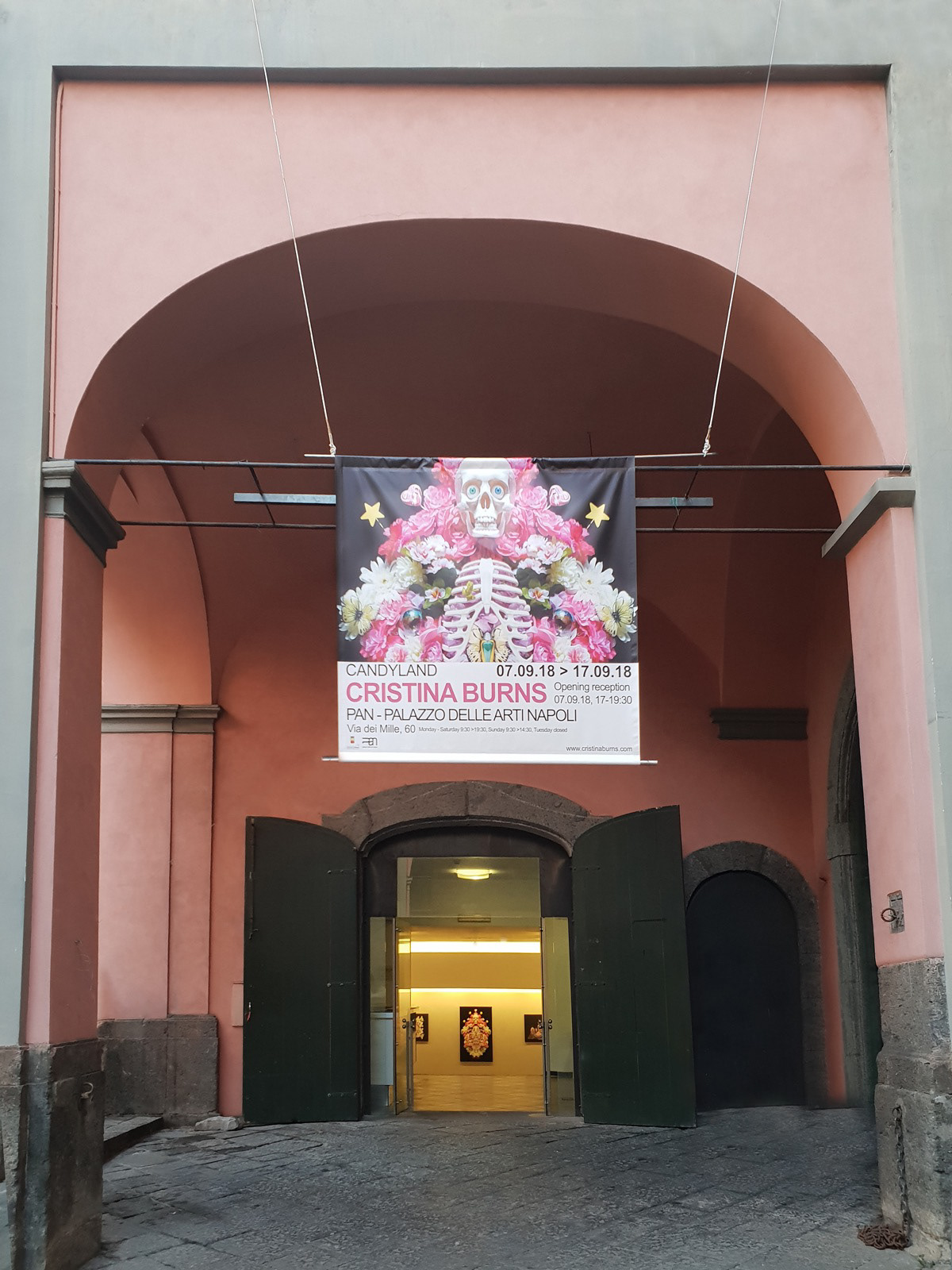 VOGUE AND LEICA EXHIBITION
Titled 45 Frames from PhotoVogue, the exhibition  curated by Vogue Italia photo editors Alessia Glaviano and Chiara Bardelli Nonino will open on April 22  2015 from 7.00 to 10.00 pm inside Leica's stunning exhibition space on via Mengoni 4 in Milan.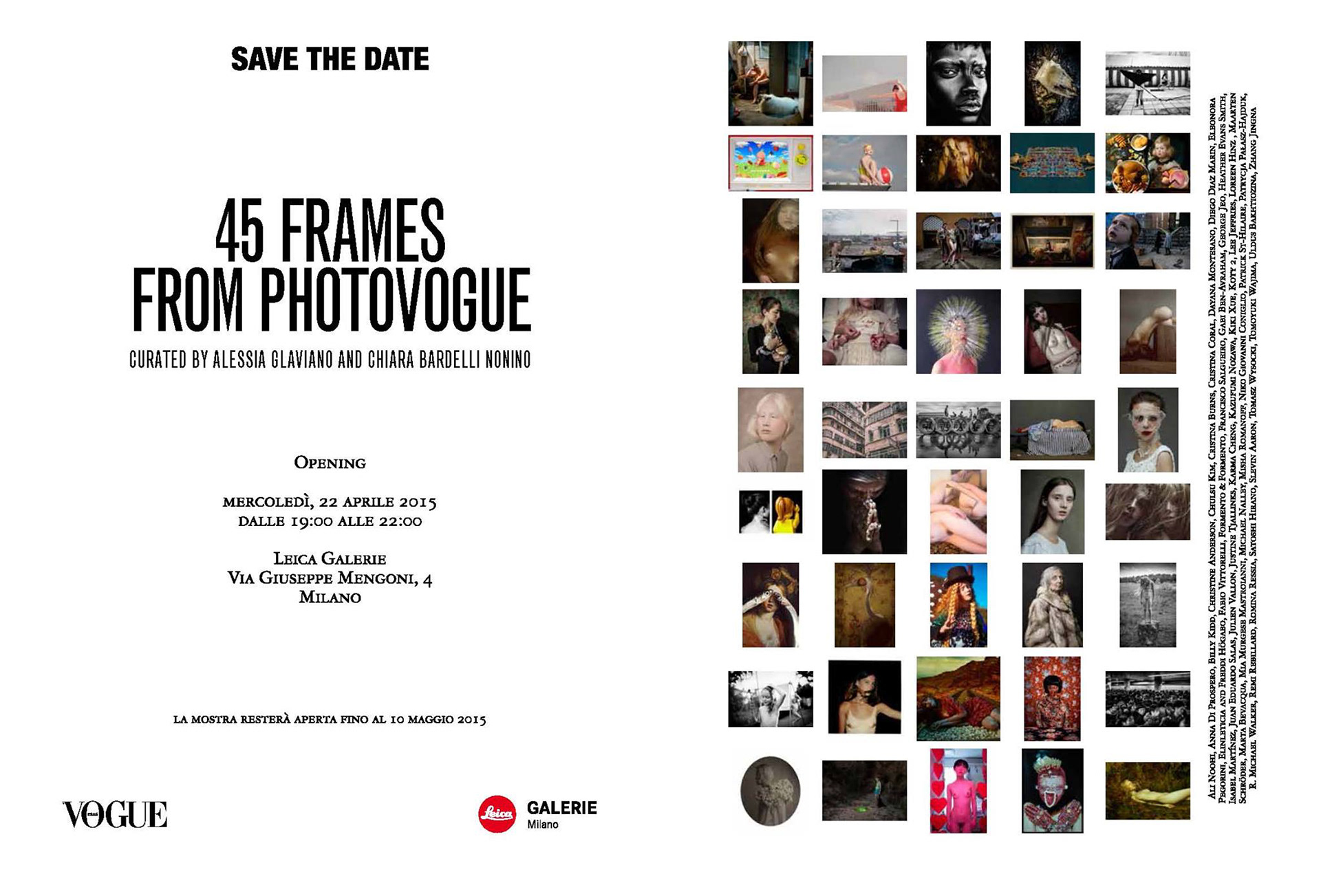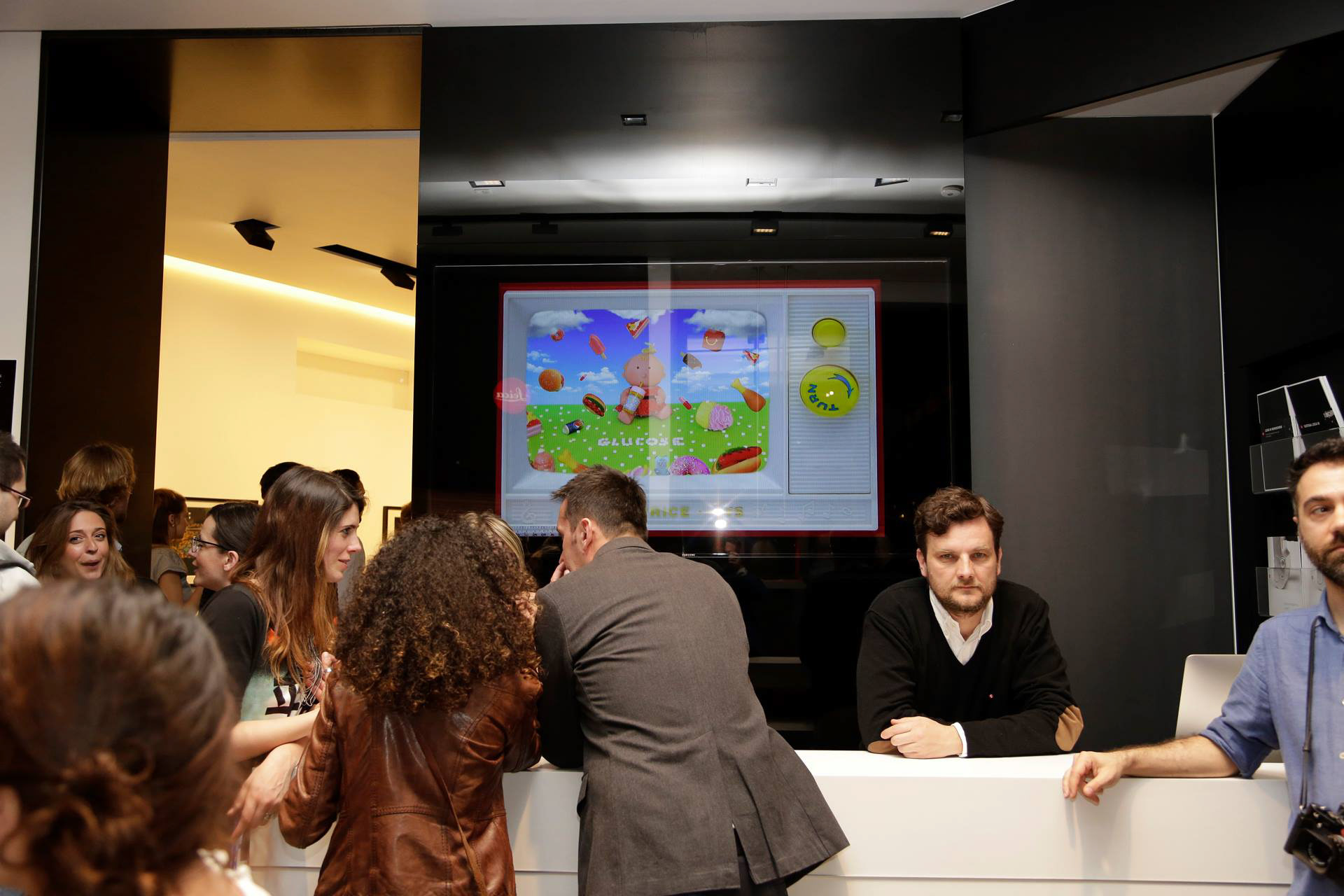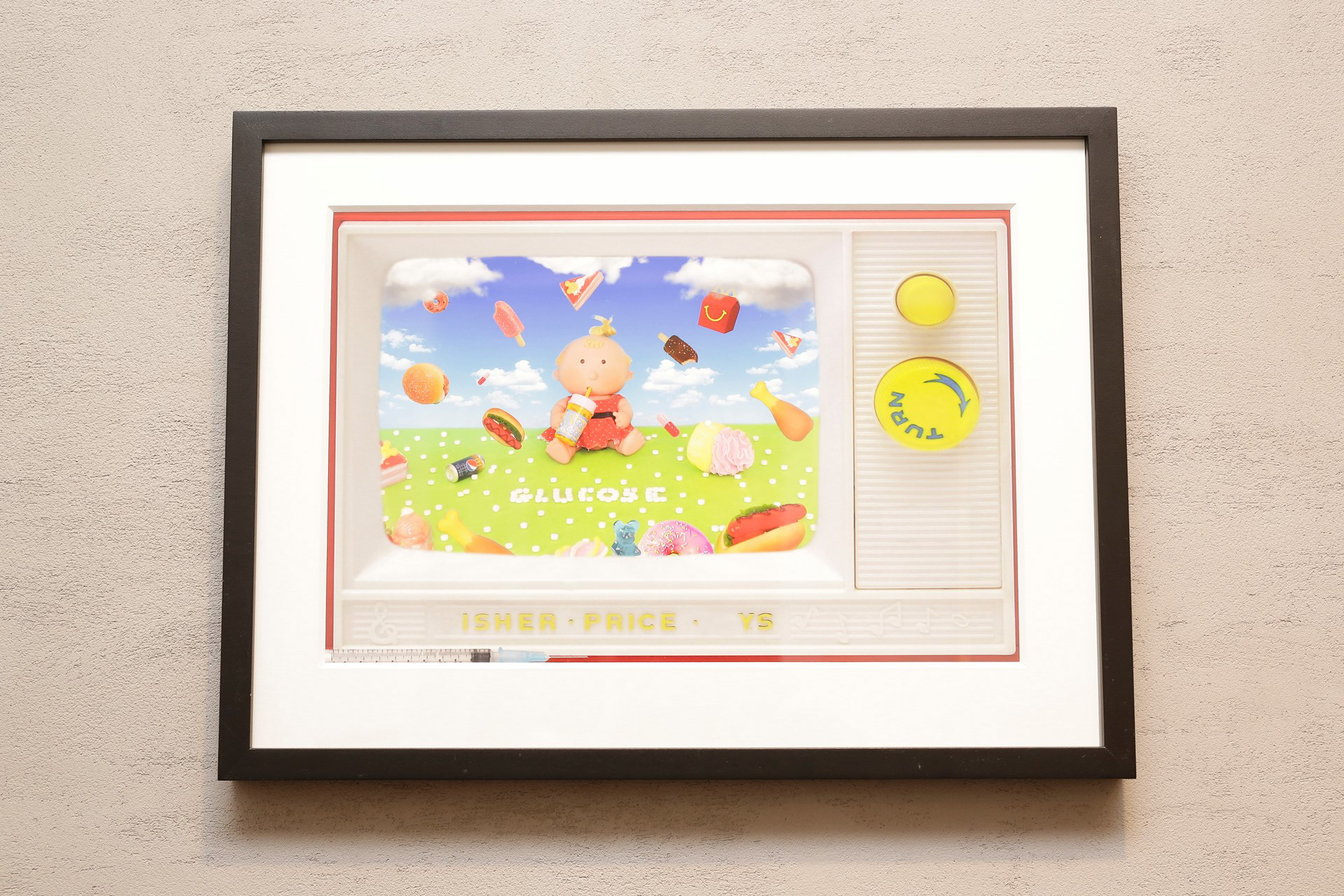 LEMON FRAME GALLERY "SWEET ART"

Lemon Frame Gallery, Tel Aviv "Sweet Art" exhibition from 14th of May until 6th of June 2019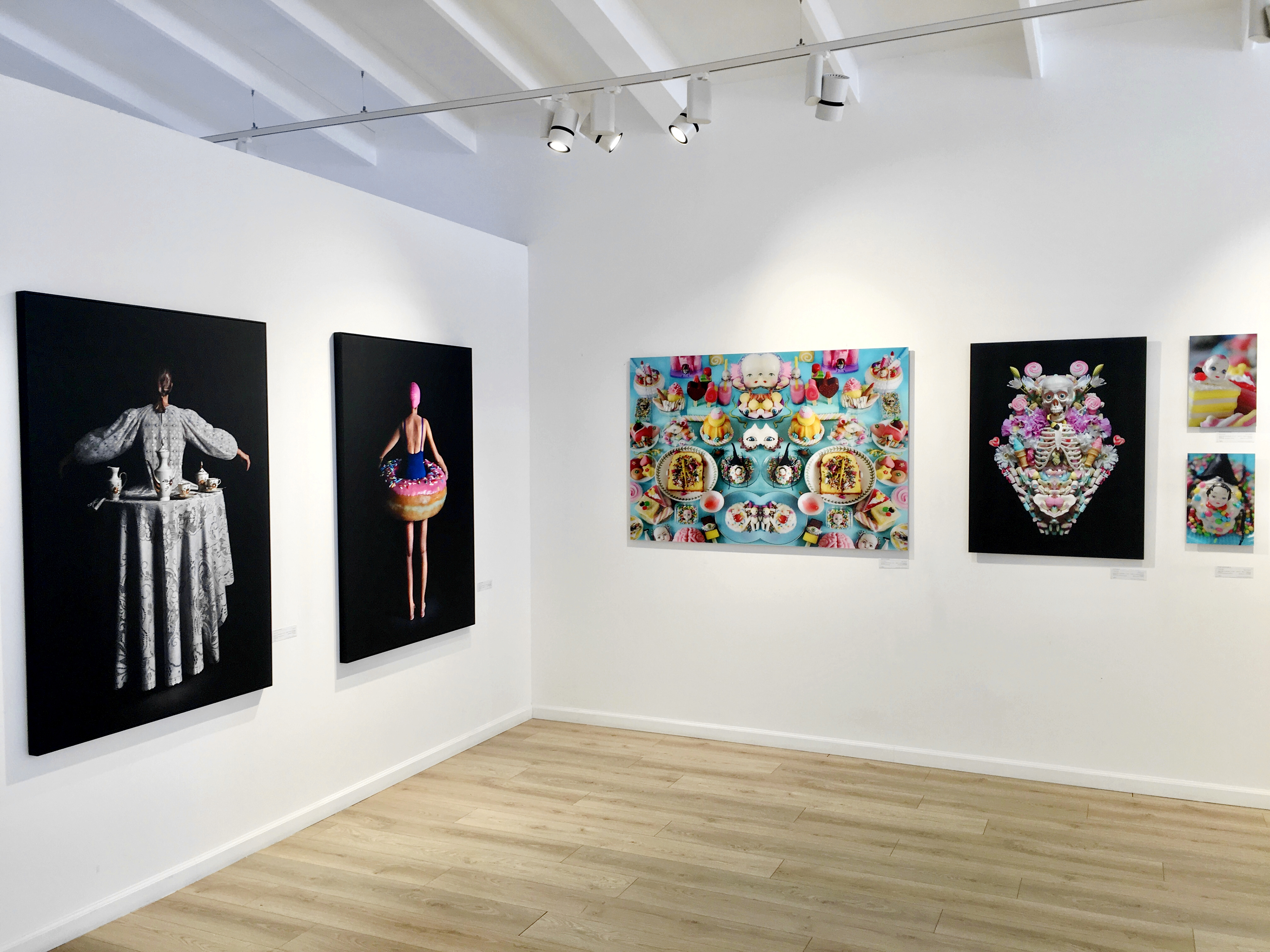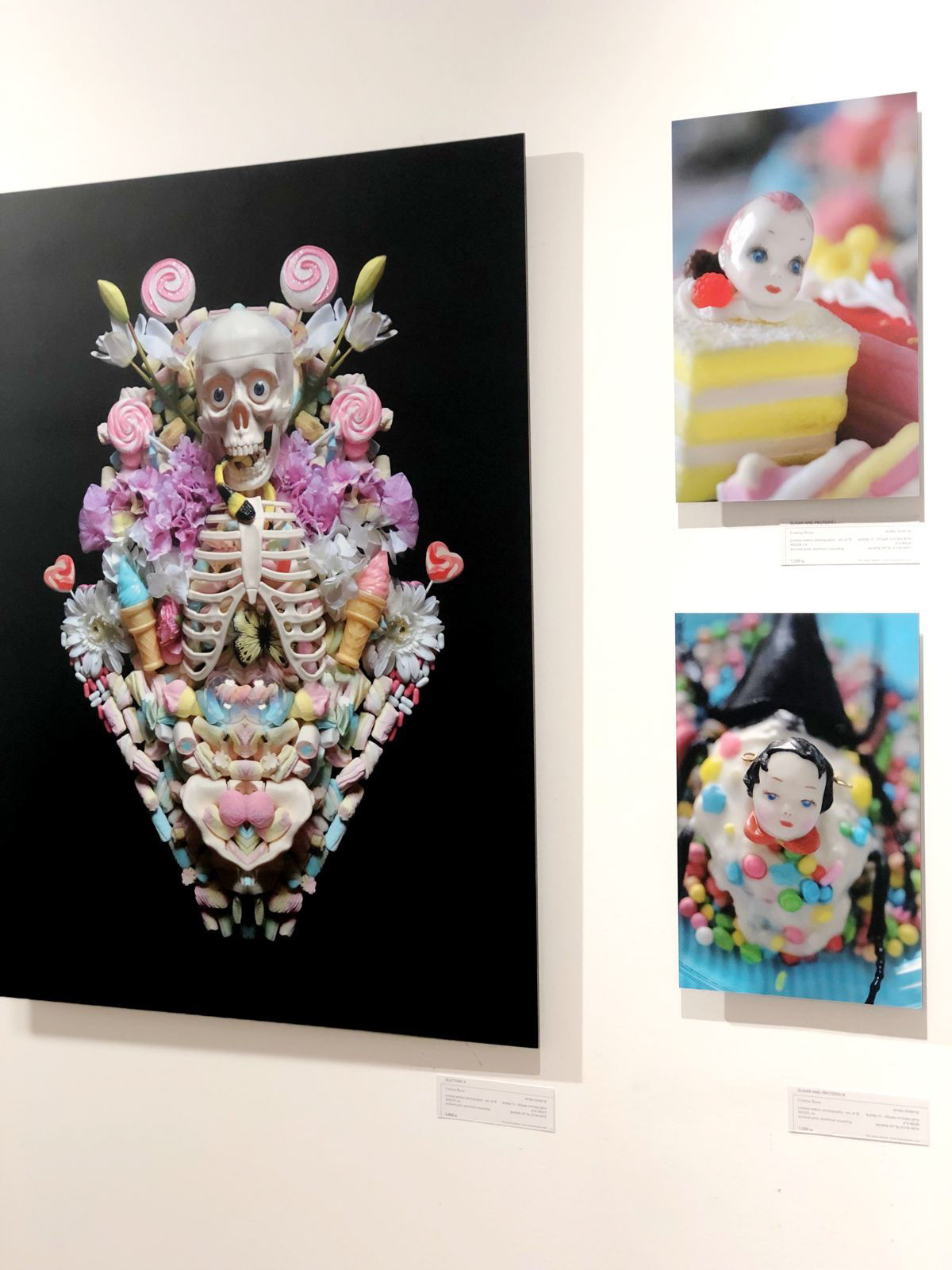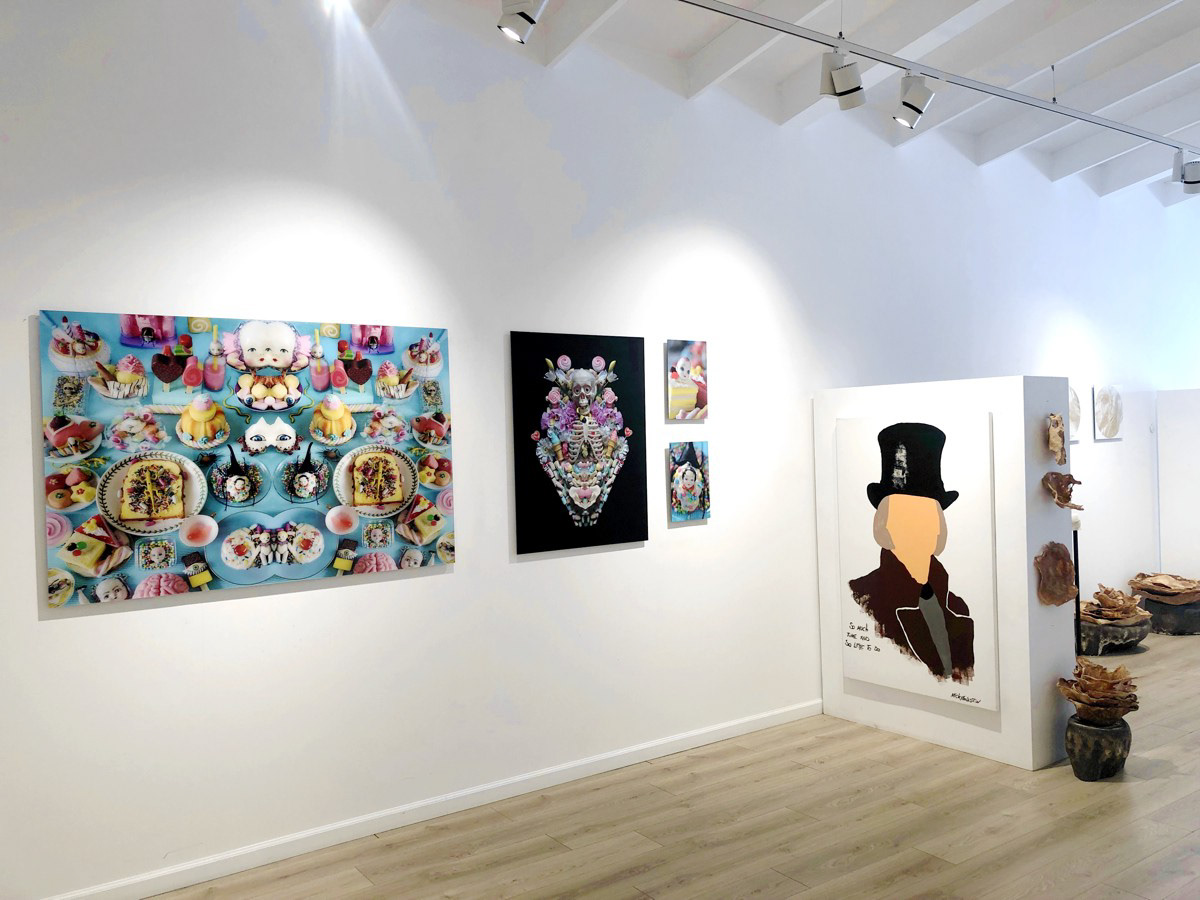 INTERVIEW ON FOTO CULT 
​​​​​​​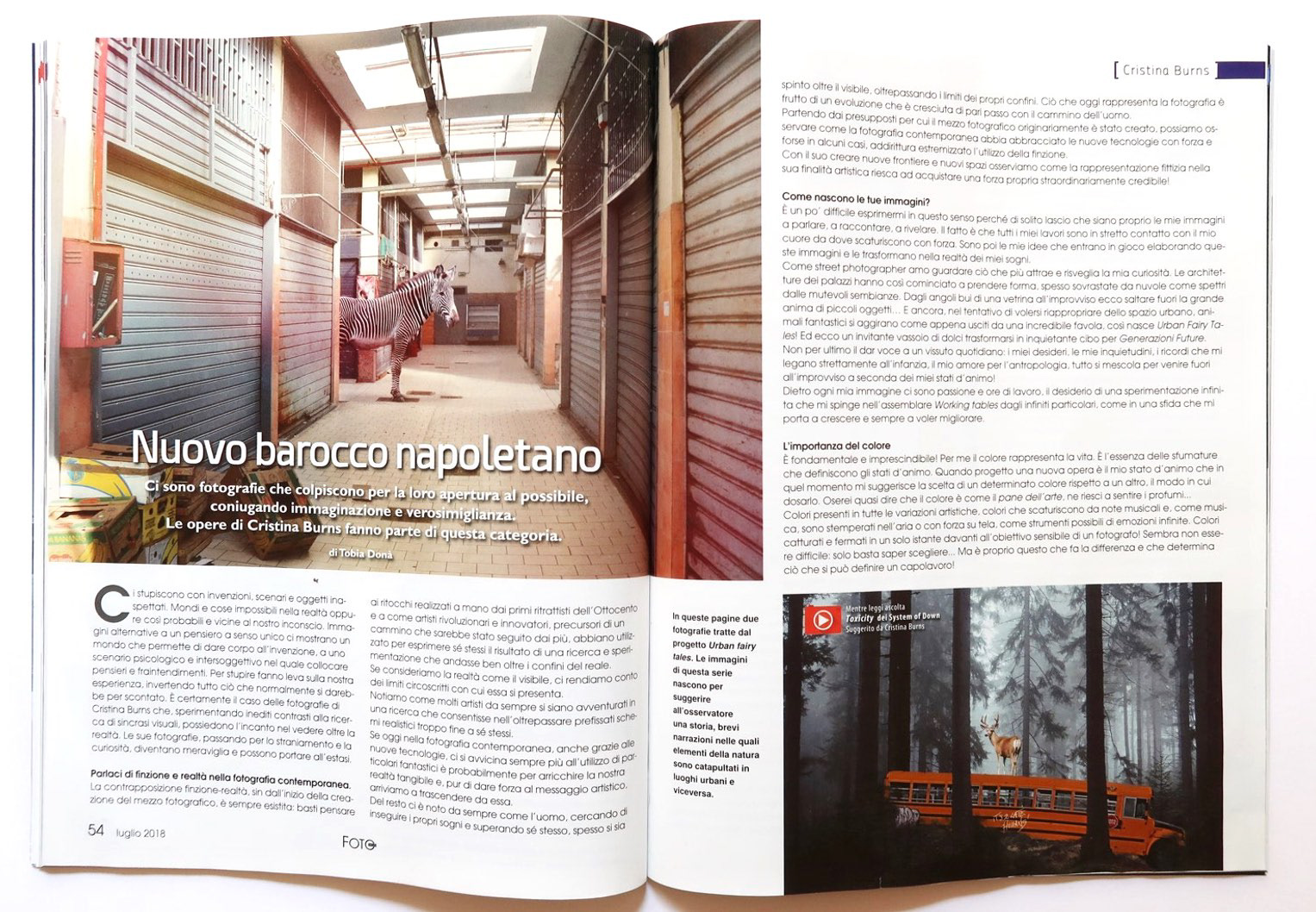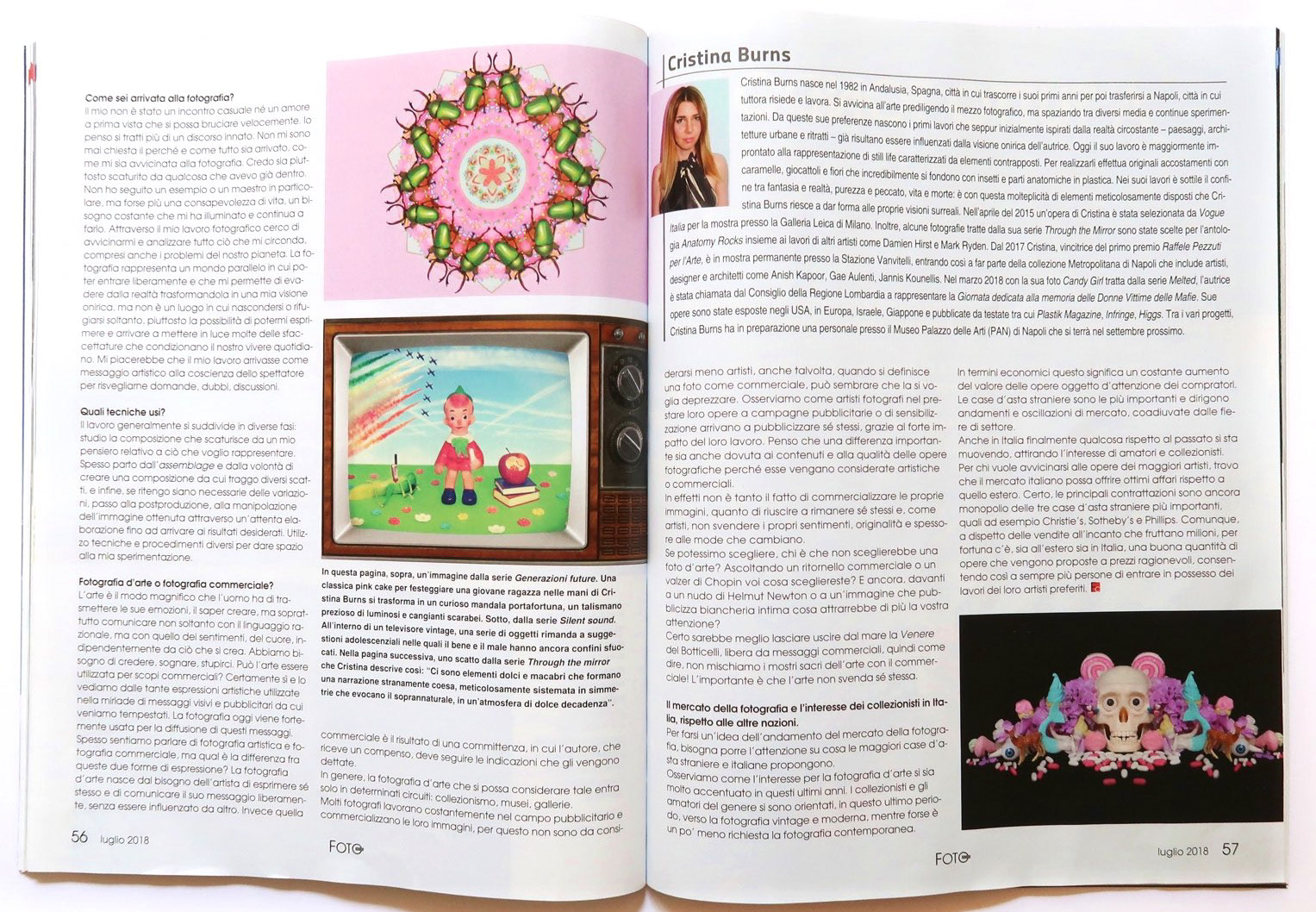 INTERVIEW ON PLASTIK MAGAZINE 
"ALICE MEETS BOSCH
Mixed-media artist and photographer Cristina Burns juxtaposes dolls, toys, candies, skulls and insects in meticulously arranged patterns. Like modern day cabinets of curiosity, her brightly colored works are a playful reminder of the vanities of life. Seeing her surreal streak, it is no surprise Hieronymus Bosch ranks among her favorite artists. Cristina talks about Bosch, Alice IN WONDERLAND, her beloved Naples and much more. "

INTERVIEWED BY PETER SPEETJENS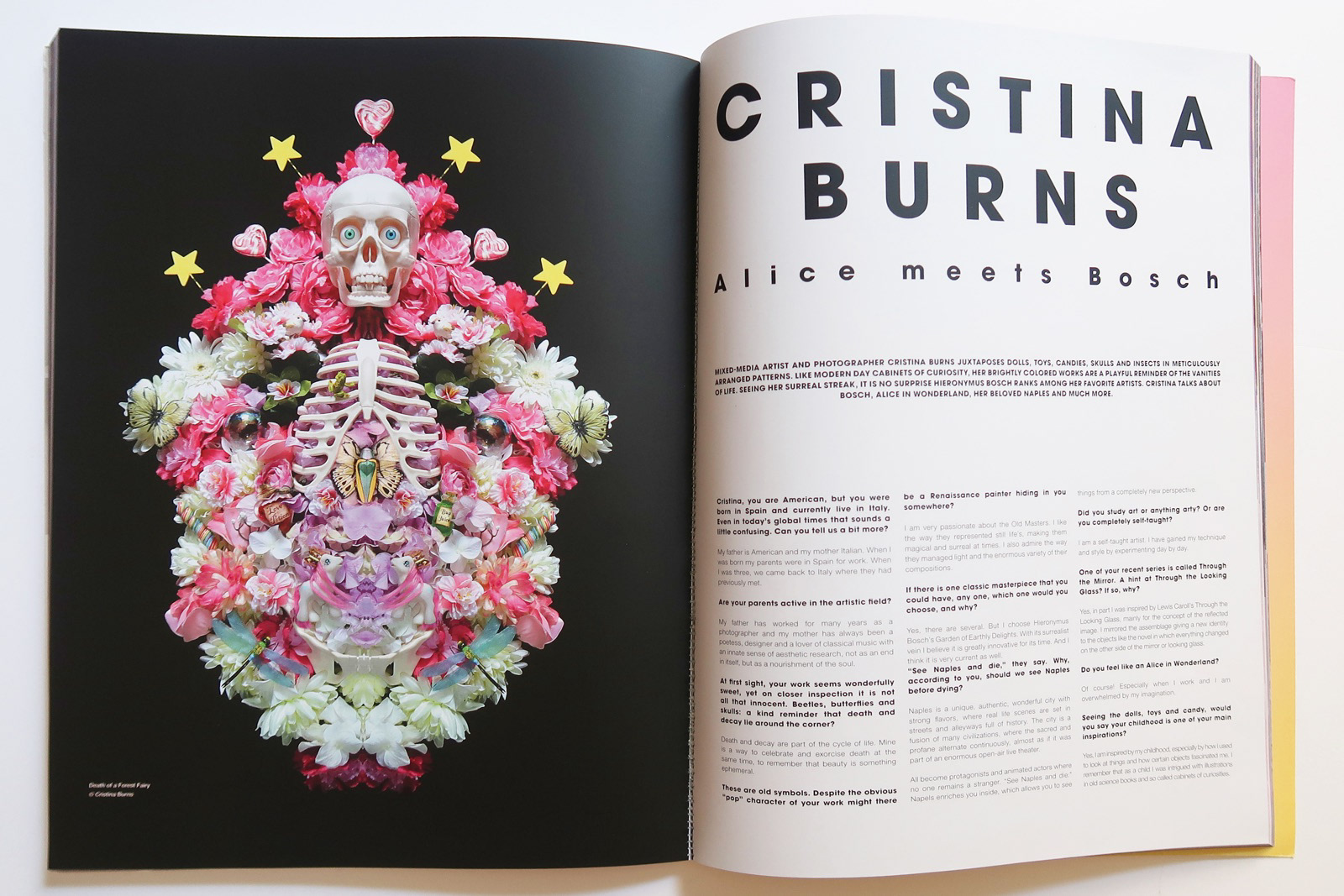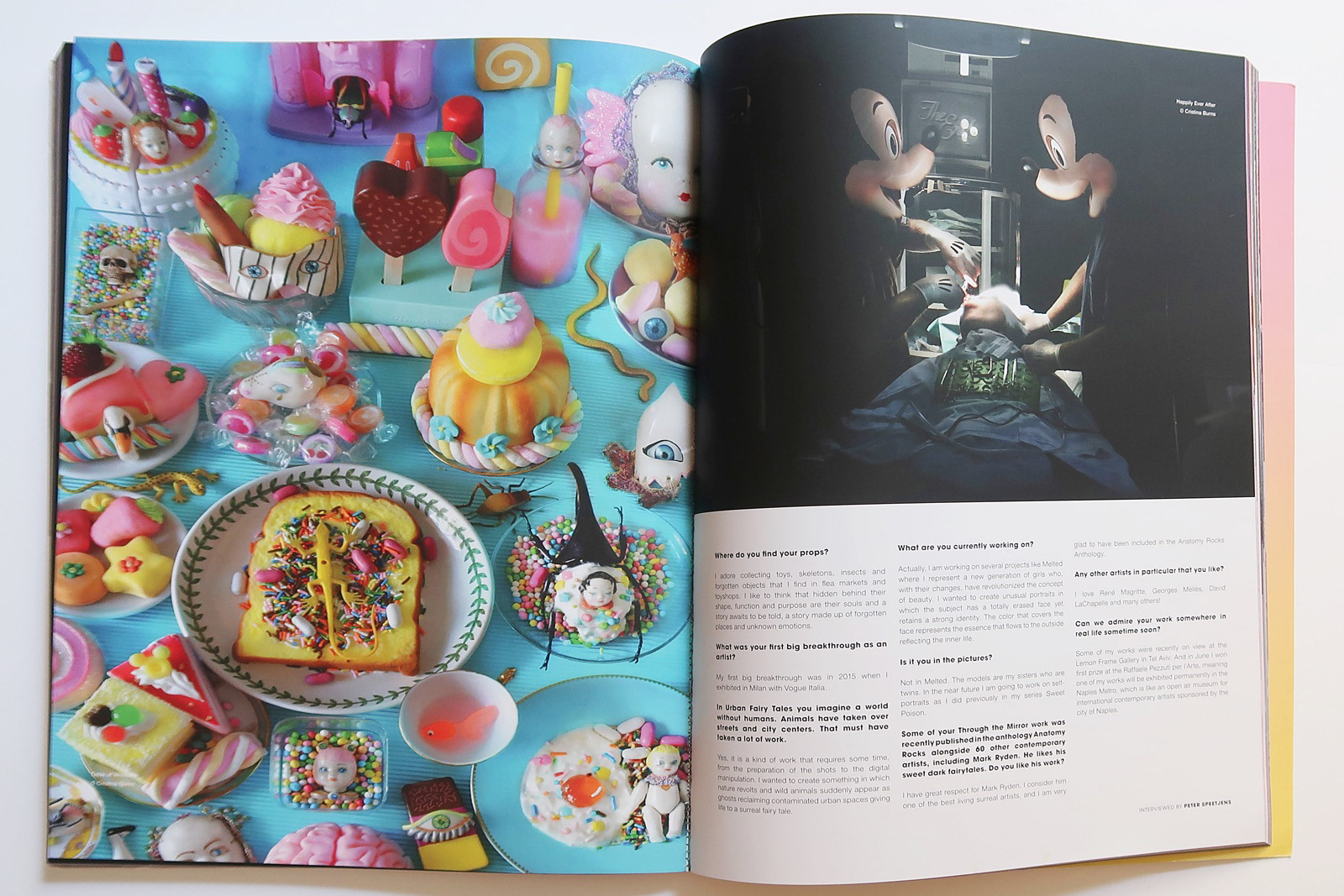 COVER AND FEATURE ON HIGGS MAGAZINE ISSUE 2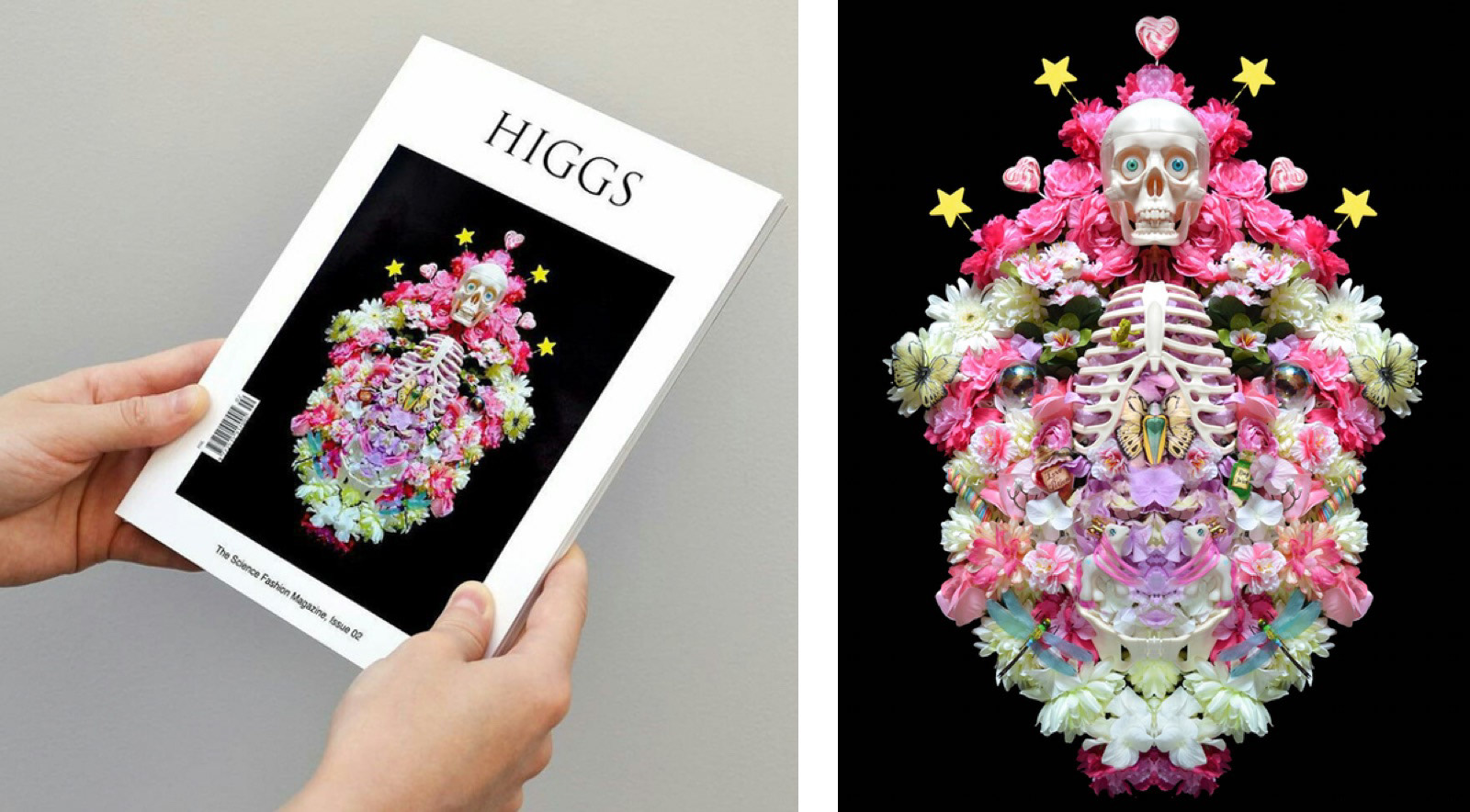 LEMON FRAME GALLERY "WOMEN ARTISTS" GROUP SHOW
"Purple Mandala" from Crystal Skull series, "The Table of Wonders" and "Urban Camouflage" will be exhibited at Lemon Frame Gallery in Tel Aviv from 08/03 to 31/03/2017 
Lemon Frame Gallery 3 Hataarucha Street, Tel Aviv, Israel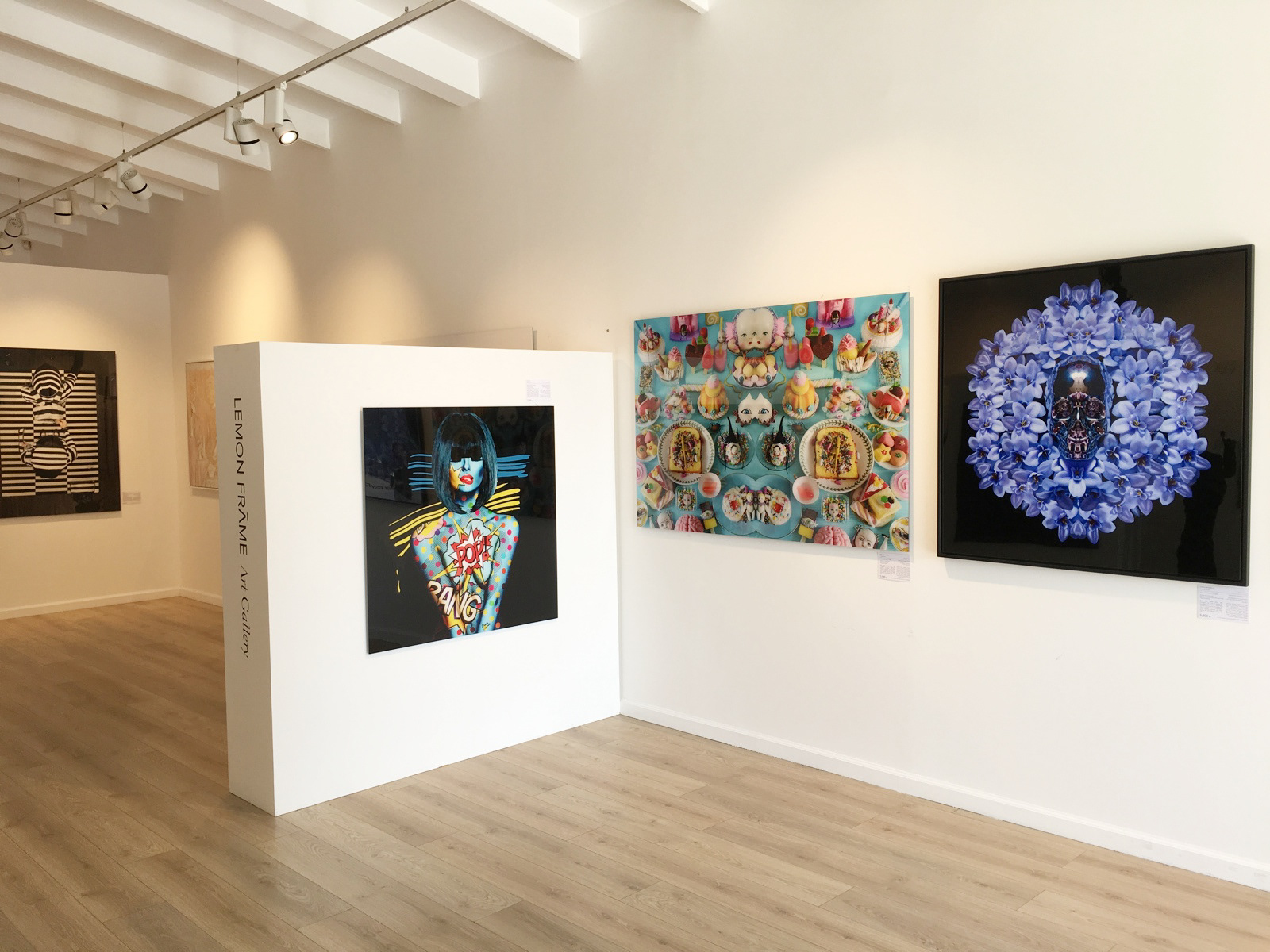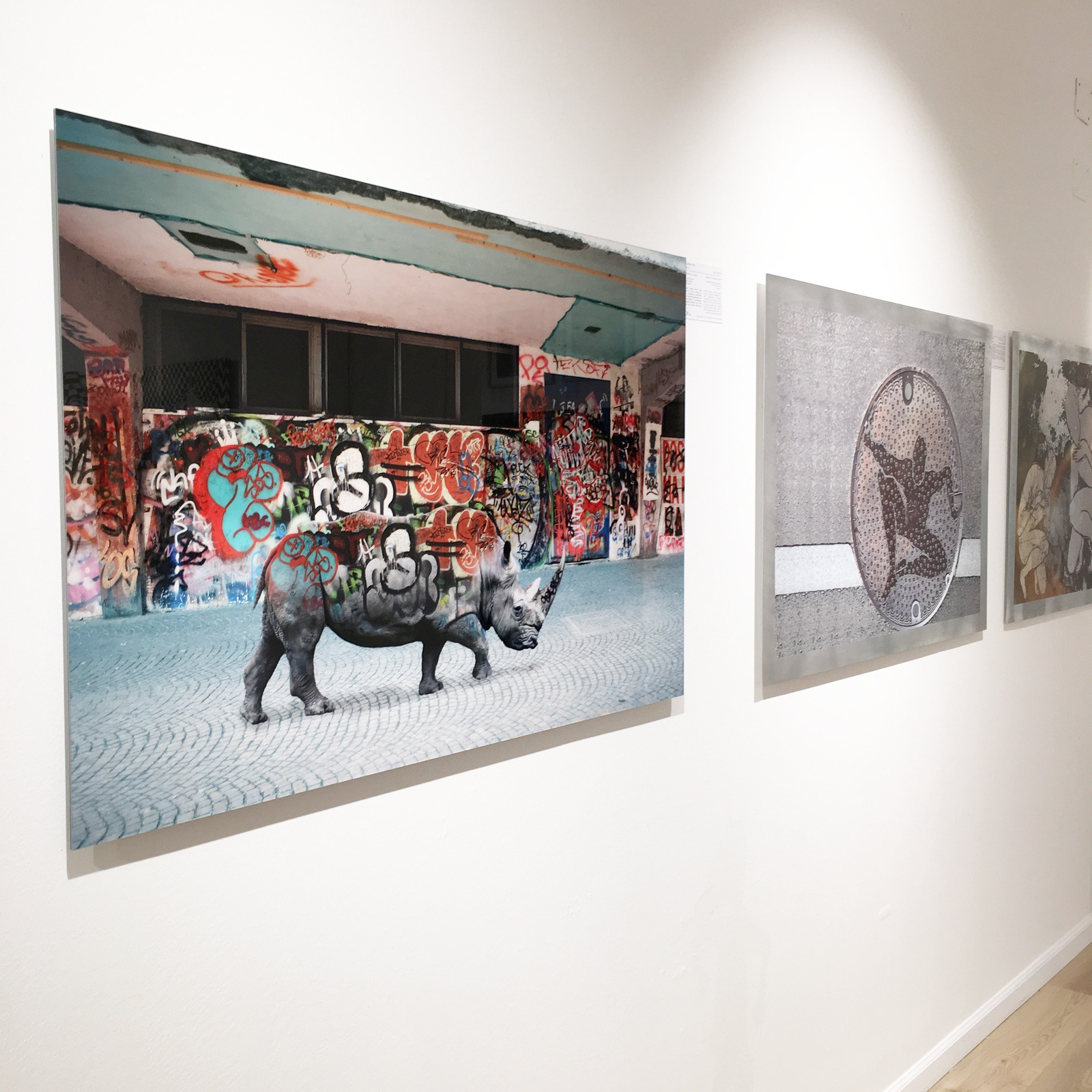 CONTEMPORARY PHOTOGRAPHY EXHIBITION, CICA MUSEUM
Works from Melted series will be part of "Contemporary Photography 2017" at CICA Museum, South Korea, from 11 - 27 of August.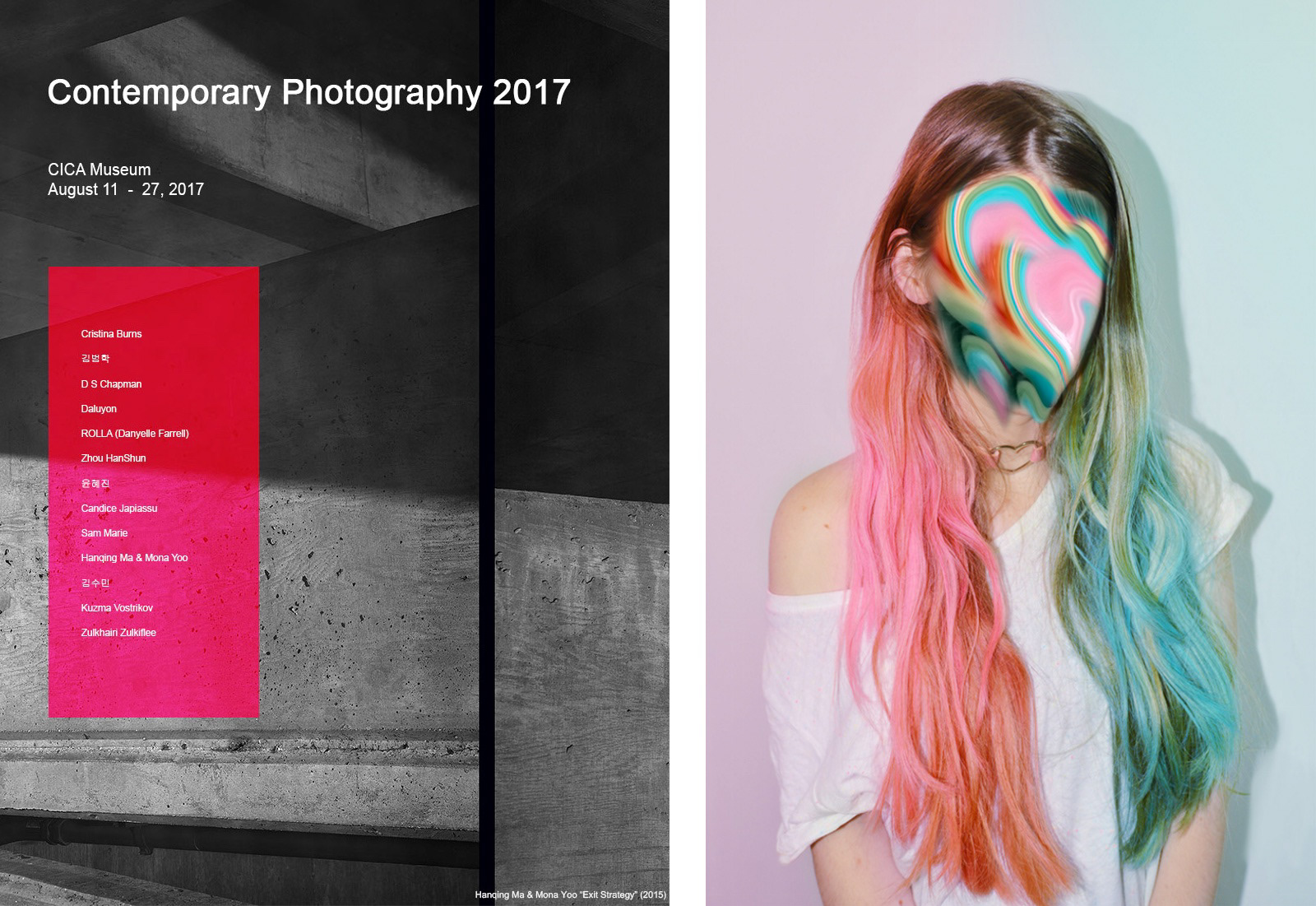 VOGUE ITALIA AND NATUZZI - PHOTO VOGUE FESTIVAL MILAN
The artwork "Phosphene" has been chosen by Vogue italia and Natuzzi for the 
#WorldOfHarmony
 scouting initiative.
It will be on display during the second Photo Vogue Festival in Milan, November 15-19.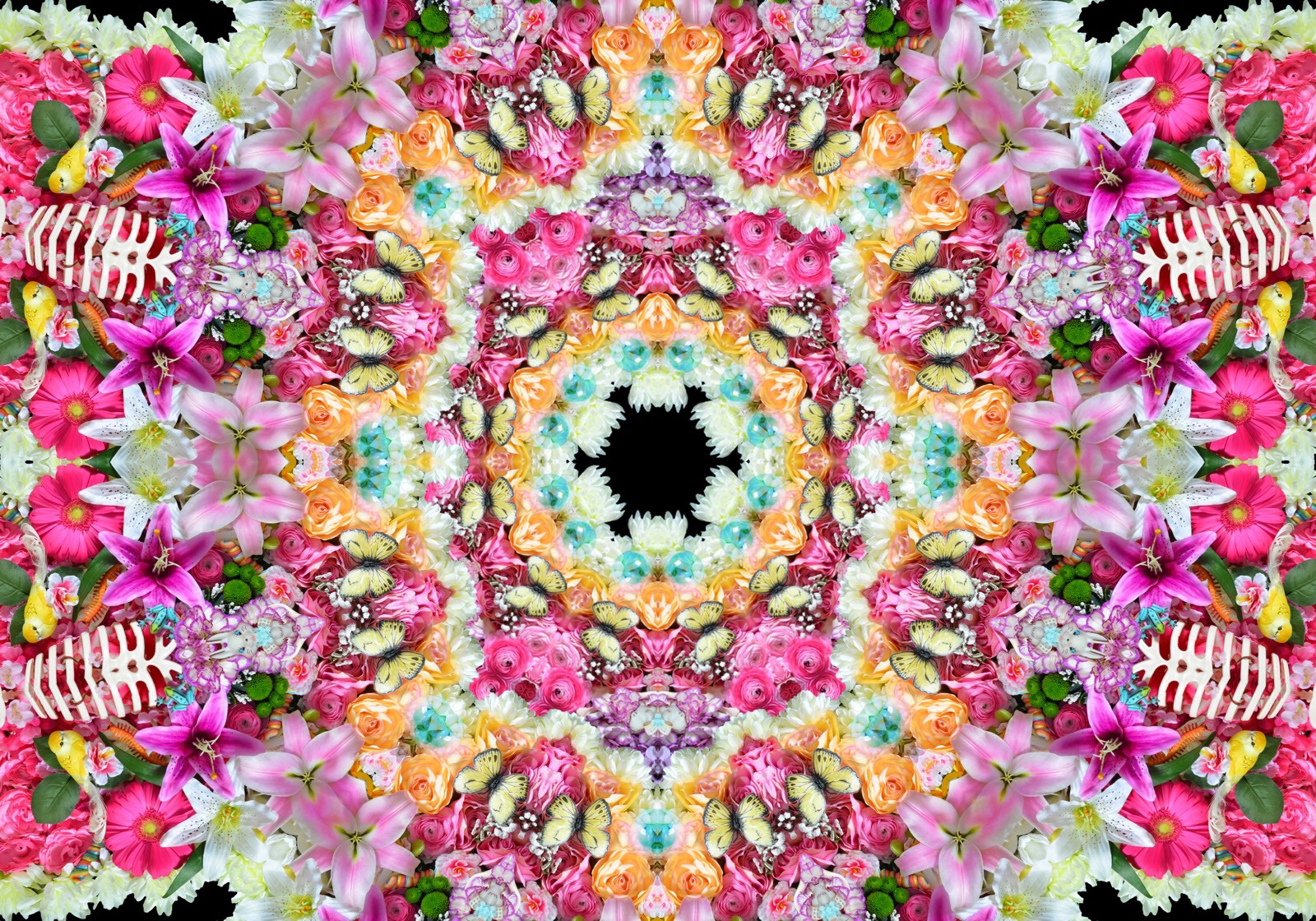 LEMON FRAME GALLERY OPENING
"Rose Mandala" from Crystal Skull series and "The Table of Wonders" will be exhibited at Lemon Frame Gallery in Tel Aviv from the 25th of September 6:00 22:00 in UTC+03
Lemon Frame Gallery 3 Hataarucha Street, Tel Aviv, Israel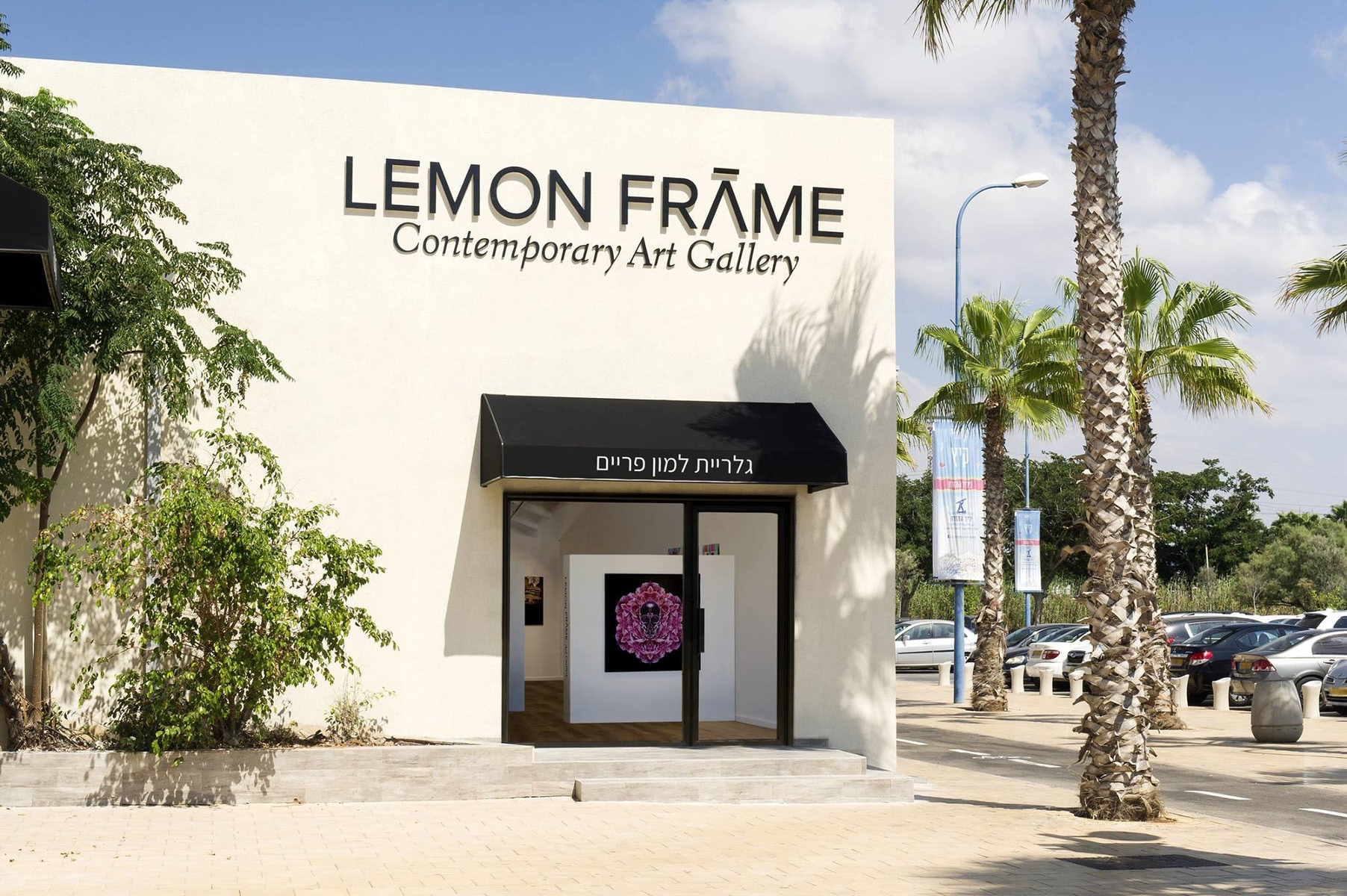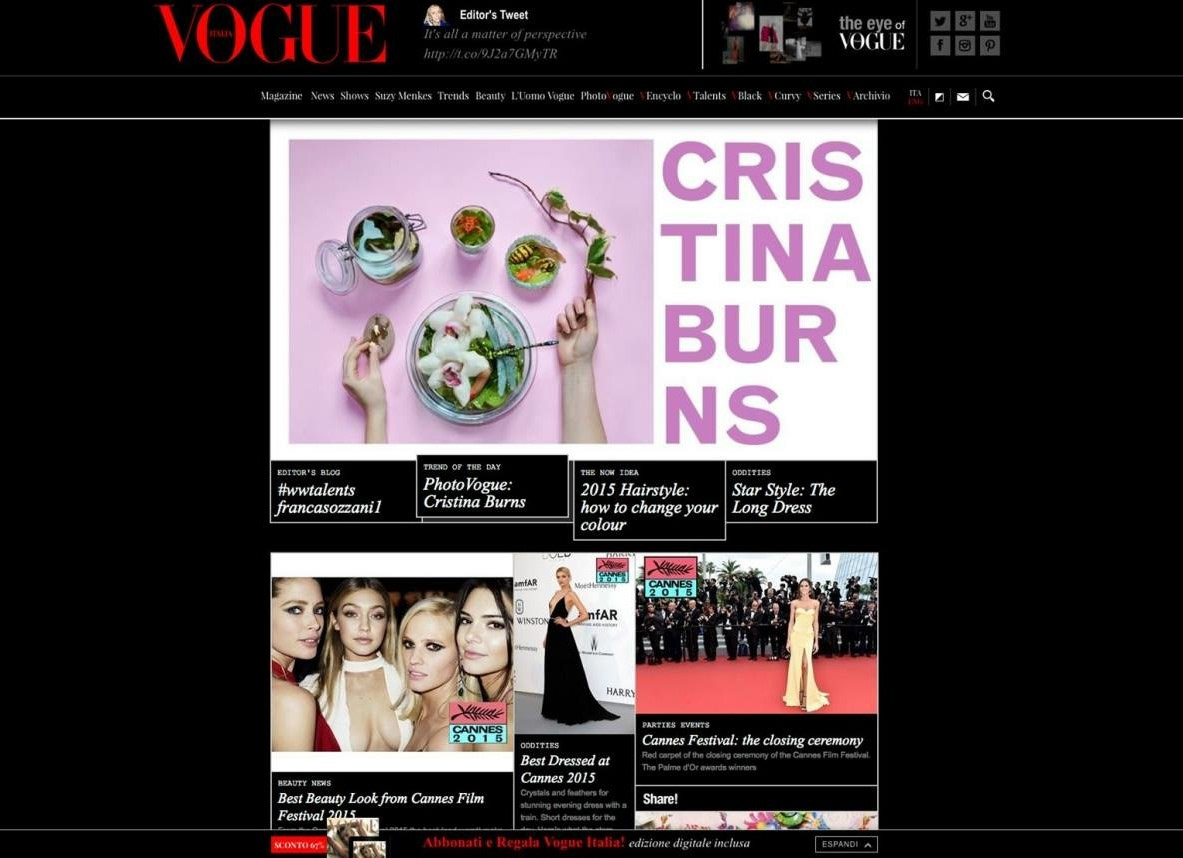 INCLUDED IN THE 10 MOST REPRESENTATIVE STILL LIFE PHOTOGRAPHERS OF PHOTO VOGUE ITALIA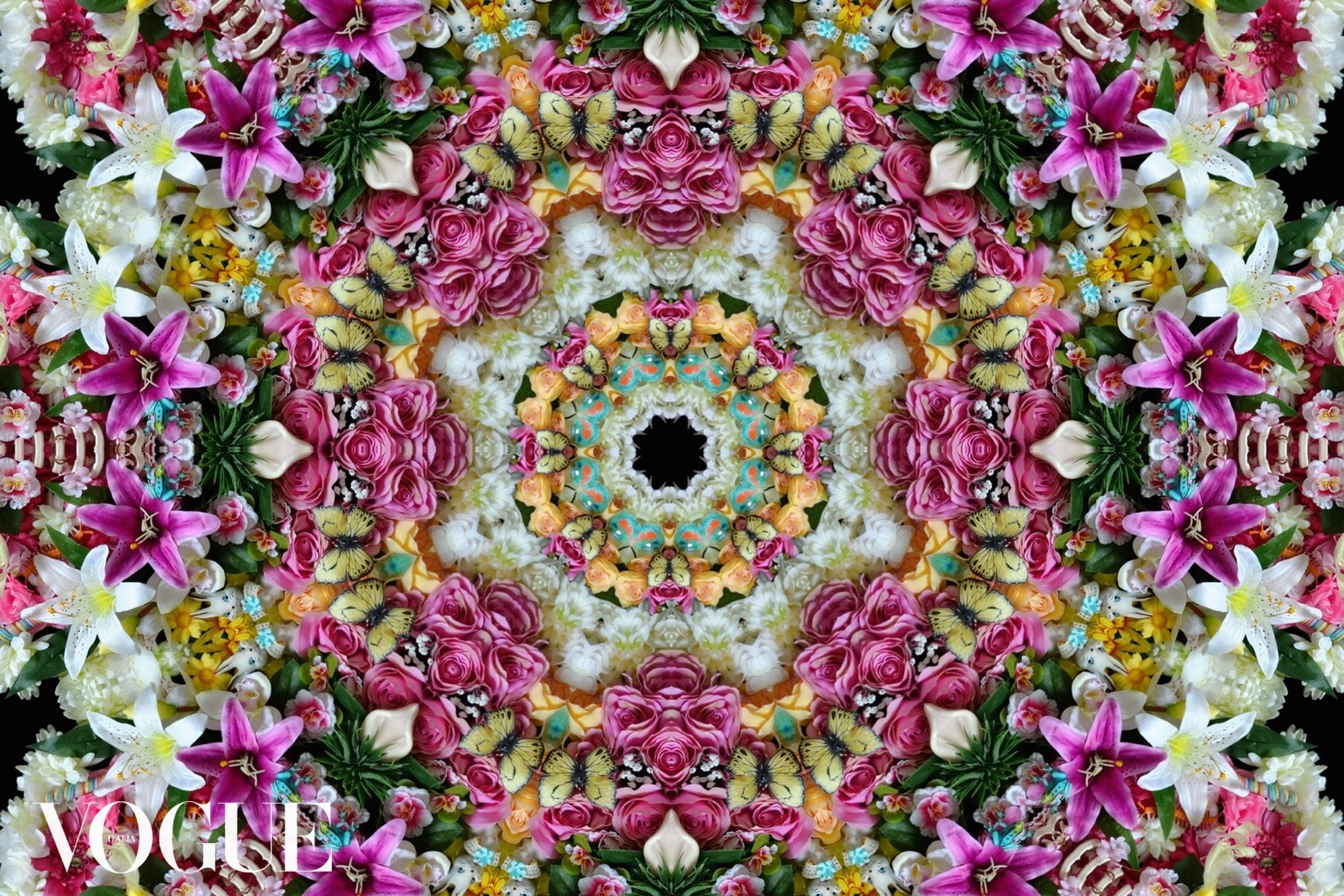 PHOTO VOGUE FESTIVAL

 "Magical Ingredients" will be exhibited at BASE Milano and published on Vogue Italia's book (in collaboration with Huawei) which will be released during the Photo Vogue Festival, November 22-26.
"Vogue Italia has elevated the bond between excellent fashion and photography to an art status and the awareness of what constitutes Vogue Italia's DNA has naturally led to the decision to set up the first international festival entirely dedicated to fashion photography, which is bound to an influential fashion publication.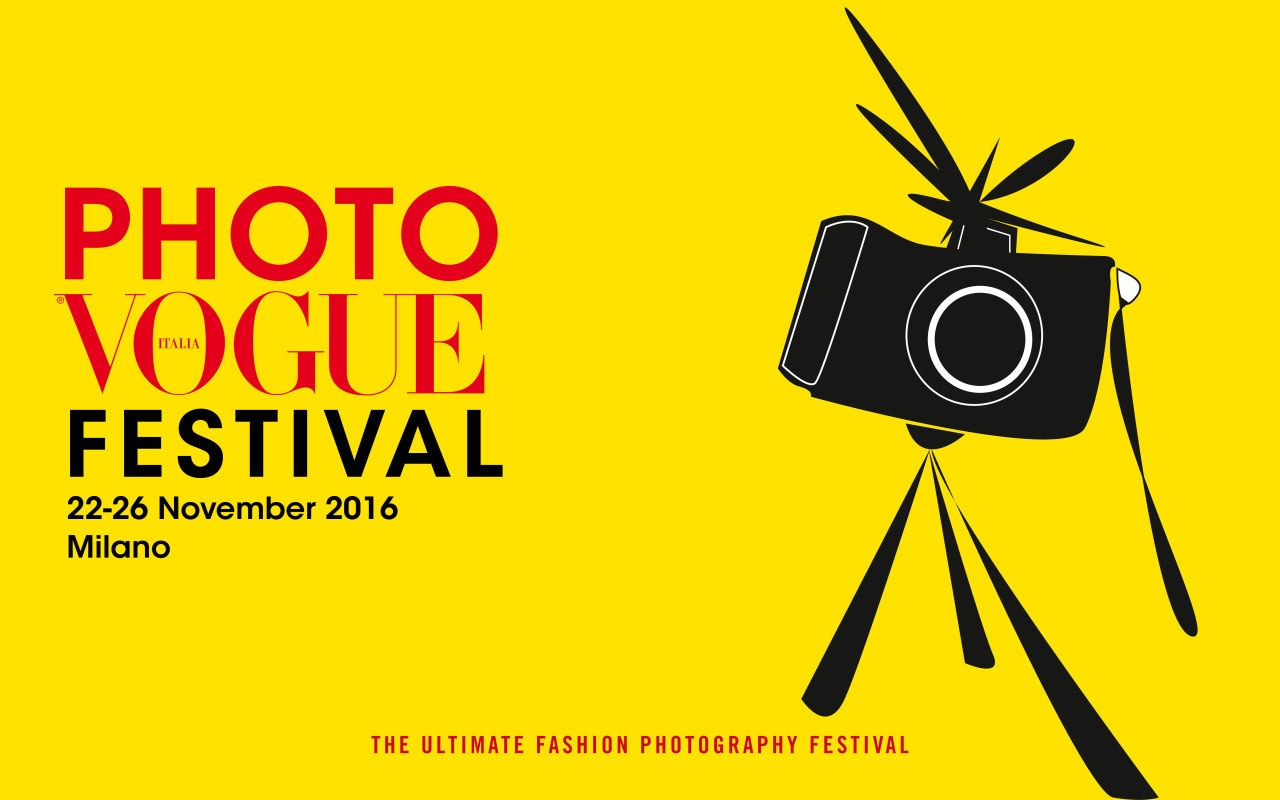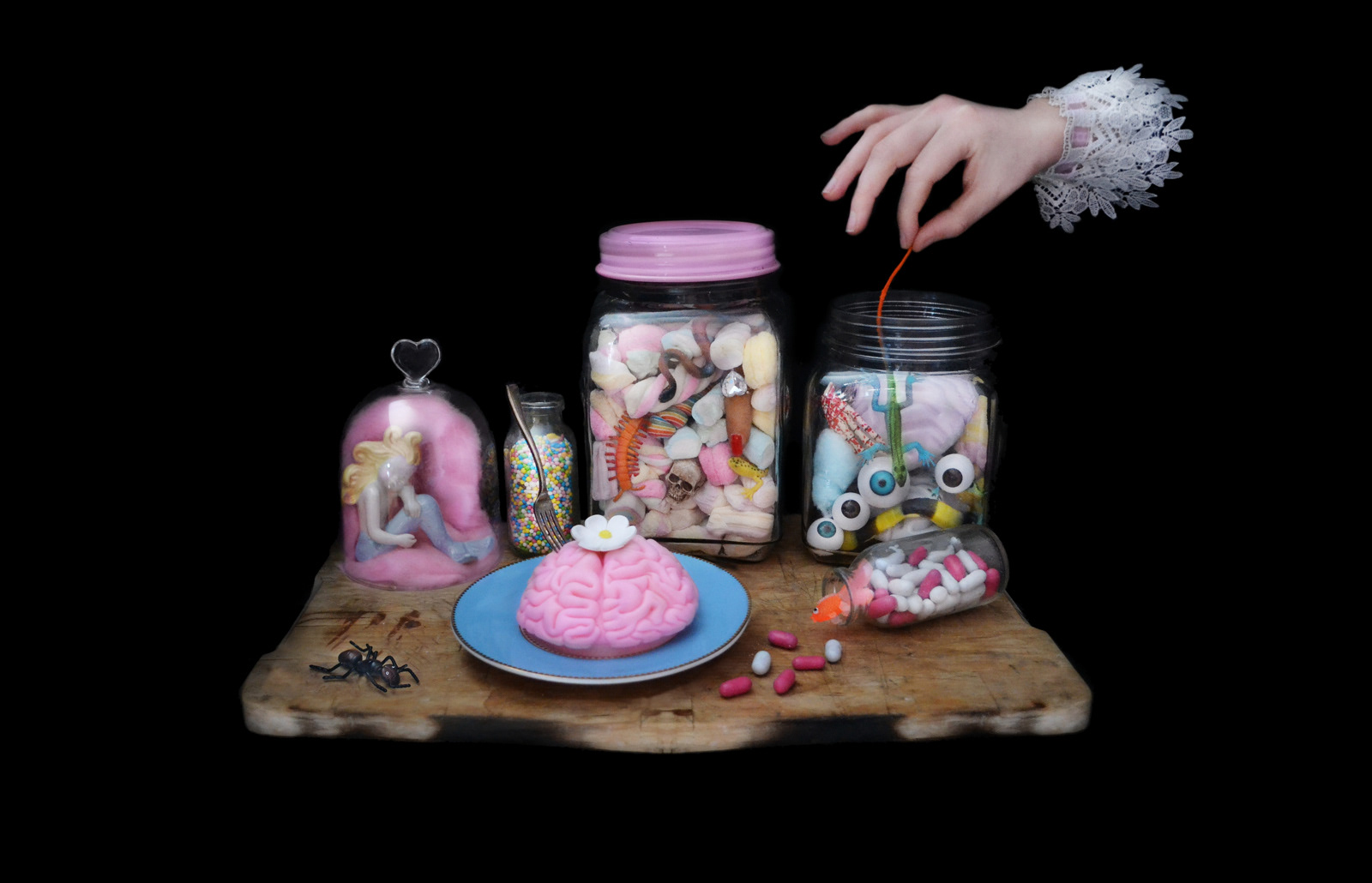 Some works from "Silent Sound" are featured in "NOT FOR PRINT" issue 2, in collaboration with WeTransfer and @ELLO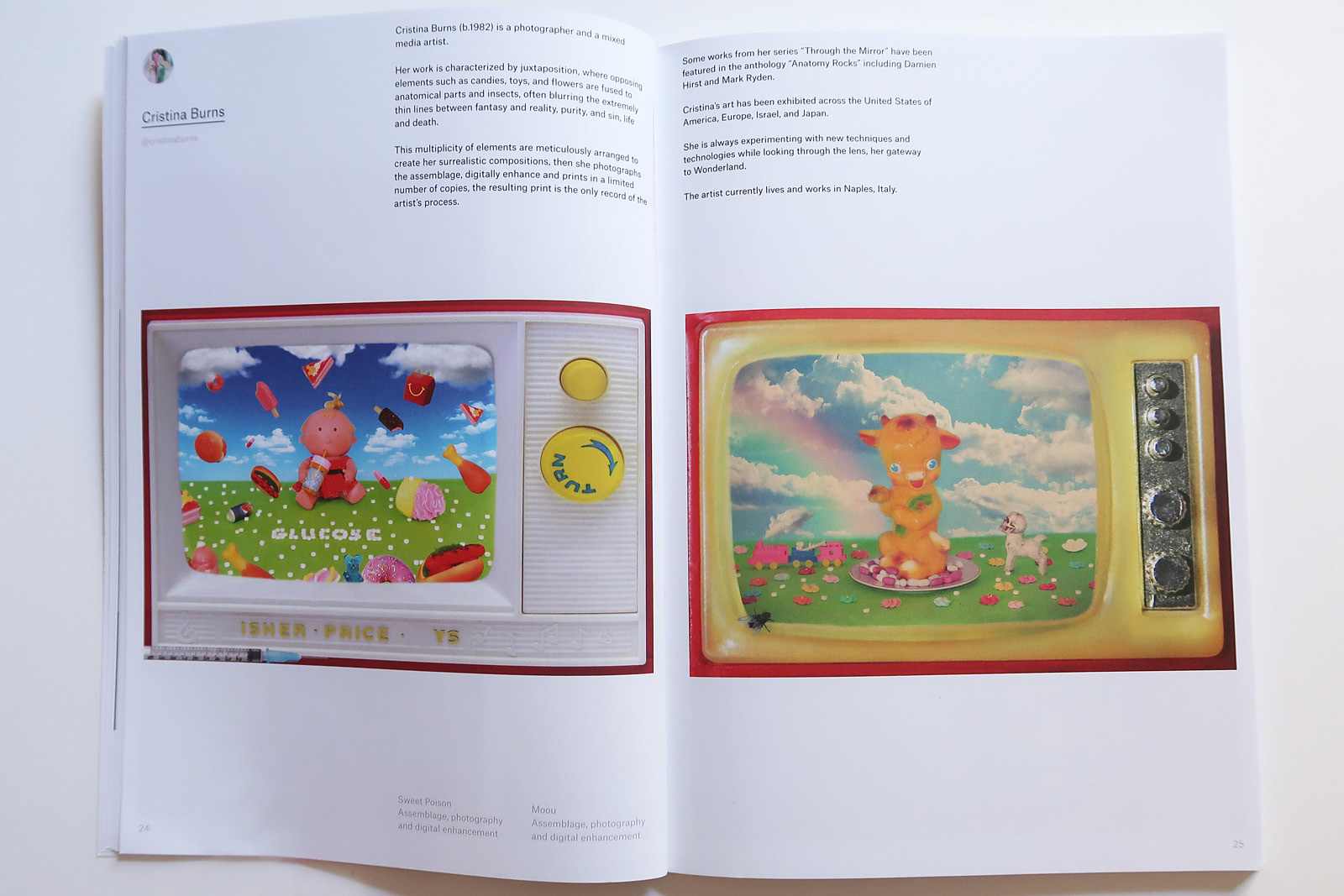 ​​​​​​​
INCLUDED IN THE BEST 100 IMAGES OF 2015 ON PHOTO VOGUE
The work "I am the Fairest of Them All" included in the best 100 of 2015 on Vogue Italia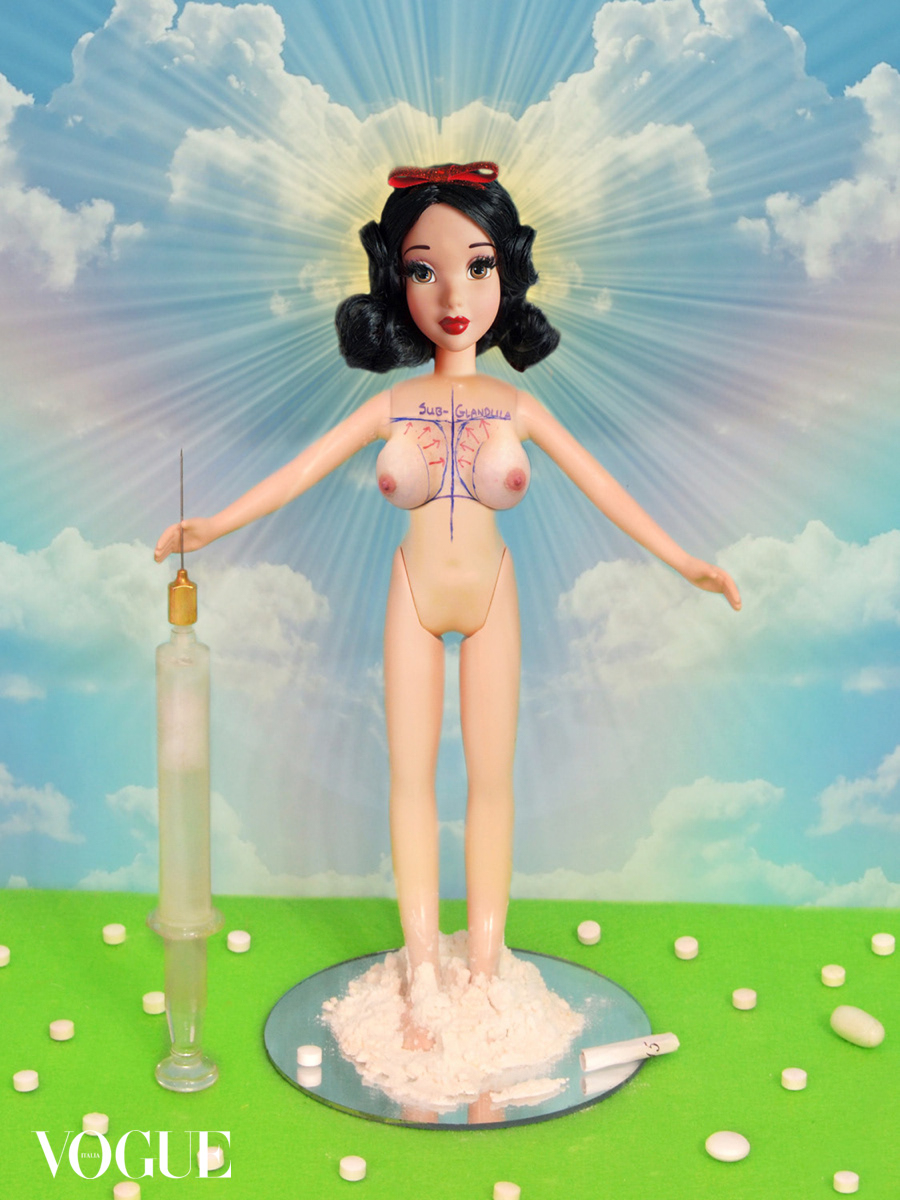 EXHIBITION AT CASTEL DELL'OVO 

 "Urban Camouflage III" and "Alone in the City" will be part of the exhibition "22 Artists Mad for Naples"  from the 22nd to 28th of July at Castel Dell'Ovo Napoli
Here the full article on "Corriere":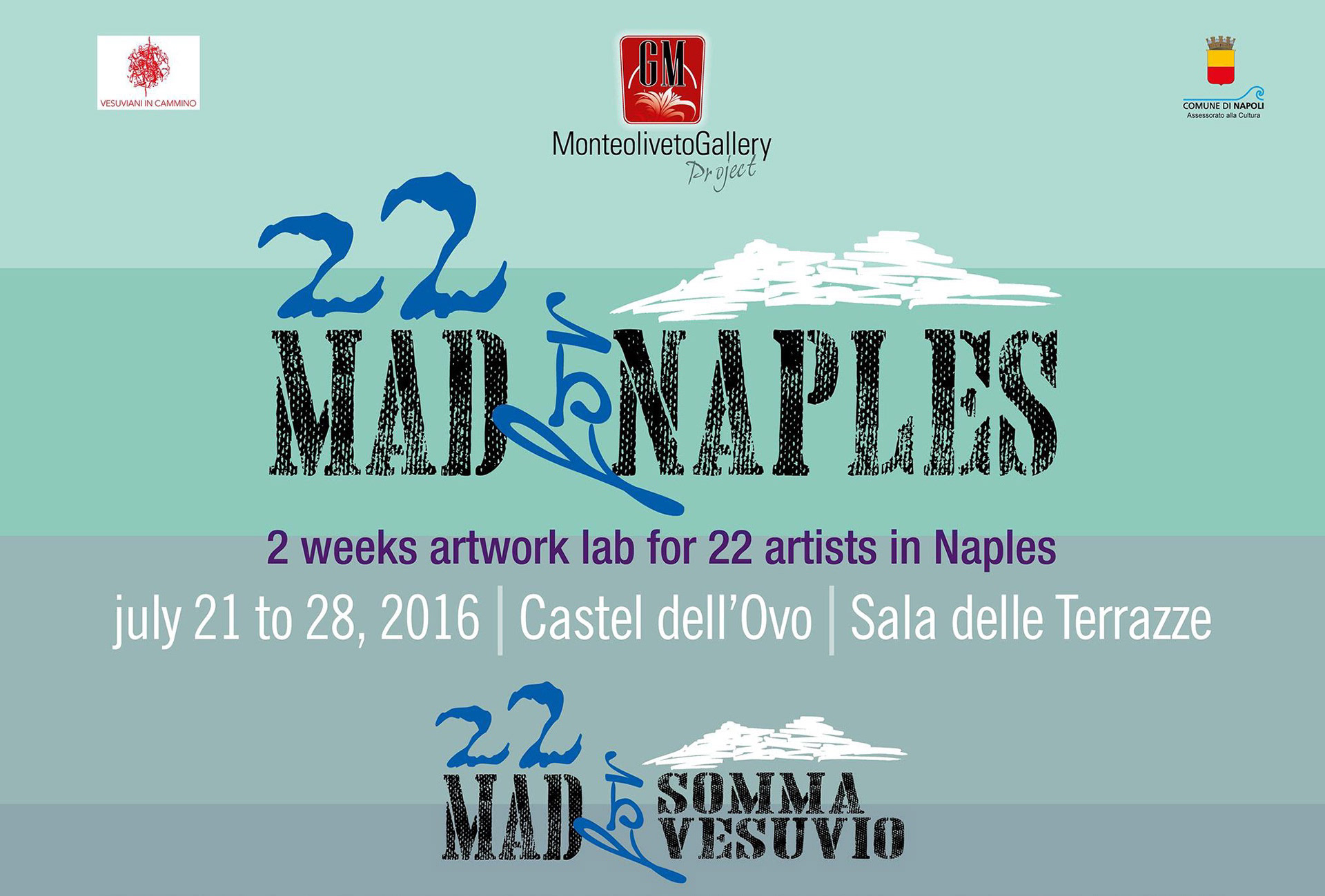 From the 27th of June till the 19th of July 2015 Tic Tac will be exhibited at Alice and the Beanstalks gallery, Tokyo.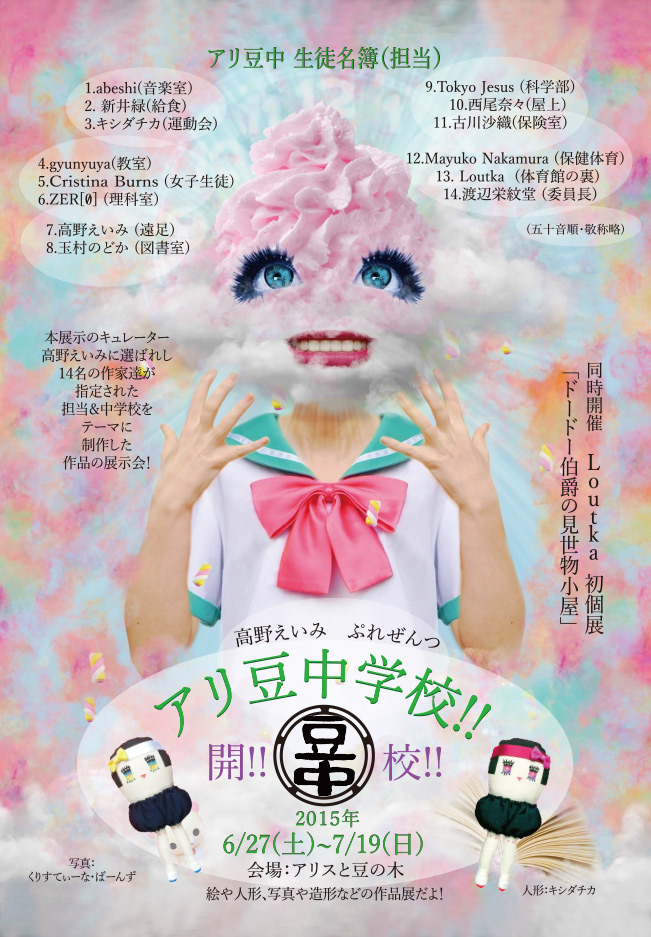 INTERVIEW ON S.PELLEGRINO US AND ITALY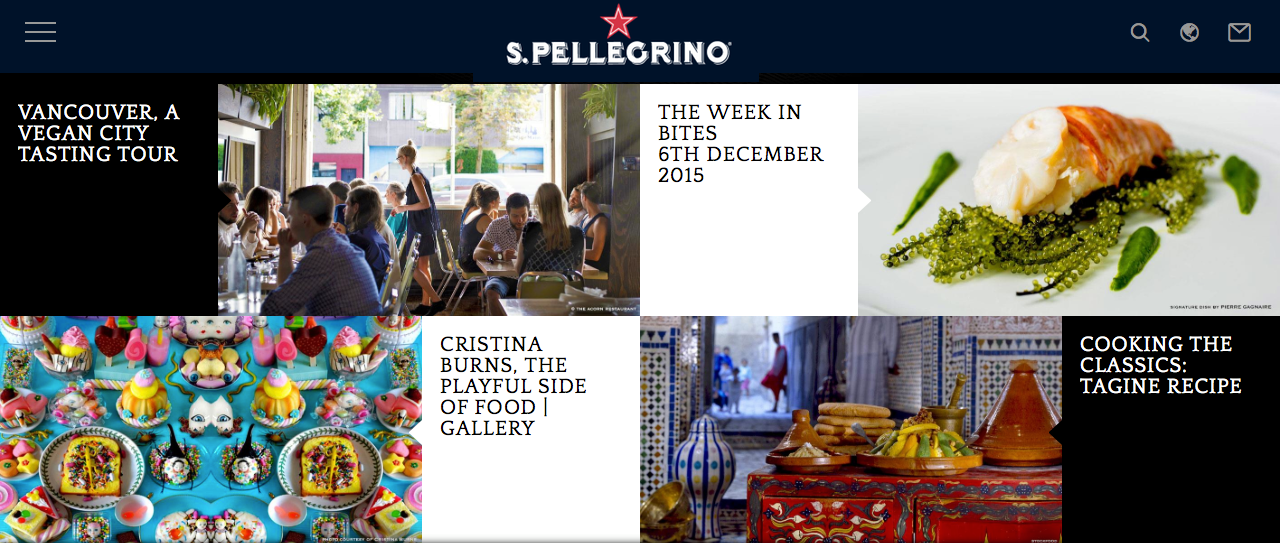 EXHIBITION AT HIVE GALLERY LOS ANGELES
"Somewhere over the rainbow" will be exhibited at the Hive Gallery in Los Angeles for the Secret Garden Show from 4/10/14 to 1/11/14

INTERVIEW ON L'ESPRESSO NAPOLETANO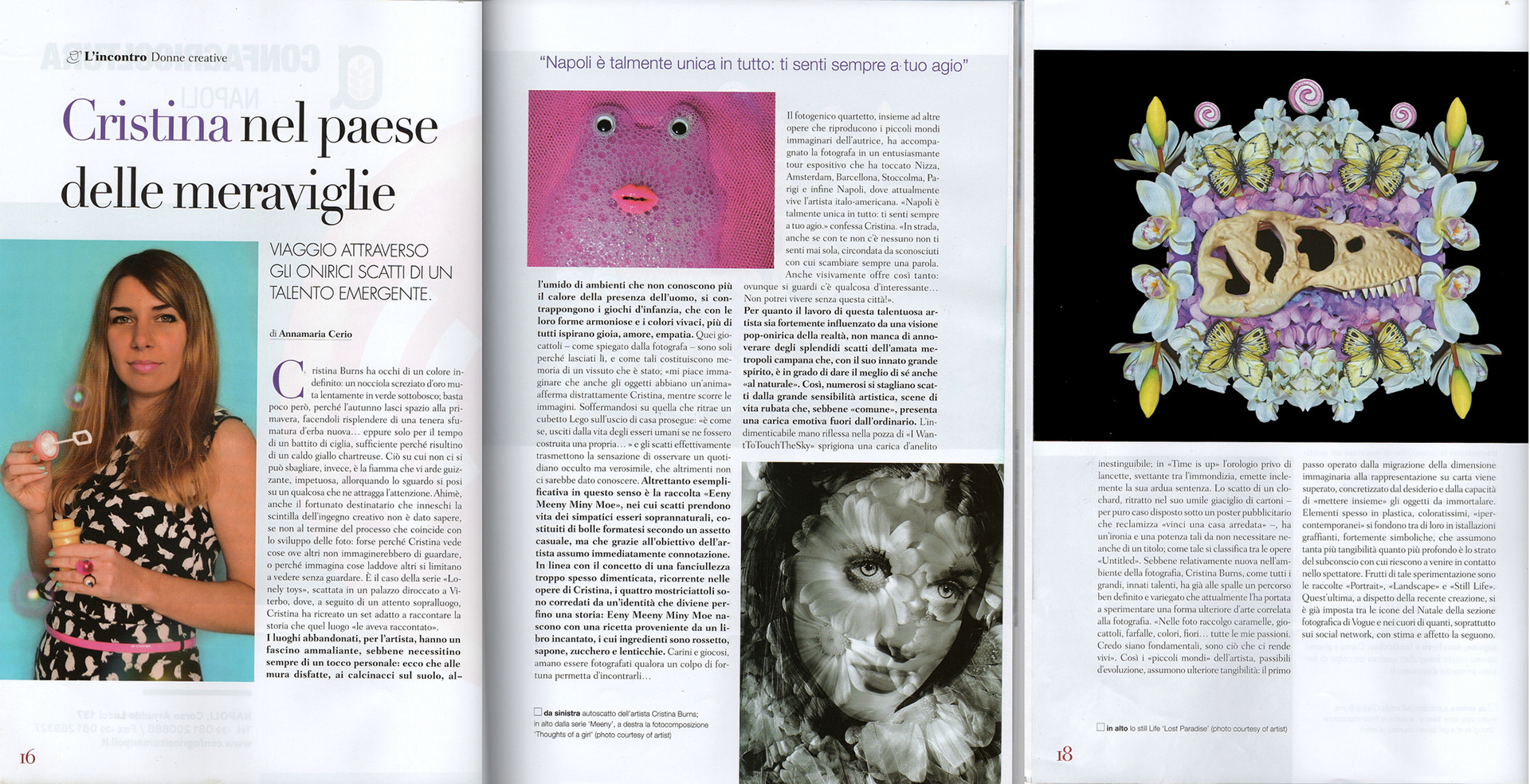 CATASTROPHE ART SHOW
"Meow" will be exhibited at the Catastrophe art show at the F+ plus gallery in Santa Ana, California
from August 16 to September 13 2014
VOGUE AND PORSCHE DESIGN EXHIBITION
"White Dream" has been chosen from Vogue Italia to be exhibited  in Porsche Design flagship store in Milan.
Here the video
 http://www.vogue.it/